May 31, 2022 - Written by: Nancy Pollard
Read Time: 4 Minutes Subscribe & Share
Celebrate The Now
Even if we are not in the Covid Clear Zone, a joy exists in celebrating the crossing over from one day to the next with perhaps a tasty and inexpensive Crios Malbec Rosé (we get ours from MOMs) or a new-fangled cocktail introduced by one of our closest friends, who is both Tiki mad and a bartender manqué. All are in keeping with the tradition of both a winter and summer edition focused on horses doovers (explanation of the term can be found in this post).
An American Palmier
Victoria Sackett, who edits Kitchen Detail, needed to make a horses doover for an impromptu neighborhood party. She actually has neighbors who do cocktail parties together. And, like pimento cheese, she introduced me to this piquant horses doover. After checking the contents of her fridge, she typed in a query for a recipe that had the ingredients she found, and it turned out to be one from the Southern Living Christmas Cookbook, published and sold through Dillards Department Stores. As a fan of the decidedly southern
condiment, Hot Pepper Jelly, she always had it at hand. It is actually a fairly recent addition to the collection of southern classics, traced back to the 1970s in Lake Jackson, Texas. There, it became quite a trend, adorning a block of cream cheese and aided by crackers. Since I equated it with the neon green mint jelly served with overcooked lamb of my parents' generation, I avoided it. No longer! The only change I made was to add minced cilantro to the chives – so about 3 tablespoons of each. Good Parmigiano and all-butter puff pastry will also set these palmiers apart.
I glazed mine with the Stonewall Kitchen Red Pepper Jelly, and Vickey gilds the glazing by putting extra in a little bowl to use as a dipping sauce. You can freeze the unbaked palmiers on a tray and store them in a sealed bag to bake later at the same temperature. They can go straight from freezer to oven. I also changed the instructions to one sheet of DuFour puff pastry (the original recipe uses a brand that has two smaller sheets, which I found confusing). I rolled the two long sides to meet each other in the middle instead of the short side. The final palmiers are smaller (seen here on a quarter baking sheet) but there were more of them, hence more excuses to dip into sweet hot jelly!
Pepper Jelly Palmiers
2022-05-28 17:42:52
Serves 24
we made a couple ofchanges to this unique American twist on a savory French palmier
Ingredients
1 package of Dufour Puff Pastry - 9x16 inches (23x41cm)
1 cup + 2 tablespoons (250ml) freshly grated Parmigiano
3 tablespoons (44ml) minced chives
3 tablespoons (44ml) minced cilantro
1 teaspoon sea salt
a few grinds of black pepper
2/3cup (158ml) pepper jelly
Instructions
On a Silpat or parchment paper roll your defrosted puff / sheet so that it is around 11x17 inches.(28x43cm) approximately.
Sprinkle the cheese across the surface followed by the minced cilantro and chives.
Sprinkle the sea salt and then a few grinds of pepper across the surface.
Roll up on the long sides of the sheet so that they meet in the middle.
Roll the filled pastry in the Silpat or parchment and put in the freezer for at least 30 minutes and up to 24 hours.
Preheat oven to 375F and remove pastry roll from freezer.
Cut the roll in 1/4 inch increments and place on lined baking sheet (either Silpat or parchment)
Bake until light gold only - you may have to turn the sheet around after 10 minutes. - this should take about 20-25 minutes.
Warm the pepper jelly in a sauce pan over low heat and either glaze the tops of the palmiers or server separately as a dipping sauce. Or both.
Adapted from The Southern Living Christmas Cookbook
Adapted from The Southern Living Christmas Cookbook
Kitchen Detail https://lacuisineus.com/
Classic Before Its Time
We used to sell a wonderful cookbook by Russell Norman titled Polpo, after the restaurant that he
cofounded with a partner in London. He later left and established another eatery, Brutto, and really, the inveterate steak eater in our house needs to be chaperoned there. The book is probably one of the best non-travel guides to Venice – in the sense of how to really hang out there. My copy is falling apart again even after I taped the spine twice. In an earlier post, I shared three delicious recipes from his book, but there are many other divine dishes that will be shared here. Apparently this horses doover was inspired by his chef, after eating something similar in Croatia, which, while not a cab ride away, is accessible from Venice by ferry.
Buy a decent quality baguette, slice it on the diagonal, toast it (I rub mine with a bit of garlic and grill it over a burner) and pile this on top. Done. It keeps for a week in the fridge, can be mixed into your deviled eggs or thinned out as a sauce for pasta. Polpo's recipe uses canned chickpeas (also called Garbanzo beans), but I think cooking your own dried ones is better. Freeze the rest in portioned bags for pasta dishes, hummus, and the aforementoned salad from Polpo.
Anchovy & Chickpea Crostini
2022-05-28 22:03:46
Yields 2
simple, but quite different from hummus.
Ingredients
400 grams (14oz)cooked chickpeas
19 brown anchovy fillets plus some olive oil from the container
Juice of 1/2 lemon
Handful of parsley, roughly chopped
1 tablespoon pure tahini
A few grinds of black pepper
About 4 tablespoons extra virgin olive oil - usa good one, it shows up in the mixture
A baguette sliced and lightly grilled or toasted
Instructions
If needed, drain and rinse the chickpeas and roughly chop the anchovies.
Mix together with the lemon juice, parsley and a few grinds of pepper.
Pulse in a food processor with some of the anchovy oil and if needed additional olive oil to create a somewhat chunky paste - you do not want a smooth puree.
Taste and adjust seasoning.
Keep covered untll ready to top toasted bread slices.
Notes
I used the dried chickpeas or garbanzos from India Tree or Zursun. Both are excellent sources.
Adapted from Polpo - A Venetian Cookbook Of Sorts
Adapted from Polpo - A Venetian Cookbook Of Sorts
Kitchen Detail https://lacuisineus.com/
Frank Sinatra Never Had It So Good
The cocktail needs a little practice with a steady hand (and bar spoon) and happily I had taken this
handy-dandy video to show the final step. It is the creation of Ivy Mix, the co-owner of the Leyenda Bar in Brooklyn, New York. It's included in her book on Latin American cocktails This version of the Pan Am Sour is her homage to cocktail historian David Wondrich, who named this lovely concoction. She is considered to be one of the outstanding bartenders in the US.
Pan Am Sour
2022-05-28 22:44:40
Serves 1
beautiful to behold and delicious to drin
Ingredients
1/4 ounce bourbon
3/4 ounce cachaca
3/4 ounce simple syrup
3/4 ounce lemon juice
3/4 ounce orange juice
1/2 ounce Malbec red wine to top
Instructions
Add all the ingredients except the wine in a shaker with ice.
Shake to chill, then fine strain into a coupe cocktail glass.
Gently pour the wine over an inverted bar spoon (convex side up)
to float a layer on the surface of the drink.
Adapted from Spirits Of Latin America
Adapted from Spirits Of Latin America
Kitchen Detail https://lacuisineus.com/
Hungry for More?
Subscribe to Kitchen Detail and get the newest post in your inbox, plus exclusive KD Reader discounts on must have products and services.
---
Share Us on Social Media: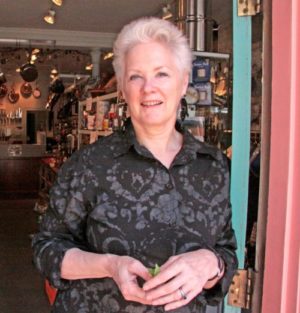 After owning one of the best cooking stores in the US for 47 years, Nancy Pollard writes a blog about food in all its aspects – recipes, film, books, travel, superior sources and food related issues.