For 47 years, Nancy Purves Pollard boosted the confidence and accomplishments of cooks at every level from her home base — a minuscule but replete Old Town Alexandria, Virginia boutique, La Cuisine, The Cook's Resource. Despite howls of dismay, the shop closed its doors on January 2018.
A foodie before anyone invented the genre, Nancy launched her culinary journey with a failed recipe for chicken with Calvados and cream. What made the difference between "the sickly white heap" she produced and the heavenly creation she was aiming for? Equipment. A flimsy nonstick skillet versus a heavy copper sauté pan.
The search for quality cookware was on, and La Cuisine was born, one of a tiny handful of independent kitchen stores, with surely the most carefully curated, personally tested collections in the world. Every piece, every cookbook, every ingredient was given a run for its money in the Pollards' kitchen, in their home over the store.
While piling up expertise on ingredients and tools, Nancy was also mastering French cooking basics alongside a dear friend, Mary Bond, at the time the only American graduate of the three-year French Le Cordon Bleu course, earning a one-of-a-kind "tres bien" on her Grand Diplome.
The great joy is that in addition to her impeccable culinary credentials, Nancy is also a zany renaissance woman — enormous fun, eclectically political, and a rescuer of German Shepherds from traumatic pasts. as well as hapless cooks stranded on some culinary shoal. At this fresh stage of her life, Nancy is willing to divulge one secret to her superpowers: "I can talk like Donald Duck."
---
Kitchen Detail Support Team
Nils Bertrand
Video Editor
Kitchen Detail's video deity earns his living as the tech wizard at Rochambeau School, which is as French as he is. Instead of sleeping, he bakes bread...glorious, bursting with yeasty goodness bread. Nancy made him do it by handing him Ken Forkish's irresistable Flour, Water, Salt Yeast. Et voila, Nils is now Le Petit Boulanger, with a camera in one hand and a bench knife in the other.
Liz DiGregorio
Recipe Co-writer and Development
Liz DiGregorio, newest Cuisinette, retired from a career in emergency management. She bought Julia Child's Mastering the Art of French Cooking in 1967 and has been cooking ever since. Her love of Italian food is rooted in her DNA. When not re-arranging her cookbook library, she can be found in the garden, English mystery in hand and plotting her next escape from DC.
Alexandra Tatiana Marot Pollard
Content Writer and Strategist
Juggling nuance between Italian and English, Tatiana lights up her four-burner kitchen top with nostalgia for American food, the local fare of Bologna and cross-cultural culinary inventions. She and her husband endlessly debate on cooking with or without a recipe. Their son just hopes that dinner will either be plain or have chocolate in it.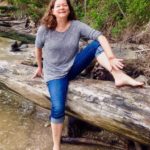 Victoria Sackett
Editor
Victoria Sackett is a speechwriter and editor who uses cooking as an antidote to Washington, DC dysfunction. Nothing counteracts chaos like measuring out ingredients in tiny dishes, arranging them in proper order, blending them together, and watching magic happen. Namaste indeed!
Charlene Sinkin
Recipe Co-writer and Development
Accountant by day, baker by night, Charlene enjoys anything with flour or chocolate as an ingredient. She relishes simple recipes equally as the more sophisticated and complex, from southern biscuits to biscotti, muffins to macarons​, and pound cake to pavlova. She collects cake molds of all shapes and sizes and has a special place in her heart for kitchen gadgets.
"No kitchen is complete without a cherry pitter or herb snipper, but the most crucial kitchen tool? My headband, of course."
Mike Whittenberger
Tech Ninja
Mike is a web developer who has been working with Nancy for over a decade. In fact, she originally gave him a chance and brought him on board before he really knew what he was doing! Luckily, he's figured some things out since then. He enjoys gardening, wine, and his family.