May 2, 2018 - Written by: Nancy Pollard
Read Time: 3 Minutes Subscribe & Share

Polpo Is More Than A Cookbook
I am a late-in-life convert to bar-hopping, something I loathed in my impetuous youth, despite my friends' wholehearted embrace of the tradition. They were able to look past the cheap alcohol, rancid peanuts and processed cheese goldfish crackers always on offer. I just couldn't.
But bar-hopping in Venice? This is a totally different thing, as I happily discovered with my daughters and husband in recent years. I'm 100 percent on board. And Russell Norman has captured it beautifully in his cookbook, guide and sort of autobiography, Polpo. Titled after his collection of restaurants-bars with snacks, this indispensable book will help steer you toward bar-hopping magnificence, reaching well beyond Norman's own establishments. Polpo has several locations in London, and you can check out their very helpful website here, including the one below the sidewalk in Covent Garden, where I have happily eaten.
The Joys of Bacari Over Bars
Norman will lead you through the pretty, modest, little bacari of Venice, where you can enjoy an aperitivo or a glass of local wine and eat simple but delicious snacks – cicchetti. Not only does he give you a good list of bacari to search out, but his writing style is so inviting, you can feel the atmosphere of each bacaro from the text. He includes easy recipes that allow you to reproduce tasty bites for your own aperitivo hour or make several platters (really quite easy with this cookbook) and just stage a bacari buffet. And should you go to Venice – as you should -take Norman's guide not only for the bacari suggestions, but also for his thoughtful ideas on how to avoid the incredible crowds that are endemic to this magical city.
A Meal From Polpo
But back to the cookbook part named after his London restaurants, (and be advised that like many restaurant cookbooks, sometimes the ingredient
list and directions are a bit off). You have to use your cooking common sense when you choose through his selection of appetizers, mains, desserts and drinks. Below are three of my current favorites which I have tweaked slightly as common sense dictated. The salad is a a stunner and can be served as a first course. or even as a main course if you have used some of his appetizer ideas based on Italian crostini. The mozzarella bites are great for kids and their parental units alike. The orange cake has a most unusual set up in how you use the oranges and their syrup – and the cake lasts for several days in a most delicious state.
If you can't find or special order the Polpo cookbook in your local bookstore, follow the link at the bottom of this post to purchase on Amazon.
Warm Squid Salad with Cavalo Nero & Chickpeas
2018-04-19 23:50:01
Serves 6
this is a stunning salad, served warm at any time of the year as a first course or a main.
Ingredients
1large bunch or two small ones of cavolo nero (lacinato or dinosaur kale are frequent names for this green)
1 lb cleaned squid with tentacles
Best olive olive for finishing plus one you use to saute
Fleur de sel or Maldon Sea Salt & freshly ground black pepper
3 garlic cloves, peeled, germ removed if necessary, and finely chopped
1 red chili pepper, seeded, membrane shaved off and finely sliced
5 medium tomatoes, quartered, seeds and juice removed, and roughly chopped
14 oz chickpeas, soaked overnight and then cooked in salted water or broth until tender (but not mushy)
1/4 cup white wine
Instructions
Remove the stems from the cavol nero.
Blanch the leaves in boiling salted water for two minutes and then refresh in ice water.
Drain and roughly chop the leaves.
Cut the squid bodies into 1/3 inch rings, the tentacles into two pieces lengthwise.
Pour enough of your frying olive oil to film the bottom of your fry pan and allow to get hot before adding the squid, salt, pepper, garlic, and chili,
Add the tomato, cavolo nero, and chick peas and fold to mix with your spatula.
Add some of the wine and saute over high heat for no more than two minutes.
The greens should have thoroughly wilted and the wine almost disappeared.
Remove from heat, divide on salad plates, swizzle on your best finishing olive oil, check for seasoning, and serve immediately.
Notes
You can prepare the squid; precook the greens and the chickpeas; prep the tomatoes, garlic, and chili ahead and then do the cooking before you want to serve. Serving it at room temperature is fine if you want to have a first course before.
Adapted from Polpo - A Venetian Cookbook (Of sorts)
Kitchen Detail https://lacuisineus.com/
Mozzarella Bocconcini
2018-04-23 19:21:03
These easy-to-do fried mozzarella balls are loved by both children and their parental units alike
Ingredients
80gr (2.75 oz) panko bread crumbs
zest from 1 lemon
Tipo 00 all purpose flour with some salt added
small handful of fresh oregano leaves, chopped
1 medium to large organic egg
8 oz buffalo mozzarella (I like using the small balls or bocconcini and cut them in half)
Grapeseed oil or other vegetable oil for frying
Instructions
Mix the panko with the zest and oregano in a dish.
Beat the egg really well with a fork in a second dish.
Put your salted flour in the third dish.
Take a piece of mozzarella (should be around 1 inch -1.5 inch in diameter) and roll it first in the salted flour, then in the beaten egg, finally in the panko mixture.
You can do this several hours before the final frying if you store them in the fridge.
Heat your oil in a deep pan (just enough oil so that the mozzarella floats).
The oil should be between 350 to 365F max.
Bring the cheese to room temperature before frying.
Fry a few at a time, so that the temperature does not fluctuate too much.
They should be golden brown, drained on paper and then served.
Notes
We carried a marvelous restaurant-quality panko in the shop, but a really good cooking client discovered the panko from www.uppercrustent.com and I am won over.
You can make a marinara or pesto dipping sauce if you like.
Just have more napkins!
Upper Crust sells a variety of breading products, but for the home cook, it may be easier to order from Amazon. Follow the link at the bottom of the post.
Adapted from Polpo - A Venetian Cookbook (Of Sorts)
Adapted from Polpo - A Venetian Cookbook (Of Sorts)
Kitchen Detail https://lacuisineus.com/
Flourless orange and almond cake
2018-04-23 20:00:47
Yields 10
A refreshing and hauntingly flavored orange cake for desserts or with coffee or tea.
Ingredients
2 thin-skinned oranges.
100gr (3.5 oz) light muscovado sugar (3/4c)
400gr (14.11oz) caster or superfine sugar (2cups)
6 medium organic eggs or 5 large
250gr (8.75oz) ground almonds
1.5 tsp baking powder
zest & juice of one orange
Instructions
Norman suggests a 10-inch cake pan but a 9-inch gives you a higher cake, which I prefer.
Grease the pan with oil and line the bottom with parchment.
Grease the parchment and you can film the interior with almond flour, which gives the cake a nice finish -- but it is optional.
Place the oranges into a saucepan with plenty of water to submerge the oranges (you will be using the water later for the syrup).
Simmer the oranges for two hours.
Reserve the cooking liquid and allow the oranges to cool.
In a food processor, add all the muscovado sugar and half the caster sugar, add the eggs and whip until creamy.
Now you cut the cooled oranges into medium-sized pieces and remove seeds before adding them to the processor.
Turn it on to pulverize the oranges into the batter and then add the almond flour and baking powder; process briefly to combine and pour the batter into your cake pan.
My cake was done after 50 minutes, even though Norman suggests up to 1 hour and 30 minutes. The cake is done when the internal temperature is about 205F or if a cake tester/skewer comes out clean.
Now pour the reserved cooking liquid from the simmered oranges into a pan that can hold hold at least 4 cups.
You should have about 3 1/2 cups liquid (you may have to add water).
Add the remaining caster sugar, the orange zest and juices. Bring to a fierce boil until you get a thick syrup.
This can take about 15 minutes or more.
Slice and serve with the syrup and whipped cream or mascarpone cream.
Notes
Norman mixes mascarpone with whipped cream to serve, but it is delicious with a complementary ice cream as well.
Adapted from Polpo - A Venetian Cookbook (Of Sorts)
Adapted from Polpo - A Venetian Cookbook (Of Sorts)
Kitchen Detail https://lacuisineus.com/
Hungry for More?
Subscribe to Kitchen Detail and get the newest post in your inbox, plus exclusive KD Reader discounts on must have products and services.
---
Share Us on Social Media: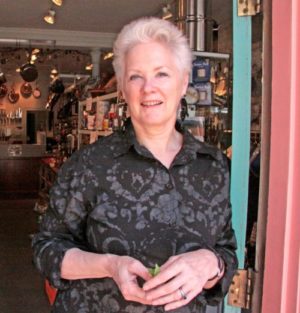 After owning one of the best cooking stores in the US for 47 years, Nancy Pollard writes a blog about food in all its aspects – recipes, film, books, travel, superior sources and food related issues.