January 12, 2022 - Written by: Nancy Pollard
Read Time: 5 Minutes Subscribe & Share
Old Style Horses Doovers For A New Year
My mother rarely made canapés or spiced nuts to have with drinks before dinner, Triscuits and cheese or Planter's Mixed Nuts were standard nibble fare. But she did serve for special occasions seasoned cream cheese wrapped in dried beef (the American version of Bresaola) and they were pretty tasty. My brothers and spouse vacuumed them up off the serving dish whenever they appeared. Although he waxes rhapsodic about pigs in a blanket, which he wolfed down at parties, I don't remember his mother ever making any sort of hors d'oeuvres either, but then my father-in-law eschewed fancy cocktails. They followed a more strict Southern tradition of bourbon-based classics – highballs and old fashioneds, cigarettes and then a really good dinner as she was an excellent cook.
Discussions about such food memories lead Victoria, our sharp-penciled editor, and me to reminisce about parental parties and trendy nibbles that were popular in our youth. (We did have one, you know.)
Cigarettes & Cocktails
"My folks entertained only occasionally, but I loved their parties. It was my job to put the mixed nuts and butter mints in footed dishes and stock silver cups with hospitable handfuls of Camels and Kents. My mother let me in on a family secret — one beloved relative who had lots of kids and little money used to bring an empty cigarette pack to parties and fill it from the cups on the coffee table. It just made me love him more.
I remember polishing the silver and putting out the good china even though food was, in truth, pretty much beside the point. My mother was an anxious cook, thrown into a frantic state when asked to contribute a chip dip to someone else's cocktail do. She eventually threw garlic salt into a container of sour cream and called it a day.
For cocktail parties, alcohol and hilarious company were the big draw. Guests were dear friends who happened to be writers, artists, cartoonists, and zanies of all stripes, including one gifted trombonist. I was once awakened in the wee hours by a raucous rendition of "When the Saints Go Marching In" as a trombone-led second line snaked through our slumbering suburban neighborhood. This was the kind of fun that made me want to be a grown-up.
For me now, food is very much part of the delight of entertaining. I started wondering what one of those vintage parties would have offered up as hors d'oeuvres, prepared by a more self-assured hostess. Some of these tidbits have emerged, disappeared, and re-emerged over the decades, as food combinations go in and out of fashion.
I dove into some old cookbooks and retro recipe sites to find the gems and the horrors. There were a few howlers that deserved to disappear. Think: lemon gelatin, beets, and crushed pineapple; or cocktail franks in a mix of pineapple, sauerkraut, ginger snaps, and currant jelly. Couldn't do it. But, never fear, we have found some that should, once again, come up for air."
Martha Strikes Again
One forgets that the ever-present and continually self-reinventing Martha
Stewart (including her 13-year friendship with Snoop Dogg) started out in 1976 as a small caterer in Westport Connecticut. Maybe that's where she honed her spinach triangle skills. This recipe omits the dill or mint found in some versions and uses leeks, which gives a more subtle onion flavor. And fresh spinach makes it better, too. I remember eating these at parties in the '60s and '70s and then they disappeared off the cocktail map. We're bringing them back!
Spanakopita Triangles
2022-01-03 17:57:02
The leeks are a nice addition instead of onions or scallions.
Ingredients
5 bunches of fresh field spinach, trimmed & washed or 30oz (851gr) prepped baby spinach leaves.
1 Tbs extra virgin olive oil
2 large leeks, white and pale green parts only, halved lengthwise, sliced crosswise, washed well and drained
2 garlic cloves, minced
coarse sea salt and freshly ground pepper
1/4 tsp freshly ground nutmeg
3/4 cup (178ml) crumbled feta cheese
1 package (17.3 oz or 490gr) frozen phyllo dough, thawed
1 cup (8oz or 227gr) unsalted butter, melted and kept warm
Instructions
In a large skillet, heat 1/4 cup water over medium high.
Working in batches, add spinach and cook, tossing, until completely wilted, 6-8 minutes. Transfer to a colander to drain, pressing out as much water as possible.
Wipe skillet clean. and return it to the same burner over medium heat,
Add oil and cook leeks until softened, stirring occasionally, 6-8 minutes.
Stir in garlic, season with salt and pepper, and cook until fragrant, about 1 minute.
Stir in nutmeg and transfer mixture to a food processor; add spinach and pulse until coarsely chopped.
Transfer to a bowl and fold in feta.
Preheat oven to 375 F,(190C) with racks in upper and lower thirds.
On a clean work surface, lay stack of phyllo sheets flat between damp paper towels.
Place one sheet flat on work surface, leaving remaining sheets covered to prevent them from drying out as you work.
Brush with melted butter. Place a second phyllo sheet on top; brush with butter. Cut lengthwise into four strips, each about 3 inches wide.
Working with one strip at a time, place 2 tablespoons spinach mixture at one end, in a corner. Fold corner over to form a small triangle.
Fold the triangle over again onto dough; continue folding until strip is rolled into a layered triangle. Trim excess with a paring knife to form a neat triangle.
Brush triangle with butter; place on a parchment-lined baking sheet. Repeat process with remaining strips and dough.
Bake until golden, rotating sheets halfway through, 20-25 minutes. Transfer to wire racks. Serve warm or at room temperature.
note: can be prepared through step 4 up to 3 months ahead (do not brush formed triangles with butter); freeze until firm, then transfer to resealable plastic bags. To proceed, brush with butter and bake without thawing, as directed in the recipe.
Notes
These can be prepared through step 4 up to 3 months ahead (do not brush formed triangles with butter); freeze until firm, ten transfer to resealable plastic bags. To proceed, brush with butter and bake without thawing, as directed in the recipe.
Adapted from Martha Stewart Appetizers
Adapted from Martha Stewart Appetizers
Kitchen Detail https://lacuisineus.com/
North Meets South
Pimento Cheese is something that eluded my understanding. I think most of my friends in my
youth used to buy it the way you bought onion dip with chips. But when Vicky made this version from the Lee Brothers, which was adapted from their recipe in The New York Times, both my Southern husband and my Northern self could hardly stop slathering it on our favorite sourdough crackers. While it is considered a Southern specialty, its history actually goes back to…..New York! Newly imported pimentos from Spain collided with some upstate farmers' version of French Neufchâtel, and then cream cheese manufacturers took over. Early versions came in little jars that we re-used for juice glasses. The concoction slid South when enterprising farmers there grabbed an economic opportunity by growing their own pimentos, smart cooks added cheddar and mayo — and what's been called "Carolina Caviar" was born. I, for one, am thrilled it's crept its way back into Northern hearts.
Pimento Cheese
2022-01-06 13:58:04
They show it as a sandwich but it is a yummy dip with crackers
Ingredients
8 oz (227gr) extra sharp cheddar cheese, grated with a food processor or hand grater (not pre-grated)
1/4 cup or 2oz ((57gr) softened cream cheese pulled into several pieces
Scant 1/2 cup (118ml) jarred pimentos or other roasted red peppers, finely diced
3 Tbs (44ml)Duke's, Hellman's or other high-quality store-bought mayonnaise
1/2 teaspoon dried red chili flakes - siracha is suggested by the authors
Salt and freshly ground pepper to taste
Instructions
In a large mixing bowl, place the cheddar cheese in an even layer.
Scatter the cream cheese, pimentos, mayo and chili flakes (or sriracha) over the cheese. Using a spatula, mix the pimento cheese until it is smooth and spreadable, about 1 1/2 minutes
Transfer to tightly covered container. Keeps in refrigerator for about one week.
Adapted from The New York Times Food Section
Adapted from The New York Times Food Section
Kitchen Detail https://lacuisineus.com/
It's A Wrap
These were a bridge and cocktail party staple, and part of the era's massive urge to wrap food in other food. Think chicken livers in bacon, wienies in packaged biscuit dough, and this nifty little trick with boring cocktail olives. In researching the different types of red pepper stuffed olives (Americans shortened the Spanish name of this red pepper from Piemento to Pimento) I found out through USA Today that the cheap red stuffed olive is actually a "slurry" of red pepper, gum and other stabilizers that is pumped into the pitted olive. You get what you pay for. You will enjoy Julia Reed's endearing article she wrote in the The New York Times Magazine in 2003 that accompanies this recipe. A trip down memory lane with delightful fashion notes.
Baked Cocktail Olives
2022-01-07 15:48:23
The best way to treat a jar of pimento stuffed cocktail olives.
Ingredients
8 Tbs (113gr) butter, softened
8 oz or 227gr (2 cups) grated extra-sharp cheddar
1 1/2 cups or 355ml or 204gr).unsifted all-purpose flour
1/8 tsp kosher salt
1/4 tsp ground cayenne
Dash of Worcestershire sauce
1 large egg
50 small pimento-stuffed cocktail olives, drained and patted dry
Instructions
Step 1. Heat oven to 350 F(175C). Beat the butter until creamy in a large mixing bowl, add the cheese and mix well. Stir in the flour, salt, cayenne, and the Worcestershire and mix until smooth. Beat the egg with 2 Tbs cold water. Add to the dough and mix just until incorporated. Refrigerate for 30 minutes.
Step 2. Remove the dough and flatten out a piece about the size of a walnut into a thin round. Place an olive on top and shape it around the olive, pinching to repair any breaks. Place it on an ungreased cookie sheet. Repeat with remaining dough and olives. Bake until the dough sets, about 15 minutes. Serve hot.
Adapted from The New York Times
Adapted from The New York Times
Kitchen Detail https://lacuisineus.com/
VIctoria Sackett and Nancy Pollard
Hungry for More?
Subscribe to Kitchen Detail and get the newest post in your inbox, plus exclusive KD Reader discounts on must have products and services.
---
Share Us on Social Media: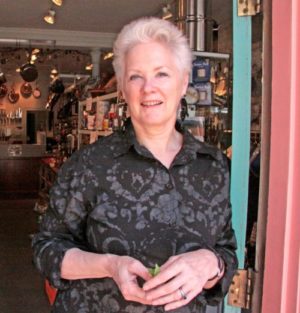 After owning one of the best cooking stores in the US for 47 years, Nancy Pollard writes a blog about food in all its aspects – recipes, film, books, travel, superior sources and food related issues.