March 2, 2022 - Written by: Nancy Pollard
Read Time: 4 Minutes Subscribe & Share
All For One, One For All
Looking through a copy of La Cucina Italiana during my accidently prolonged stay in Bologna, I found a rabbit recipe for beginners (Principianti In Liberta). Since rabbit is sold here like we sell chickens – you can just purchase legs only or the loins or rabbit quarters – I thought I would try an Italian take on the American sheet pan meal phenomenon. Like all its cousins, this requires some tweakage, but it is quite yummy. You need to turn the rabbit pieces over at least once and baste all the participants with the liquid that accumulates in the pan. While making this, I thought about the sheet pan craze in the US.
Rabbit In A Roasting Pan
2022-02-24 12:11:37
Serves 4
Pretty simple and delicious take on rabbit from Italy, Also successful if you double the recipe.
Ingredients
4 rabbit legs
1 kg (2.2lbs) potatoes
2 big springs fresh rosemary
1 head of garlic
1 lemon (must not be chemically sprayed)
a handful of green olives (I use the pitted taggiasca ones or Cerignola)
Extra Virgin olive oil, sea salt, fresh pepper, dry white wine
Instructions
Wash and peel the potatoes and then slice them into somewhat thin wedges.
Slice the lemon into similar sized wedges, without removing the peel.
Cutt the garlic head in half horizontally but don't peel and separate the cloves.
Arrange the rabbit pieces in the roasting pan and drizzle some olive oil, then sprinkle them with salt and freshly ground pepper.
Arrange the potato and lemon wedges around the rabbit pieces, break off the rosemary branches into several pieces and add them to the arrangement.along with the olives.
Tuck in the garlic head halves at each end.
Add a final drizzle of olive oil and bake for one hour and 20 minutes at 190C.(375F)
Half way through, sprinkle a bit of white wine over the rabbit mixture.
Notes
I turn the pieces over about a third of the way through, and then again about 30 minutes later.
The rabbit pieces should have a light golden brown hue on the top and the lemon and potato wedges should be starting to brown. I always use a thermometer to check the rabbit.pieces.
Adapted from La Cucina Italiana - January 2022
Adapted from La Cucina Italiana - January 2022
Kitchen Detail https://lacuisineus.com/
Sheet Pan Rant
Slammed vertically in a cupboard in my kitchen are at least six half size (18x13in/46x33cm) sheet pans (full size is 26×18 in/66x46cm) plus two quarter size (13x9in/33x23cm) and one really cute one eighth one (6x9in/15x23cm) which I use for roasting nuts or making an extra mini focaccia. I have two full-size carbon steel baking sheets from France lounging in my oven.These work as well as the very heavy US made cast iron sheet used to help browning and are less cumbersome.
In the final years of the shop we noticed the trend of cookbooks marketing the idea of making complete meals in a sheet pan. We tried a couple of US titles. To say that the few recipes we tried were unsuccessful would be an understatement. Over-roasted veg along with some mildly cooked protein, sometimes a sea of liquid. A DC food writer on Instagram – @dchagedorn occasionally posts acerbic comments on sheet-pan all-in-one recipe efforts. He's on-point and frequently hilarious.
The UK division of my family, however, alerted me to two books by Rukmini Iyer that had given them some successful sheet pan dinners. My daughter uses her book on "tray meals," with meat, poultry and fish and one that is vegetarian and vegan. I have purchased both and have certainly had to adjust her recipes, but she has some really good ideas. One is the carrot and Taleggio cheese tart, in which I opted for carrots sliced thinly on the diagonal instead of her version that leaves them whole. The other is her orzo and cherry tomato traybake.
But despite some misconceived meals on sheet pans, the pans themselves are so useful in
my kitchen that I have put some research into the best ones to have for brownies, cookies, roulades, roasting vegetables and, yes, some sheet pan or roasting pan meals. You may not have heard of my two favorite manufacturers, as I don't see their bakeware in most kitchenware stores.They are both based in the US, and their products are manufactured here.We found that their pans simply held up better than others we tried. Fewer dents, no buckling, no cheesy finishes that wear off after a few times in the oven. We could even say that they got the I Survived In Nancy's Kitchen Medal of Honor. Both companies have online ordering components on their websites as well as a presence on Amazon.
Lloyd Pans
I didn't know about Lloyd Pans until cookbook author, Lisa Yockelson introduced me to their huge 16-cup tube cake pan that she used in one of her recipes. The company made its name in providing pans for every major pizza chain in the US. A young company headed by a woman CEO, Lloyd has, over the last 30 years, expanded into a large line of bakeware. I have one of their sheet pans with their trademarked Silver-Kote finishes, because I like that it bakes like a plain aluminum surface. The company guarantees that Silver-Kote is a water-based finish and PTFE and PFOA free. Their pans are 18-gauge anodized aluminum and come in half- and
quarter-sheet sizes for home use.
Bundy Baking Solutions
After trying a variety of baking sheets, loaf and cake pans for sale in the the shop, we opted for a wide selection manufactured by Bundy Baking Solutions. This company established in 1959 by the Bundy brothers is now the largest global company specializing in commercial bakeware. It had purchased the commercial end of Chicago Metallic bakeware in the latter part of the 20th century, and the housewares part of that original company is owned by Lifetime Brands,Most of the time when you see Chicago Metallic bakeware, it is from this conglomerate. My own experience leads me to prefer the
pans from the USA Pan division of Bundy Baking Solutions. The pans in this division are made of aluminized steel and have a silicone coating that does not contain any of the scary chemicals used in other non-stick surfaces. USA Pan was established in 2009 to provide individual consumers with home-oven-sized commercial quaility bakeware. Their Chicago Metallic bakeware from Bundy Baking Solutions is sold to commercial distributors, and their sheet pans come in a variety of gauges and finishes. For readers who want the plain sheets (no coating) that we used to carry at La Cuisine, contact customer service@cmbakeware.com for a local or online distributor.
Hungry for More?
Subscribe to Kitchen Detail and get the newest post in your inbox, plus exclusive KD Reader discounts on must have products and services.
---
Share Us on Social Media: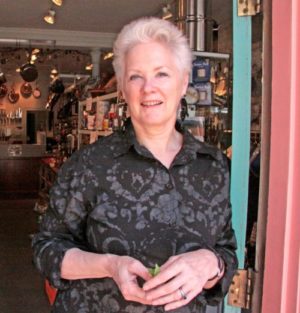 After owning one of the best cooking stores in the US for 47 years, Nancy Pollard writes a blog about food in all its aspects – recipes, film, books, travel, superior sources and food related issues.