September 7, 2021 - Written by: Nancy Pollard
Read Time: 4 Minutes Subscribe & Share
It's Not Easy Being Green
As noted in the KD post on surplus zucchini recipes, I often ponder why the mounds and overflowing baskets of peppers in August and September fail to inspire zucchini-ilk jokes. Peppers — the green ones at least —deserve it. I remember punishing myself with strips of green peppers as a snack in college, when I was trying to fit into a ridiculously small but deeply on-sale dress. I also can't forget a very brief meal affliction when we were first married — stuffed green peppers. They were always available, cheap and recommended by my "economical" cookbooks, while the red, yellow, and orange ones were packed in groups of three from the Netherlands and were entirely too expensive for us. Not even my mother-in-law, who was one of the best economical cooks I have ever known, could make a stuffed green pepper truly appealing. In the end, I refused to be moved by all the green pepper PR pitching them as great sources of fiber, Vitamins A and C, potassium, folic acid. Yawn and btw, yuck.
Beyond The Green Horizon – Sweet Pepper Recipes
It took a couple of trips to France and Italy to find out that peppers (the bell kind and its relatives) can be a delicious addition to summer
and fall meals,. They just need a bit of accessorizing. So, you have my permission to ignore the piles of green bell peppers, but I feel it is my September duty to share with you these three recipes featuring their more vibrant kin. They are all freezable, in case you fall prey to pepper glut. I confess a weakness for peppers that are yellow, orange, purple, red, or pointy. You will be happy to know that the colorful types of peppers (we are not talking chilis here) are much more nutritious than the misbegotten green. Red peppers have 11 times as much carotene and 1.5 more times Vitamin C than the green unripened peppers. Take that, green pepper pitchmen!
The River Café in London and its owner chefs. Rose Gray and Ruth Rogers, have been a source for some of my happiest dishes . I often peruse their books when I come home with produce. (Their brightly hued books are a bit like those authored by Ottolenghi, Diana Henry or Ina Garten – you start with one, and then soon they have reproduced
like rabbits on your bookshelf). Ruth and Rose's directions can be a bit sketchy, so even if the ingredients are few, the dish sometimes won't turn out the way it is instructed, or even photographed, in the book. I have to occasionally revamp and take notes in the margin. Other times, I blindly follow their directions, and the dish turns out as expected. So their books are not for the nervous novice, even though the ingredient list is simple and the instructions rarely fill a page. In the following recipe, the use of red wine in addition to the tomatoes gives the final presentation a lot more zing.
Peppers Stewed With Red Wine
2021-09-04 16:21:01
Serves 6
Ingredients
A mixture of 10 red, yellow, orange, and purple peppers
500ml (2 1/8 cups) Valpolicella or similar red wine
6 tablespoons (89ml) olive oil
6 garlic cloves peeled and diced
500gr (17 1/2 oz) canned plum tomatoes
Maldon sea salt and freshly ground black pepper
handful of fresh basil leaves torn
Extra virgin olive oil to finish
Instructions
Cut the peppers lengthwise into quarters and remove the seeds, stems and membranes, then cut into quarters or thirds depending on the size of each pepper.
Heat half the olive oil in thick-bottomed sauce pan and add a third of the diced garlic
Cook the garlic just until soft and then add the tomatoes with their juice.
Cook this mixture over low heat stirring frequently for 30-40 minutes - the sauce should be thick.
Heat the remaining oil in a wide thick-bottomed sauté pan and add the remaining garlic and the peppers.
Stir, coating the peppers with the oil over medium heat for about 30 minutes.
The peppers should become soft but not browned.
Stir in the tomato sauce and then add the wine gradually, so that each addition is absorbed by the peppers before pouring in the next.
Add the basil and cook over low heat for another 30 minutes.
Remove from heat, and drizzle with good quality extra virgin olive oil before serving.
Adapted from River Cafe Cookbook Green
Adapted from River Cafe Cookbook Green
Kitchen Detail https://lacuisineus.com/
Although he has passed away and his restaurant is no longer with us, there was a period in the late 20th century when
Roger Vergé's style of food, the ambiance of his restaurant, even the vibrant decor and flower arrangements were very much au courant. Vergé had a series of cookbooks, replete with beautiful photographs of his restaurant and gardens, along with menus and recipes for his culinary creations. His cookbooks even inspired Victor Shargai's interior design of my living room, which my daughters renamed "The Happy Room". I want to share a recipe from Vergé, as he clearly knew his way around a vegetable. His red pepper sauce or coulis can be made in advance, some of it can be frozen and the rest can be used as a dipping sauce for fried zucchini blossoms, ora garnish for any number of Italian vegetable-based sformatini (which are so much easier to make than French vegetable flans). It's a nice finish for any pan fried fish filet as well. I use a food processor for my version, but if you use a blender it will look and taste smoother.
Red Pepper Coulis
2021-09-03 22:44:15
Yields 10
My go to sauce for fried zucchini blossoms as well as fish filets in the summer
Ingredients
2 1/2 lbs (1.1kg) assorted red peppers, bell, Italian (not chile peppers)
2 medium white onions
2 tablespoons butter or a 4 tablespoons olive oil - you may need a bit more.
2 medium ripe tomatoes (San Marzano style preferred)
3-4 garlic cloves
1 large sprig of fresh thyme
2 bay leaves
Fine sea salt and freshly ground pepper
3/4 cup chicken stock,
a few leaves of fresh herbs -your choice of basil, cilantro, savory, dill, parsley, sage or rosemary
Optional garnish of diced black nicoise olives
Instructions
Seed and cut away the membranes and cores of the peppers, there is no need to peel them.
Peel the onions and slice them thinly into rounds or half rounds.
Put the peppers and onions into a large heavy sauce pan with the butter or olive oil, cover the pan and let them sweat over very low heat.
This should take about 15 minutes - the peppers should be very soft.
Stem the tomatoes, and cut into large chunks - no need to remove seeds or peel them.
Peel and lightly crush the garlic - use to your taste.
Add the crushed garlic, tomato pieces, thyme (you will pull the leaves from the stem by pulling it through your fingers) and bay leaves.to the peppers and onions in the pan.
Season with some salt and pepper, and add the chicken stock.
Cook over medium heat for another 15 minutes before putting through the fine blade of a food mill, or regular blade of a food processor or in a blender for the smoothest result.
You may or may not have to add a little bit more stock during the cooking, it really depends of the water content of the peppers.
Garnish with whatever fresh herbs you want before serving.
.
Notes
He suggests adding an optional star anise if you want to produce a slightly sharper and spicier flavor to the peppers.
He also suggests finely diced black Nicoise olives can also be an optional garnish depending on what your are using this sauce for.
Adapted from Roger Vergé's Vegetables In The French Style
Adapted from Roger Vergé's Vegetables In The French Style
Kitchen Detail https://lacuisineus.com/
This last way to enhance red peppers (only) is from a renowned chef in whose Parisian restaurant, we enjoyed two outstanding
meals, with personal yet professional service almost a decade apart. Both times, we were treated as well as their much more monied and frequent diners. The restaurant L'Ambroisie is housed in the Place De Vosges. Bernard Pacaud and his wife Danielle, run this three-star establishment, and have passed their gifts to their son, Mathieu, who is at the helm of another prestigious dining adventure I would like to try. The Resident Wine Maniac was so enamored of this red pepper mousse, as well as L'Ambroisie, that I bought the Pacaud cookbook in Paris and have made it several times with very few changes.
Sweet Red Pepper Bavaroise
2021-09-04 17:58:04
Serves 6
Ingredients
1 kg (2.2lb) completely red bell peppers (6-8 peppers)
1 cup chicken stock
16 grams leaf gelatin or 2 envelopes powdered gelatin
1 teaspoon paprika
1/4 teaspoon cayenne pepper or piment d'esplette
fine sea salt
1 cup heavy cream
Instructions
The peppers need to be completely peeled, seeded and membranes removed.
You can broil the peppers to blister the skin, seal them in a bag for 30 minutes or
Pacaud's method - blanche the peppers for 2 minutes in heavily salted boiling water.
Once they are peeled and roughly cut, put the peppers into a saucepan with the chicken stock.
Bring this to a boil, cover and let them cook over low heat until they are tender but still maintain their bright red color - 10-20 minutes
Drain them, but keep all the liquid in the sauce pan.
Puree the peppers with the paprika in a blender or food processor.
Soften the sheet gelatin in cold water (or if you are using powdered gelatin, follow the directions)
Add the softened gelatin to the pureed peppers and blend with a spoon or whisk until smooth.
Whip the cream in another bowl while the puree is cooling, at room temperature.
When the puree is at room temperature (you do not want to chill it as it will set the gelatin), fold in the whipped cream.
Oil a 4 -6 cup mold, and before pouring in the mixture, taste for seasoning, this is when I add more salt and hot pepper to taste.
Pour the mixture into the mold, cover with cling wrap and allow it to set overnight in the refrigerator.
The next day before serving, run a knife around the interior edge of the mold, dip the mold quickly in hot water and it should unmold nicely onto a platter.
Garnish with little salad greens, halved cherry tomatoes, perhaps some black olives and finish with a drizzle of Aceto Balsamico and fine extra virgin olive oil.
.
Adapted from Les Recettes Originales L'Ambroisie Place De Vosges A Paris
Adapted from Les Recettes Originales L'Ambroisie Place De Vosges A Paris
Kitchen Detail https://lacuisineus.com/
Hungry for More?
Subscribe to Kitchen Detail and get the newest post in your inbox, plus exclusive KD Reader discounts on must have products and services.
---
Share Us on Social Media: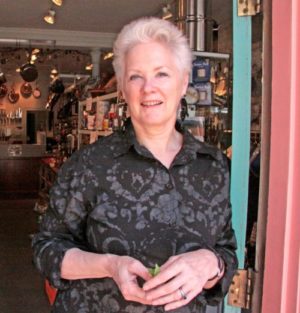 After owning one of the best cooking stores in the US for 47 years, Nancy Pollard writes a blog about food in all its aspects – recipes, film, books, travel, superior sources and food related issues.