February 12, 2020 - Written by: Nancy Pollard
Read Time: 3 Minutes Subscribe & Share
Not Your Chocolate Covered Strawberry
Now is not the time for a low-fat yogurt dessert. Now is the time to celebrate something lush and a little depraved with someone you adore. Truth be told, I have loved eating this all by my lonesome.
I have made this dessert for years, especially for people who say they are confirmed chocoholics. It never fails to stop them
dead in their tracks. As with anything you put in your mouth, the quality of ingredients is all important. I have made it with cheap chocolate and top quality ones. And, unlike brownies, which are so dependable with just about any level of ingredient, this deserves more attention to high-caliber content detail. Because this "cake" is so simple, it is worth the expenditure of funds to get the good stuff. As to the intensity of the cocoa solids in the chocolate you choose, I would stop at 70%. But I would not use less than 62%. I have made this with Valrhona, Cluizel and Amedei bittersweet varieties. All terrific.
The Best Chocolate Cake Ever
I got the recipe from the first cookbook I purchased from the River Café in London. Rose Gray and Ruth Rogers, the co-founders of this unique
restaurant on the Thames, found this recipe when they were struggling to open their dream eatery. Reading through their recent anniversary cookbook (River Cafe just celebrated its 30th year), I discovered how unique they were in running this Italian restaurant. Neither of them had any formal training in professional cooking. One was the British wife of an artist (who created the wire signature sign for the restaurant), the other an American wife of a prominent architect. They started out making sandwiches and were permitted to sell them only to the working people in the immediate Hammersmith warehouse area. Yes, they had help and connections, but I have eaten in plenty of bad restaurants where the owners had oodles of cash and a rolodex of famous peeps, and the food was still terrible. This is not the only recipe from their books that I have made repeatedly. But I do concur with their non-hyperbolic description: Nemesis is the best chocolate cake ever.
One Size Does Not Fit All
So on this Valentine's Day, I give you Gray and Rogers's original version and their later more petite model from their cookbook
Easy. For either, it is important to have the eggs and sugar whipped up to a soft whipped cream consistency. You must put a parchment liner on the interior base of the cake pan. You can use a slightly smaller pan than indicated in each recipe, which will create a higher cake. I always use caster sugar (my favorite brand is from India Tree).Putting a towel in the water bath keeps the pan from jostling around. I also heat the water in the pan so that the filled cake pan goes directly into hot water.The cake will pull away from the sides as it cools in the water bath, and it is then easy to flip over onto a serving plate. You can freeze it whole or in portions, but the cake must come to complete room temperature for serving. It can also be refrigerated for a few days, but again, room temperature is a must for serving.
When the roses have wilted, you will still have a few slices of this irresistible cake. You can lighten the effect with a small tasteful dollop of whipped cream And a few fresh raspberries offer a bit of a distraction on your plate. If someone suggests that it might be seriously calorie laden, you may console that person that it is, after all, gluten free.
Large Chocolate Nemesis
2020-01-10 00:24:35
Serves 10
Ingredients
10 large eggs
3 cups (675gr) caster sugar
1 1/2 lbs (680gr) bittersweet chocolate in small pieces
1 lb (454gr) unsalted butter softened
Instructions
Preheat oven to 325F and line a 12x2 inch or 10x3 inch cake pan with wax or parchment paper and then grease and flour it.
Beat the eggs with a third of the sugar until the volume quadruples - this will take at least 10 minutes in an electric mixer.
Heat the remaining sugar in a saucepan with 1 cup of water until the sugar has completely dissolved to a syrup.
Place the chocolate and butter in the hot syrup and stir to combine.
Remove this mixture from the heat and allow to cool slightly.
Add the chocolate syrup to the eggs and continue to GENTLY beat for about 20 seconds (very important that it just be mixed)
Place the pan in a roasting pan filled with warm to hot water - the water must come up under the rim of the cake pan-about 3/4 of the way up the side.
Bake in the oven for 50 minutes-70 minutes - it should have a set interior and a baked surface.
Allow it to cool completely in the water before unmolding and serving.
Notes
I run a knife around the interior sides of the pan and flip it onto a cake plate.
If you refrigerate it, let it come to room temperature (or close to it) before serving.
I sometimes use cocoa powder to "flour" the pan.
Adapted from Rogers Gray Italian Country Cookbook
Adapted from Rogers Gray Italian Country Cookbook
Kitchen Detail https://lacuisineus.com/
Card
Small Nemesis
2020-01-20 18:39:20
It's just smaller than the original recipe, folks,
Ingredients
12 oz (340gr) best quality bittersweet chocolate (70% cocoa solids)
8 oz(227gr) unsalted butter
5 large eggs
1.5 cup (320gr) caster sugar
Instructions
Preheat oven 300F
Grease a 9x2 or 9x3 inch (23cm) cake pan and line with baking parchment
Break the chocolate in small pieces if it is in a solid block.
Melt chocolate with butter over simmering water.
Beat eggs and 5 tbs of the caster sugar until you have quadruple the volume
Heat the remaining sugar with 7 tbs water until dissolved into a light syrup..
Pour the hot syrup into the melted chocolate and cool slightly.
Add the chocolate to the egg mixture and beat slowly until the mixture is combined.
Pour into prepared cake pan.
Place cake pan in a larger roasting pan and add enough hot water to come three quarters of the way up the side of the cake pan.
Bake 45 minutes to an hour until the cake is set
Allow the cake to cool in the water before unmolding.
Notes
They suggested in this recipe to put a towel in the bottom of the roasting pan, which I have done on occasion
Adapted from Italian Easy: Recipes From The London River Cafe
Adapted from Italian Easy: Recipes From The London River Cafe
Kitchen Detail https://lacuisineus.com/
Hungry for More?
Subscribe to Kitchen Detail and get the newest post in your inbox, plus exclusive KD Reader discounts on must have products and services.
---
Share Us on Social Media: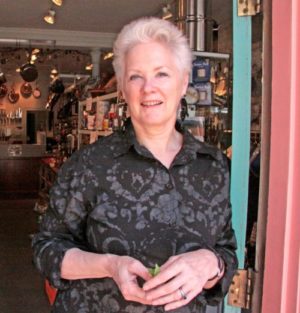 After owning one of the best cooking stores in the US for 47 years, Nancy Pollard writes a blog about food in all its aspects – recipes, film, books, travel, superior sources and food related issues.