August 3, 2022 - Written by: Nancy Pollard
Read Time: 4 Minutes Subscribe & Share
Great Expectations
When farmers markets open with their annual unveiling of produce, I go gaga (and I'm sure I am not alone) with the first strawberries that are a blessed relief from the winter's rock-hard, oversized, white-caverned imposters bred by the Dread Driscoll Overlords (which Seymour Britchky immortalized in one of his hilarious restaurant reviews). And, of course, blueberries are always your steady and sturdy friends. Not like the flavor-packed low-bush variety from our New England states, but still reliable. You grab raspberries in their little half-pint boxes and hope that you get them spread on a plate in the fridge before they implode. I grab blackberries too, but they used to be sort of a berry frenzy afterthought. In the last couple of years, however, I have found a few recipes that truly showcase not only the sexy shape of this little fruit, but its flavor as well. The first is an unusual blackberry upside down cake from a January 2021 post . It's become my favorite batter for an upside down cake and is even better with the summer blackberries available at almost every farmers market across the US.
What's Red When It's Green
An old rural riddle asks how to tell a ripe blackberry, with the key being that an unripe one is red rather than purply black (or green, as one has every reason to expect). Curiously, a blackberry
is not a single fruit, but rather an aggregate of little fruits, according to a British blog titled PlantLife. Each little "bobble" (or drupe in botanical parlance) in a blackberry is a single blackberry fruit with a seed in the interior. In the US, Oregon is considered Blackberry Central, but interestingly the largest grower and exporter of blackberries is Mexico. (Our sharp-penciled editor, a native Oregonian, swears there are no blackberries better than the invaders that overtake every square inch of every vacant lot — and too many gardens — in the Pacific Northwest. Fattest, tenderest, sweetest, she insists.)
Blackberries have a longer shelf life than raspberries, since the core remains intact within the fruit when picked, whereas when a raspberry is picked the core stays on the plant. Blackberry plants or brambles can be incredibly invasive, particularly the Himalayan Blackberry – which did not originate near Mount Everest, but rather in Armenia. The current plague of Himalayan blackberries in the American Northwest is yet another chapter in the weird world of Luther Burbank, but that will be another post. Blackberry brambles – and there are over 350 varieties – seem quite happy to be good neighbors to our enemy – the poison ivy army. A good reason to follow the old saying "Leaves of three, let them be" should you want to go blackberry picking in the wild. A safer alternative is to corral your own blackberries if you have some space. Two highly recommended varieties are Triple Crown and Chester Thornless. Triple Crown is thornless also and produces berries for over a month – usually late July through August. The Chester Thornless provides berries that are deliciously sweet and don't become overly soft in extremely hot weather.
Gourmet Strikes Again
Having tried several desserts with blackberries – including some good combinations of white chocolate with blackberries and an almond ice cream with a blackberry swirl, this roulade from Gourmet's Sweets is the one that gets the most requests on the
home front. It's a very simple "jelly roll" sponge cake, pretty hard to get wrong, a blackberry curd, and both can be made ahead. Then you slice some blackberries and fold them into sweetened whipped cream. The roulade gets spread first with the blackberry curd and then with the blackberry laced whipped cream before rolling along the short side of the sponge.
They suggest lining a 10×15 inch (25x38cm) jelly roll pan with aluminum foil, buttering it and then dusting it with flour. USA Pan, which is part of Bundy Baking Solutions, makes some of the best bakeware I have used. I discovered that Silpat makes one of their sheets fit this size pan, and I use that instead with no greasing, and sprinkle almond powder or flour on it. Silpat makes rolling up the roulade much easier. I use caster sugar as it creates a silkier foam with the eggs than granulated sugar. Should you make the sponge the day before, keep it in the pan, covered with cling wrap at room temperature.
Blackberry Curd Roulade
2022-07-29 19:41:33
Serves 8
Our favorite blackberry dessert. Period.
For the sponge cake
1/2 cup (70gr) cake flour
1/4 teaspoon fine sea salt
4 large whole eggs
1/2 cup (115gr)granulated sugar - I prefer caster sugar
1 teaspoon vanilla or 1/3 of a vanilla bean
For the Blackberry Curd
1 1/2 cups fresh, picked over blackberries
1/2 cup (115gr) granulated sugar
3 tablespoons (43gr) unsalted butter
2 tablespoons (15gr)cornstarch
2 large egg yolks
For the Blackberry Cream
3/4 cup (178ml)well chilled heavy cream (not ultra-pasteurized)
1 -2 tablespoons granulated sugar - I prefer caster sugar
Generous 1/2 cup (120ml) picked over blackberries, sliced in half
1 teaspoon vanilla extract, paste or 1/3 of a vanilla bean
Make the sponge roll
Preheat oven to 350F (175C)and line bottom and sides of a 15x10 inch jelly roll pan with aluminum foil
Alternatively, line your pan with a Silpat formulated to this size.
Butter the foil and dust it with flour or almond powder - with a Silpat, simply sprinkle some almond powder across the surface.
Sift or stir the cake flour and salt in a small bowl.
Place the eggs and sugar with the vanilla in your mixer bowl and with the whisk attachment beat until they become thick, pale and form a ribbon when the beater is lifted - this mixture should be more than double in volume.
Fold the flour mixture into this gently but thoroughly, so there are no streaks of dry ingredients.
Spread the batter evenly in the prepared pan and tap on counter to level the batter.
Bake in the oven for 12 to 15 minutes - the cake should spring back to the touch and be pale gold on the surface.
Cool cake in pan on a rack
.
Make the Blackberry Curd
Using a food processor, puree the blackberries and strain through a fine sieve into a heavy saucepan, pressing hard on the solids.
Stir in the yolks, sugar, butter and cornstarch, and over low heat continue to stir with a whisk or spoon until the mixture thickens (it should barely come up to a simmer).
Transfer curd to a bowl and cool.
Curd can be made one day ahead, and kept chilled and covered
.
Make the Blackberry Cream
In a small bowl beat the cream with the sugar and vanilla until it holds stiff peaks.
Half the blackberries and fold them into the cream.
Put a kitchen towel on the counter and dust it generously with confectioners' sugar.
Invert cake onto the towel and gently peel off foil or Silpat.- you may want to run a thin knife around the edges of the pan to release the sides of the spongecake.
Spread the curd evenly on the cake and then the whipped cream berry mixture.
Beginning on the short side and using the towel as a guide, roll the roulade, jelly roll fashion and transfer to a platter, seam side down.
Refrigerate, covered until ready to serve.
Notes
Cake can be made a day in advance and kept in pan, wrapped well in plastic wrap at cool room temperature.
Gourmet suggests putting the roulade together about six hours in advance but I have done it easily 10 hours in advance.
Adapted from Gourmet's Sweets
Adapted from Gourmet's Sweets
Kitchen Detail https://lacuisineus.com/
Hungry for More?
Subscribe to Kitchen Detail and get the newest post in your inbox, plus exclusive KD Reader discounts on must have products and services.
---
Share Us on Social Media: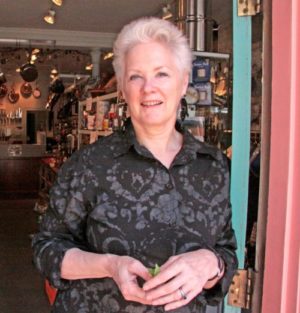 After owning one of the best cooking stores in the US for 47 years, Nancy Pollard writes a blog about food in all its aspects – recipes, film, books, travel, superior sources and food related issues.