January 6, 2021 - Written by: Nancy Pollard
Read Time: 5 Minutes Subscribe & Share
Winter of Discontent
Life has been upside down since last March (with rumblings dating back to December 2019) so I am dedicating this first post of 2021 to
Upside Down Cakes. These uniquely American creations offer an apt metaphor for our topsy turvy approach to the pandemic. With origins untraceable to immigrant communities in the US, this dessert is unrelated to Tarte Tatin from France, and even our German Upside Down Cake is not German. In reading Stella Park's cookbook, Bravetart, in which she writes succinctly about the history of various American iconic desserts and snacks (and has quite a few outstanding recipes on her subjects), I discovered a lot about Oreos, Boston Cream Pie and Pineapple Upside Down Cake. Her version of the latter, with its cutouts of fresh pineapple instead of canned circles and her coconut milk-based cake layer, is really good. I used my Hammer Song leaf cutters instead of a star cutter. Fascinating to learn that traditional Pineapple Upside Down Cake, replete with red cherries in the middle of a canned pineapple wheel, actually came from a cleverly designed piece of marketing to make greater use of a glut of this canned fruit in the US during the early part of the 20th century. Madison Avenue meets Hawaii!
Our Upside Down Heritage
Cakes in which the bottom became the top have been around since the Middle Ages. But those done in a skillet,
usually with legs (they were called spiders) over an open fire became common in American cooking in the late 19th century. What many of us grew up with in the US, though, was the result of the marketing genius of James Dole, president of the Hawaiian Pineapple Company. (The rapacious history of the pineapple companies in Hawaii makes absorbing and cringeworthy reading) Dole's business needed to increase its export of canned pineapple to the mainland, so in 1925, the company sponsored a recipe contest using its canned pineapple. There was an astonishing number of submissions – 60,000, and of that total, over 2500 were for pineapple upside down cake. Dole had found the sweet spot. He advertised heavily. Recipe booklets were published, and radio programs geared to housewives filled the airwaves with this cake. As a side note to the upside down cake, the tradition of a ham festooned with canned pineapple circles, once again with a cherry in the middle, also came out of this marketing ploy. Later, with the development of cake mixes, one could simply grab a can of Dole Pineapple, a box of cake mix, and a jar of cherries the color of a traffic light, and this startling looking dessert was born.
Other Possibilities
This may be my favorite cake batter for an upside down cake. It is from Gourmet Sweets published in 1998.
While it seems that I flog the books published by Gourmet relentlessly, I have found (and so have other KD readers) that they are an incredible resource for truly delicious recipes. Plus, you have marvelous photos from Romulo Yanes and others, which just suck you in. Sometimes I just pick a year and look through the photos and the recipes all nicely categorized as a nice cap to bedtime reading. By the way, I don't feel wedded to the "seasoned cast iron skillet." This one was made in a French copper pan used for Tarte Tatin. Cast iron has occasionally given me problems with unmolding and with the caramel and fruit getting too dark. We liked this recipe so much, it was one of the reasons that I froze local blackberries this summer,
Blackberry Upside Down Cake
2020-12-29 23:04:56
Serves 8
For the topping:
3 tablespoons (60gr)unsalted butter
1/3 cup(65g4) light muscovado sugar
3 cups picked over blackberries(300gr) ( I have used frozen, but I arrange them in the bottom whlie they are frozen)
For the batter
1 3/4 cup (175gr)cake or pastry flour (not self-rising)
1 1/2 teaspoons (6gr) baking powder ( I use New England Cupboard)
1/4 teaspoon (1.5gr) fine sea salt
1/2 teaspoon (3gr) ground ginger
1/4 teaspoon (1 1/2gr) ground cinnamon (I use Vietnamese Cinnamon)
1 cup (200gr) packed Light Muscovado Sugar (I use India Tree)
10 tablespoons (142gr) unsalted butter, softened
1 teaspoon vanilla extract ir 1/4 teaspoon vanilla essence from Grasse
1 teaspoon lemon zest or 1/4 teaspoon lemon essence from Grasse
3 large eggs
1/2 cup cream mixed with 1/2 cup milk (118ml of each)
Instructions
Preheat oven to 375F.(190C)
In a seasoned 10 inch (25cm) cast iron skillet, melt butter over medium heat until foam subsides.
Reduce heat to low and and add the brown sugar evenly across the skillet.
Remove from heat and arrange the blackberries in an even layer in the skillet.
Combine the flour, spices, salt, baking powder - I use a whisk and not a sifter.
In a mixer (or a bowl with a hand mixer) cream the butter and brown sugar until light and fluffy.
Beat in the vanilla and zest or essence before adding the eggs, one at a time while mixing the batter.
Add the flour mixture alternating with the milk mixture, until it is just combined - authors suggest ending with the flour mixture.
Pour the batter over the arranged berries and caramel. You will need to spread the batter lightly but not disturb the berries.
Bake in the oven, in a middle rack if possible, for about 30 minutes - top should be golden brown and spring back when you lightly touch it.
Cool in pan on a rack for 10 minutes, then run a knife around the interior edge.
Invert a plate over the skillet and then reverse it keeping the plate in place over the top of the skillet.
The cske should release easily, but you may have to replace a couple of errant berries that have stuck to the pan.
Serve at room temperature with whipped cream.
Notes
This cake keeps well in the fridge for several days.
Adapted from Gourmet Sweets - Desserts for Every Occasion
Adapted from Gourmet Sweets - Desserts for Every Occasion
Kitchen Detail https://lacuisineus.com/
Not all restaurant cheffy cookbooks have a preponderance of workable recipes. I know not to expect a perfect score from them, but I do hope for some
alignment of the Bingo pellets. And this one, which was co-written by Cathal Armstrong, the former chef-owner of Restaurant Eve in my neighborhood of make believe, and David Hagedorn, who was the chef-owner of Trumpets in DC and now writes about dining (and sometimes really funny anecdotes about manners and grammar) definitely qualifies. Anyone could tell my high ranking of My Irish Table by its stained pages – some of them stuck together from flipping back and forth while working on a dish. This is my favorite version of Pineapple Upside Down Cake. It's eggy, rather than claggy (an apt expression I have picked up from the Great British Bake-Off). It, along with Armstrong's gravlax, was a hit when he came to the shop for an author event. This version was dreamed up by Cathal when his sister and her family came to his house for dinner. Do fold the small amount of flour in by hand, and make sure the caramelized pineapple base is totally cool before you top it with this custard-like batter.
Pineapple Upside Down Cake
2020-12-30 00:33:04
Serves 8
Unusual, tasty and not gunky sweet.
Ingredients
1 pineapple trimmed and peeled
3 cups sugar(303gr) (I use India Tree Caster Sugar)
1 pound (454gr) unsalted butter at room temperature
8 large eggs
1 cup (136gr)all purpose white flour
Instructions
Quarter the pineapple lengthwise and remove the core from each quarter.
Halve each quarter lengthwise and then cut each eighth into 1/2 inch slices
Spread 1 cup of the sugar in the bottom of a 10-inch cast iron skillet and place over medium heat.
Let the sugar cook for a few minutes until a ring of clear syrup appears around the edge of the pan.
Then stir the sugar until it begins to carmelize, breaking up clumps of sugar crystals that may form.
Continue stirring until the sugar is completely dissolved and the caramel is a deep but not burnt brown color.
Stir the pineapple pieces into the pan - the caramel will come together in a mass, but will turn liquid again as the water in the pineapple boils and melts it.
Continue cooking the pineapple, stirring occasionally until most of the juice evaporates and the caramel becomes a thin syrup - about 10 minutes.
Remove the skillet from the heat and set aside to cool.
Prepare the batter and preheat the oven to 350F (175C)
In a stand mixer, fitted with a paddle attachment, cream the butter and the remaining 2 cups of sugar on high speed until it becomes almost white and fluffy -this takes about 10 minutes.
Scrape down the sides of the bowl from time to time and then lower the speed and add the eggs one by one, completely incorporating each one before adding the next.
Remove the bowl from the mixer and with a spatula or spoonula, fold in the flour mixture.
Make sure that the pineapple caramel mixture is cool before you spread the cake batter over it.
The cake can take up to an hour to bake - use the toothpick test or a Thermapen to test doneness.
Remove the cake from the oven and immediately invert the cake onto a serving platter.
Usa your spatula to scrape off any caramel or pineapple left in the pan and spread them where necessary on the cake.
He suggests serving it hot with vanilla ice cream.
Notes
He advises that you can make the caramelized pineapple in the pan ahead of time and then pour the batter in right before you want to bake it off. He also suggests that it can be made entirely ahead and then bake it off while you finish your meal.
Adapted from My Irish Table - Recipes From The Homeland & Restaurant Eve
Adapted from My Irish Table - Recipes From The Homeland & Restaurant Eve
Kitchen Detail https://lacuisineus.com/
Brian Noyes is one those "lucky ones" people imagine to have effortlessly and successfully switched careers. But the truth is that while working very hard as an art director for several major publications in Washington, DC, Brian baked on the side, graduated from the professional baking program of L'Academie De Cuisine, then packed up his baked goods on the weekend and drove to a farmers' market near a farmhouse he and his husband owned. (He bought the red truck, by the way, from fashion designer Tommy Hilfiger.) It was not until a few years later that he realized his hard-won dream and opened Red Truck Bakery in Warrenton. He has since opened a larger one in Marshall, and either one is a perfect destination for a Northern Virginia road trip. If you love to bake, Red Truck Bakery Cookbook is for you. It is packed with Brian's very carefully designed, seductively photographed riffs on American cakes, pies, cookies and breads (with a couple of twists on French ones and a sweet potato homage to the Italian Panettone). This gingery upside down cake is perfect for pears that I have left out too long. And coming to my kitchen book shelf in 2022 will be Brian's Red Truck Bakery Farmhouse cookbook, with his take on simple savory recipes that his many followers have asked for, plus some that got left out of this first book. I am so ready.
Upside Down Pear Gingerbread Cake
2020-12-31 19:26:29
Yields 9
Perfect cake for breakfast with coffee or afternoon tea when it is cold and gray.
For the topping
4 tablespoons (43gr) unsalted butter, melted
3 tablespoons (45gr)packed dark brown sugar (I use India Tree Dark Muscovado)
3 tablespoons (20gr) chopped crystallized ginger
3 medium pears, peeled, halved and cored
For the cake
1 tablespoon grated fresh ginger
2 teaspoons grated orange zest
1/2 cup granulated sugar (I use India Tree Caster Sugar)
1 1/4 cup unbleached all purpose flour sifted or mixed with
1/2 teaspoon baking powder
1/2 teaspoon baking soda
1/2 teaspoon fine sea salt
1 tablespoon ground cinnamon (I use Vietnamese Cinnamon)
1/2 teaspoon ground allspice
1/4 teaspoon freshly grated nutmeg
2 teaspoons ground ginger
1/4 teaspoon ground cloves
2 large eggs
3/4 cup buttermilk
1/2 cup molasses (I used sorghum)
2 tablespoons vegetable oil
Instructions
Preheat oven to 375F(190C) and grease a 9 inch (23cm) cake pan and dust it with flour, tapping out excess.
Line the base with parchment and grease the paper to keep the topping from sticking when you unmold.
Make the topping by pouring the melted butter into the prepared cakepan, tilting it to evenly cover the bottom.
Sprinkle the brown sugar and crystallized ginger evenly over the bottom.
Brian holds the pear halves in one hand and slices them (carefully!) crosswise into 1/4 inch thick slices
He then places each half carefully in the pan, rounded side down, fanning the slices by pressing down, repeating to create a spoke pattern.
I fan the slices in sort of a series of circles - the image in this recipe card is his way and the image in the text is my way.
Bake the topping for 15 minutes until the pears look softened and lightly browned.
While the topping is in the oven, combine the zest, grated ginger and granulated sugar and stir with a fork.
Let this mixture sit for a few minutes - the zest and grated ginger will invigorate the sugar with their aroma and taste.
In a large bowl, whisk together the flour, baking powder, baking soda, salt, cinnamon, allspice,, nutmeg, powdered ginger and cloves.
Now add the sugar mixture to the flour mixture.
In a separate larage bowl, whisk together the eggs, buttermilk, molasses and vegetable oil.
Add the egg mixture to the flour mixture and with wooden spoon or spatula, combine the two
Pour the batter carefully over the baked pear topping - do this slowly and carefully so as not to disturb the pattern you have laid out with the pears.
Bake 25-35 minutes, turning the pan around after 15 minutes.
Cake should be golden and a toothpick should come out clean when inserted through the center of the the cake.
Allow to cool in the pan for 15 minutes.
Run a knife around the interior edge and invert cake onto a serving plate.
Remove the parchment and allow to cool completely before serving..
Adapted from Red Truck Bakery Cookbook
Adapted from Red Truck Bakery Cookbook
Kitchen Detail https://lacuisineus.com/
Hungry for More?
Subscribe to Kitchen Detail and get the newest post in your inbox, plus exclusive KD Reader discounts on must have products and services.
---
Share Us on Social Media: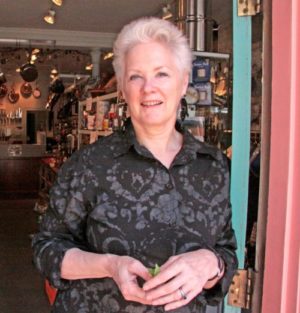 After owning one of the best cooking stores in the US for 47 years, Nancy Pollard writes a blog about food in all its aspects – recipes, film, books, travel, superior sources and food related issues.