April 2, 2019 - Written by: Nancy Pollard
Read Time: 5 Minutes Subscribe & Share
Carrots On The Table
Easter is my favorite holiday to celebrate, more so than Christmas or Thanksgiving. It may be that, as much as I love winter (I realize that I am probably standing alone in the room with that seasonal preference), there is something irresistible about seeing the first brave blossoms, pots of herbs, and spring flowers in our farmers' markets. And it is even better when the arcane Christian calendar gets the memo that Easter in mid-April is so much more joyful than Easter in March. Kitchen Detail's inaugural post has one of my favorite menus for Easter and, as you have read in this post, I have learned not to serve rabbit on the same day that we feature baskets filled with chocolate bunnies.
A Bit Of History And Myth
So for this April, I feel that it is safe to celebrate carrots. Actually, their roots (pun intended) go back to Iran and Afghanistan, where they were grown for their leaves and seeds. The original bitter carrots were black, purple, red, and white – the orange carrot was hybridized in the 17th century, some say, to honor the House of Orange in the Netherlands. Carrots historically became a staple due to their stellar survival qualities in cold, dark root cellars and because they could be grown easily in home gardens. Oddly, we Americans came late to the carrot party with soldiers returning from World War I. During World War II, the US government encouraged citizens to make carrots one of the Victory Garden staples. And the eyesight myth? That was from a much publicized cover story about RAF pilots' ability to see in the dark. It actually was one of many ruses used to keep the British discovery and advancement of radar technology a secret. And even though carrot cake is almost as American as apple pie, it is China that is the largest producer and exporter of carrots. Carrots are so commonplace that we often forget that they can bring something new and different to the table. Try any one of these carrot-centered creations; they are all unusual and delicious.
A Southern Take On Carrot Cake
Most carrot cakes have vegetable oil, nuts, and often shredded coconut, which makes for a very moist and sometimes dense cake. This one is
different. I have adapted it from Camille Glenn's Heritage of Southern Cooking (if you want to purchase it, get
the original version and not the later coffee table one). Since the Resident Wine Maniac is Southern and I am not, I have used this book many times to recreate dishes he loved growing up. My mother-in-law was an excellent Southern cook. Camille called her carrot cake Queen Anne's Cake, after Queen Anne's Lace, which is a valid carrot relative (no link to the unfortunate English Queen). It is light in flavor and texture – and can be made ahead. She apparently used it for wedding cakes, so we know the batter ingredients can be easily multiplied.
I never can find a a lovely cream cheese here, so have switched to mascarpone for the frosting. Sometimes I have split the sugar component to 50% Light Muscovado and 50% White Caster Sugar. That makes a slightly more caramel flavored cake that's a bit more dense than if you used just all white sugar. If you have a good instant read thermometer (my choice is Thermapen), when it registers about 195-200, the cake is fully baked.
Queen Anne's Cake
2019-03-07 21:37:00
Serves 12
My favorite version of carrot cake. It is light in texture and flavor but has great keeping qualities.
Ingredients
1 cup 227gr) unsalted butter, cut into pieces
1 cup (225gr) White Caster Sugar (or you can use all white sugar)
1 cup (198gr) Light Muscovado Sugar
2 cups (100gr)grated carrots
4 large eggs
2 cups (280gr) white all purpose flour
2 tsp (5gr) ground cinnnamon
1 tsp fine sea salt
1/2 tsp (1gr)ground ginger
1 tsp (3gr)baking soda
1 tsp (4.2gr)Vanilla Extract or Vanilla Paste (I prefer Nielsen Massey)
For the frosting
4oz (114gr) unsalted butter at room temperature
8oz (228gr) mascarpone
2 3/4 cup (352gr) sifted confectioner's sugar
tiny pinch of fine sea salt
2 tsp (8.4gr) Pure Vanilla paste or Extract
Instructions
Preheat oven to 350F(180C) and grease and flour two 9 inch (23cm) cake pans.
Cream the butter with the chosen sugars until smooth.
Add the eggs and continue beating until the mixture is silky, almost like mayonnaise.
Beat in the grated carrots.
Combine the flour with the cinnamon, ginger, baking soda, and salt (you may want to sift them together.)
Fold the dry mixture into the carrot mixture and then fold in the vanilla.
Spoon the batter into each of the prepared cake pans: they should be about 2/3 thirds full..
Place the cake layers in the middle shelf of your oven and bake until the cake springs back when lightly touched.
This should take about 25 minutes.
Cool the cake layers for about 5 minutes and unmold them both onto a cake rack.to cool completely.
I normally brush my cake layers with a syrup, usually flavored with rum, lemon, or vanilla, but that is optional.
Spread the top of the base layer with some of the frosting,
Center the second layer and frost the top and the sides if you like the cake to be completely covered.
For the frosting
Whisk the butter in the mixer until it is light and smooth and then add the mascarpone in 1/4 cup amounts so that it becomes well blended with the butter. Slowly add the confectioner's sugar, then the salt and vanilla.
Mixture should be smooth, but chill it until it has a good spreading consistency.- may take an hour.
Notes
I make the frosting first and then the cake.
You can add other ground spices in small amounts, such as mace, grated nutmeg, ground allspice, or ground cloves.
If you use 8 inch layer pans, the cake will be a bit higher.
The original recipe called for 2 cups of white sugar, but I like the flavor of the Light Muscovado sugar; Muscovado will make the cake a bit more dense.
Adapted from The Heritage Of Sourthern Cooking
Adapted from The Heritage Of Sourthern Cooking
Kitchen Detail https://lacuisineus.com/
An Unlikely Marriage
Harissa and maple syrup? Yes, indeed, this is a felicitous marriage between North Africa and North America. While the original recipe is in the Epicurious archives ( it's onethat was developed for Bon Appetit several years ago), we have fiddled with it to make it even more yummy. It is one of those recipes that is so easy it should be one of your kitchen secrets. Rather than leaving the carrots whole, we normally cut them like French Fries.
My personal favorite brand of Harissa is from Moulins Mahjoub in Tunisia. We carried much of what they produced in the shop. It is a family owned company in a rich agricultural area -Teboulba. While olive cultivation goes back thousands of years on their properties, they bring over a century of careful organic cultivation – and you can taste it in their products. Their couscous, preserved lemons and capers are in my cupboard at all times.
Harissa and Maple Roasted Carrots
2019-03-13 17:51:35
Our favorite way of having carrots as a side dish, good for any season.It is so easy to put together and so delicious, you will almost feel guilty.
Ingredients
2 garlic cloves, peeled and finely minced
1/4 cup (60ml) olive oil
1/4 cup (60ml) pure maple syrup
1 tbs (16gr) harissa paste
2 teaspoons (4.5gr) toasted cumin seeds
fine sea salt and freshly ground black pepper to taste
2.2lbs (1kg) carrots, trimmed, peeled, and sliced lengthwise into strips
Instructions
Preheat oven to 450F,(230C)
Whisk garlic, oil, maple syrup, harissa, and cumin in a bowl.
Taste and season with salt and pepper.
Fold in the prepared carrot strips, and mix in the marinade thoroughly.
Transfer to a roasting dish and allow them to cook for 20-30 minutes.
They should be soft with some caramelization on the surface.
Notes
You can do this dish earlier in the day, After they have cooled down on the counter, cover them and refrigerate.
Reheat slightly before serving, or just let them reach room temperature - I do this in the summer.with barbecued dishes.
Adapted from Epicurious from a 2014 Bon Appetit Recipe
Adapted from Epicurious from a 2014 Bon Appetit Recipe
Kitchen Detail https://lacuisineus.com/
Carrots and Taleggio, Who Knew?
Why this particular recipe is referred to as a variation of tarte tatin is beyond my abiltiy to comprehend. It is not remotely like a savory version of the Tatin technique. But it is simple to make, unusual, and truly scrumptious – and pretty when made with rainbow carrots. A lovely layering of puff pastry, Teleggio cheese, and colorful carrots. This particular version is inspired by a recipe my daughter in the UK uses from a British vegetarian cookbook titled The Green Roasting Tin by Rukmini Iyer. She is also a noted food stylist and hosts supper clubs in her home in London.
Rather than presenting the carrots cut in half lengthwise, I prefer the trimmed and peeled carrots to be cut on the diagonal and scattered across the cheese as thin ovals 1/8 inch or less. You can do this easily with a Santoku knife, chef's knife, or Benriner. I cut off the Taleggio rind and slice the cheese in pieces a bit less than 1/4 inch. The Taleggio does not need to fit together like tiles, just place them so that they are about 1/4 inch apart in any order that you choose. The cheese melts together during baking. If you have access to DuFour Frozen Puff Pastry, that would be my choice. And it really is important to bake the tart long enough so that the bottom exterior of the puff pastry sheet is a deep golden color.
Carrot And Taleggio Tart
2019-03-18 18:21:37
Serves 6
A scrumptious combination of melted cheese and carrots on a crisp puff pastry crust.
Ingredients
1 14oz.(397gr) puff pastry sheet, rolled out - DuFour is my choice.
1 tbs French Dijon Mustard
8-10oz (227--285gr) trimmed Taleggio cheese
10oz (285gr)carrots, trimmed and peeled
2 tbs Extra Virgin Olive Oil
Fleur de sel or Maldon sea salt and freshly ground pepper
Some sprigs of fresh thyme
Instructions
Preheat oven 350F (180C)
Cut carrots into diagonal ovals with a knife or Benriner slicer
Combine the olive oil, salt, and pepper in a bowl and add the carrots
Lay out the puff pastry sheet on parchment or a Silpat.
Roll out to remove creases.and place in sheet pan.
Prick the base with a fork several times.
Spread the mustard thinly over the base, leaving 1/2 inch (1.25cm) border unspread.
Turn edges over on all side about 1/4 inch (2/3cm) to create a wall.
You can optionally brush some additional mustard on the top of this edge, but very thinly.
Slice the Taleggio into pieces less than 1/4 inch (2/3cm) thick.
Place the slices randomly about 1/8 -1/4 inch apart - they will melt togehter in the oven.
Scatter the carrots across the cheese and the thyme (removed from the stems) over the carrots.
Bake 35-45 minutes, until carrots are soft but not mushy, the cheese is melted, and the pastry is a deep golden color.
Check the base to make sure the underside is baked through.
Serve with a salad or as a side dish with grilled meat or poultry.
Notes
You can wrap in foil any leftovers and reheat uncovered and it will be pretty good.
Adapted from The Green Roasting Tin
Adapted from The Green Roasting Tin
Kitchen Detail https://lacuisineus.com/
Hungry for More?
Subscribe to Kitchen Detail and get the newest post in your inbox, plus exclusive KD Reader discounts on must have products and services.
---
Share Us on Social Media: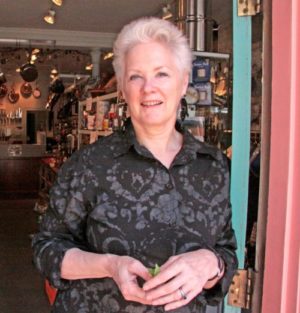 After owning one of the best cooking stores in the US for 47 years, Nancy Pollard writes a blog about food in all its aspects – recipes, film, books, travel, superior sources and food related issues.