March 15, 2018 - Written by: Nancy Pollard
Read Time: 4 Minutes Subscribe & Share
A Little History About the Cookbook Choices
An Easter meal always heralds Spring, even in the dreary doldrums of March. When it is gray, cold, rainy, nothing is more hopeful than perusing through books for my first celebration of the next seasons – the one with sunshine, flowers, and extra daylight. And some of my best Easter meal recipes have been from these three books.
A Pre-World War II Treasure
The Flavor Of France was published as two cookbooks, later combined into one larger book, pictured at left. Each recipe, authored by Narcisse and Narcissa Chamberlain, is just a paragraph centered under a black- and-white landscape photo taken by Samuel Chamberlain, who was a noted artist and print maker. He also taught at M.I.T. when he returned to the US. Their luscious interpretation of a Breton Roast Leg of Lamb is a perfect centerpiece for any Easter meal.
The Chamberlain family lived in England, Spain, Italy and most of all in France. Before the advent of World War II forced them to return to the United States, the Chamberlains collected and cooked dozens of recipes from regions they had visited. Samuel wrote a charming book in 1943 under a pseudonym- Phineas T. Beck- titled Clementine in the Kitchen It is a great read AND it has some recipe gems also found in The Flavor Of France. They collaborated with their daughter on two other cookbooks: The Flavor of Italy and The Chamberlain Sampler of American Cooking. Both of these followed the formula – a recipe below a black-and-white photograph taken by Samuel Chamberlain.
My favorite source for these books and others like them is Bonnieslotnickcookbooks.com. If you consider purchasing their books, be aware that the authors presume you know more than how to turn on your stove. Yet, a novice cook can certainly dig into some of the recipes, easily make adjustments and emerge triumphant. .
Breton Roast Leg of Lamb with Flageolets
2018-03-13 10:42:23
Serves 8
Original recipe calls for the small white beans (French Navy), but we much prefer the flageolets.
Ingredients
1 bone-in leg of lamb
2 cups dried flageolets or white navy beans
2 large cloves garlic, peeled and thinly sliced
softened butter
flour for dusting lamb
sea salt and freshly ground pepper
2 whole peeled yellow onions
bouquet garni (see note)
2 medium peeled tomatoes
Instructions
Put the dried beans in a bowl of cold water to soak overnight.
Preheat oven to 350F and use a roasting pan that fits the leg comfortably..Rack is preferable.
With a flexible knife, (see picture) remove as much of the lamb fat or fell as possible from the roast.
Insert garlic slivers throughout the roast on both sides by inserting a knife tip into the meat and then pushing the garlic through the slit.
Lightly dust the whole leg with flour, and season with salt and pepper.
Roast leg 15 to 20 minutes per pound. Check your thermometer for desired temperature.
Drain the water from the beans and cover them with boiling salted water.
Add two whole peeled onions and a bouquet garni.
Cook beans slowly and drain when tender
In a saucepan, melt 3 tablespoons butter and add the two onions from the beans.and the two tomatoes.
Cook the mixture down to a puree.
Stir this puree into the beans, stirring gently so as not break the beans, and check for seasoning..
Arrange the beans in a deep platter or gratin and add juices from the roast.
Carve the roast leg and lay the slices across the beans.
.
Notes
This recipe has been one of our most frequent features in our Easter meals. We prefer medium rare to rare so 128 to 134F for center. Allow the leg of lamb to rest for 15 minutes.
Beans can be reheated before serving.
Adapted from The Flavor of France
Adapted from The Flavor of France
Kitchen Detail https://lacuisineus.com/
The Best Years of Gourmet Magazine
I think the golden decade for Gourmet Magazine stretched from 1986 through 1996. This appetizer appeared in one of their delightful seasonal centerfolds in the 1997 cookbook, which features recipes from the previous year. I struggled to organize and catalog all the issues I had subscribed to, going so far as to bind all the same months for 15 years in separate notebooks. In the long run, it did not work out well. But I deserve brownie points for putting them all into recycling. I then collected just the yearly books that were produced from 1985 through 2006, when I finally gave up my subscription. Both my husband and I love wandering through all these retrospective cookbooks from Gourmet. It makes for relaxing reading, getting inspired by the photos and occasionally discovering a recipe for which we already have the ingredients!
Kudos to Gail Zeigenthal, the Executive Food Editor. for an incredibly rich period of inspiring dishes, including this one. Everyone who has come to our Easter meal has loved this recipe for a first course featuring local asparagus.
Asparagus Flans
2018-03-15 09:14:56
Serves 6
Pure asparagus flavor lifted by the addition of tarragon. A favorite Easter meal recipe.
Ingredients
2 pounds asparagus
2 tablespoons heavy cream
1/2 teaspoon dried tarragon, crumbled
1/4 cup unsalted butter, softened (2oz)
1/4 cup freshly grated Parmesan (1/2 oz)
1/2 teaspoon sea salt
3 large eggs
Instructions
Preheat oven to 350F and butter six 3/4 cup (6oz) souffle cups or other similar molds.
Line bottoms of molds with parchment paper circles and butter the paper.
In a baking dish large enough to hold the six molds, place a double layer of kitchen towels. This will keep the molds from floating.
Snap off the ends of the asparagus stalks, cut off tips and halve them lengthwise
Peel stalks and cut them into one inch pieces..
In a steamer rack, over simmering water, steam the halved asparagus tips, covered, until just crisp-tender, about one minute.
Transfer tips to a colander and rinse under cold water to stop cooking.
Drain tips and pat dry.
Steam asparagus stalks covered, until tender but still bright green - about eight minutes.
Transfer them to paper towels and pat dry.
In a blender, puree stalks, cream, tarragon, 3 tablespoons butter, Parmesan and salt until smooth.
In a bowl, whisk eggs until thoroughly combined, then add the puree in a stream, whisking until smooth.
Divide mixture among your molds.and place them on the towels in the baking pan.
Add enough hot water to come halfway up the sides of the molds and bake for 30-40 minutes.
Remove the molds from the oven when a thin knife inserted into the center of flans comes out clean.
Allow flans to cool for 5 minutes before unmolding them onto small plates
In the meantime, heat the remaining butter in a small pan and gently warm the asparagus tips..
Top the flans with the warm, buttered asparagus tips. Serve immediately.
Notes
I found that the kitchen towels were not needed with my Pillivuyt porcelain molds as they did not float. Ceramic or silicone molds will give you a creamier edge than metal ones. You can make these ahead and them reheat them gently in a water bath.
Adapted from Gourmet Magazine April 1996
Adapted from Gourmet Magazine April 1996
Kitchen Detail https://lacuisineus.com/
My First Baking Bible
If you love to bake and do not have at least one book by Maida Heatter (yes, the daughter of radio broadcaster, Gabriel Heatter in the 1940s), let your fingers do the racing over your keyboard to order one. This splattered and dog-eared copy is her original – Maida Heatter's Book of Great Desserts. Resellers abound and are just a key stroke away. Her books were my first baking teacher. There was nary a failure in any of them and I am wearing the calories to prove it. And there must be some longer life attributes as well to her recipes, as she celebrated her 100th birthday in 2016.
You'll see that many of her recipes have been "adapted" by other current baking book writers. As you bake through this stellar collection, know that in your home, "There's good news tonight".
Although it is frozen and not baked, her Lemon Ice Cream from Jean Hewitt is an embarrassingly simple recipe from the woman who helped guide the New York Times Food Section in the 1960s. Jean Hewitt was the sharp witted home economist who nailed all the errors in the published recipe for the White House Wedding cake created for Tricia Nixon. As a finale to my Easter meal, it provides an effortless and light end to a joyous occasion.
Jean Hewitt's Lemon Ice Cream
2018-03-12 10:28:31
Serves 6
The easiest ice cream you will ever make. It works well with limes, but not with oranges, as their flavor is too mild for this recipe.
Ingredients
Finely grated rind of 1 large lemon or two Meyer lemons.
3 tablespoons lemon juice
1 cup caster or superfine sugar
1 cup whole milk
1 cup heavy cream
1/8 teaspoon sea salt
Instructions
In a bowl, combine lemon rind, juice and sugar and whisk thoroughly.
Gradually whisk in cream, milk and salt, mixing well.
Pour into shallow freezer container.and freeze until solid around the outside and mushy in the middle.
Whisk well or stir with a wood spoon until mixture is redistributed.
Allow to refreeze for another 30- 40 minutes and repeat process.
Cover container and allow to freeze thoroughly before serving.
Notes
Using caster or superfine sugar allows you get a really silky consistency. There should be no granular taste when you test it. This was an Easter meal recipe, but it is delightful throughout the summer with seasonal fruit compotes.
Adapted from Maida Heatter's Book of Great Desserts
Adapted from Maida Heatter's Book of Great Desserts
Kitchen Detail https://lacuisineus.com/
Hungry for More?
Subscribe to Kitchen Detail and get the newest post in your inbox, plus exclusive KD Reader discounts on must have products and services.
---
Share Us on Social Media: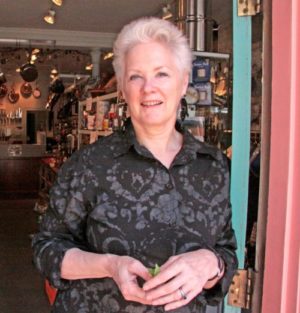 After owning one of the best cooking stores in the US for 47 years, Nancy Pollard writes a blog about food in all its aspects – recipes, film, books, travel, superior sources and food related issues.