February 6, 2019 - Written by: Nancy Pollard
Read Time: 5 Minutes Subscribe & Share
Maybe Not At Easter
The introduction of a rabbit meal to my family (our daughters were the impressionable ages of 4 and 9) was less than felicitous. I served it for Easter Lunch (which has become my favorite holiday meal to plan and cook) and humorously announced as I brought the platter to the table that we were serving Peter. It was not well received. But good recipes remain even if I botched their introduction, and we have had rabbit (like many families across the pond) as a delicious and economical meal for years. As it is lean meat, rabbit makes lovely stews, meaty sauces and fricassees. You can expand your culinary horizons and make rabbit sausages and pâtés as has been done in France for years.
Some Wabbit Facts
A pound of rabbit meat only has about 800 calories, less than chicken . But consider that beef weighs in just under 1200 calories. It contains less
fat and about half the cholesterol of chicken or pork. "Breeding like rabbits" as a catch phrase has its upside too. Not only do they quickly reproduce, but given the same amount of feed and water, a rabbit can produce roughly six pounds of meat whereas a cow will only produce one pound.
Rabbit meat is well known for its high protein content. A 3-oz. serving of rabbit meat contains 28 g of protein, more than beef or chicken. Rabbit is also a concentrated source of iron. A serving contains more than 4 mg. Additionally, the meat provides a wide range of minerals. The highest levels include 204 mg of phosphorous and 292 mg of potassium. The calories in rabbit meat are low. A serving contains only 147 calories.
Today the awareness that environmental resources are valuable is spreading. The process for raising beef places a burden on grain and water supplies. An environmentally friendly solution to losing resources to larger animal production is producing rabbit meat. The environmental impact from raising rabbits is low. The period from conception to harvesting maturity is only three months, and the amount of food they eat is minimal when compared to other animals. The USDA regulates the meat. Some antibiotics are used, but the animals are tested for residues. No hormones are administered.
Where Is That Wascally Wabbit
While rabbit has not caught on in major grocery store chains (all the more pity) D'Artagnan is an excellent online source. Locally, I purchase fresh ones at The Organic Butcher in Mclean. Let's Meat On The Avenue in Del Ray, Virginia will special order fresh ones for you if you are local and so will Butcher's Alley in Bethesda, Maryland. Once you try and love this underutilized source of protein, see if you can persuade your supermarket to bring them in. And if the crew behind the meat counter shrug their shoulders at you when you ask them to split a rabbit, here is the handy-dandy video from Eric Ripert and Ariane Daguin which shows you how.
Wabbit Wecipes: Two Easy, One More Advanced
The first recipe (and the one I served for that memorable Easter lunch) is from one of my desert island cookbooks. We briefly had it in the shop when we first opened in the seventies and then the publisher ceased printing it. I think people probably are searching for my obituary so that they can get their hands on my precious copy of Narcisse and Narcissa Chamberlain's Flavor Of France. If you don't want to wait for my demise, contact Bonnie Slotnick Books. Occasionally I have seen it on Amazon portals and other dealers in out-of-print books. And if you look at our inaugural post, we got mail from readers who tried and loved their leg of lamb with flageolets.
Rabbit Stew With White Wine
2019-01-18 15:57:50
Serves 6
often called "lapin en gibelotte" in France, this is a my go to meal during the week for cold weather.
Ingredients
4-5lb rabbit, cut into serving pieces
3 tbs bacon fat
2tbs flour
2 cups chicken stock
2 cups white wine
1 clove garlic, chopped
bouquet garni (1 celery rib cut in half, bay leaf, several parsley stems, few peppercorns, sandwiched in between celery ribs, then tied with string)
2 rounded tbs tomato paste
fine sea salt
freshly ground pepper
2 tbs creme fraiche or sour cream
Instructions
In a saute pan or caserole large enough to fit rabbit pieces, heat bacon fat
When the fat is hot enough to brown the meat, lay in the rabbit pieces and brown on all sides
When all sides are nicely browned, sprinkle over the flour and blend well, turning the pieces over.
Add the stock and the wine and stir gently to blend before adding the minced garlic.
Add the tomato paste and blend,
Nestle in the bouquet garni in the middle and add salt and pepper to taste.
Simmer the stew covered over low heat for about 45 minutes to an hour - the rabbit should be tender but not falling off the bone.
Remove the rabbit pieces and reduce the sauce if necessary
Stir in the creme fraiche or sour cream, strain the sauce over the rabbit pieces on a warm serving platter.
Adapted from The Flavor Of France

Adapted from The Flavor Of France

Kitchen Detail https://lacuisineus.com/

Linda Dannenberg is probably better known for her French lifestyle books, but she wrote eight cookbooks, two of which we sold consistantly in the shop – Parisian Bistro Cooking
and Boulangeries and Patisseries in Paris. Although I use the second one occasionally, the one with the bistro recipes remains one of my favorites since it was first printed in 1991. It may be headed for my desert island collection. This has a half cup of Dijon Mustard for the sauce and it needs this amount to make the sauce sing. Other recipes don't put enough mustard in the deglazed pan. Add the mustard first into the sauce and then add back the pieces of sautéed rabbit. And please use a classic Dijon style and not ball park mustard. My favorite mustard for this is the classic one from Fallot in France. I have tried the Maille Mustard that we can get here, but it doesn't have the same rich flavor as the same brand I purchased in France.
Braised Rabbit With Mustard Sauce
2019-01-18 16:40:06
Serves 4
There are lots of recipes for Lapin A La Moutarde, and this is my favorite. Again it is great mid week meal
Ingredients
2 tbs lard
3-4lb rabbit, cut into serving pieces (10 pieces in all)
sea salt and freshly ground pepper
4 tbs unsalted butter
1 cup dry white wine
1 bay leaf
1 5 inch sprig of thyme
1/2 cup Dijon style mustard
5 tbs crème frâiche
Instructions
Melt the lard in a skillet large enough to hold all the rabbit pieces
Over medium high heat, brown the rabbit pieces on all sides and season with salt and pepper.
Remove the rabbit and discard excess fat.
Melt the butter in the same skillet
Stin in the wine, herbs and mustard before you add the browned rabbit pieces to the pan..
Cover pan and simer for 20 minutes
At this point, you can remove the loin pieces and keep them on warm serving platter while you finish off the remaining pieces for another 10 minutes.
Remove these pieces to the same platter and reduce your sauce by one third over medium high heat.
Remove the bay leaf, the thyme leaves should have fallen of the stem and they stay in the sauce.
Stir in the creme fraiche, correct the seasoning.
Serve the rabbit on the warmed platter with the sauce over it.
Notes
This is traditionally served with buttered pasta and it is still my favorite.choice. Rice or potatos are okay, but not like old fashioned noodles!
Finely chopped fresh parsley or dill make a lovely garnish.
Adapted from Paris Bistro Cooking
Adapted from Paris Bistro Cooking
Kitchen Detail https://lacuisineus.com/
Epicurious is not the only online source for good recipes. I use Marmiton from France and Giallo Zafferano in Italy. After the Resident Wine Maniac kept ordering the tagliatelle with rabbit ragu at San Lorenzo in DC, I found this neat version in GZ. You cook the meat on the bone (in pieces after it has marinated) and then remove the meat, which is a lot easier than removing it before it has cooked. It is more work than the two French recipes, but it freezes well and is even more delicious the next day. In Italy, there are also rabbit filled ravioli and Cacciatoria style, which our Italy Insider says is so good that she will include it in a future post. Do some exploring on these sites and use your Google Translate as I did for this recipe.
Rabbit Ragu
2019-01-18 17:14:31
Serves 6
Once you make this, you can add mushrooms or other diced vegetables. It is such a delicious base. Use it to make a lasagna, a topping for rice or mashed potatoes.
Ingredients
2.5-3.5lb (1.25kg-2.25kg) rabbit, cut into several pieces
14oz (400gr) tomato puree or chopped tomatoes
2 cups (473ml) or more of vegetable broth
2 cups ( (473ml) red wine , plus more to macerate the rabbit
1 peeled carrot, cut into dice
1 celery rib, cut into dice (I peel celery, but that is optional!)
1 large red onion, cut into dice (half will be used for marinade)
3 cloves garlic, peeled
3 bay leaves
5 sage leaves
1 5 inch branch of rosemary
3 juniper berries
5 tbs (74ml)Extra Virgin Olive Oil
fine sea salt
6 peppercorns
Instructions
In a glass, ceramic or stainless steel bowl, add the rabbit pieces, juniper berries, peppercorns, two cloves garlic, half of the red onion, bay leaves and sage leaves.
Pour enough red wine to cover.
Allow it to macerate covered at room temperature for two hours or overnight in the refrigerator.
Drain the rabbit from the marinade.
Mix the finely diced carrot, celery and remaining half onion, with a finely diced garlic clove.
Gently heat the olive oil and cook this mixture until it is just soft and pale gold.
Then add the rabbit pieces so that they saute to a light golden color at a medium heat.
You may have to saute the rabbit in stages if your pan is not large enough to hold all pieces so that they are not touching each other (and therefore steaming rather than sauteing).
Add about an 8oz glass of red wine and allow it to boil down, then add some salt to taste.
Add the second 8oz glass of red wine, and cover your pan.
Allow this to simmer on a low flame, and add the broth as needed until the rabbit is tender.
When it is tender, you can easily pull the meat away from the bone.
Finely chop the deboned rabbit meat with a large chef's knife and add it back to the sauce in the pan.
Add the tomato puree or sauce and cook for another 10 minutes,
Adjust your seasoning with salt and pepper.
You are now ready to add it to the pasta of your choice.
Adapted from Giallo Zafferano
Kitchen Detail https://lacuisineus.com/
Hungry for More?
Subscribe to Kitchen Detail and get the newest post in your inbox, plus exclusive KD Reader discounts on must have products and services.
---
Share Us on Social Media: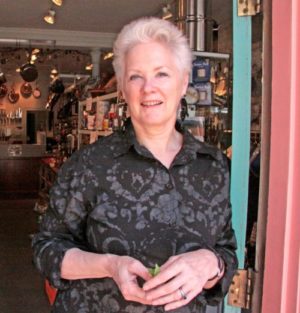 After owning one of the best cooking stores in the US for 47 years, Nancy Pollard writes a blog about food in all its aspects – recipes, film, books, travel, superior sources and food related issues.