June 28, 2023 - Written by: Nancy Pollard
Read Time: 4 Minutes Subscribe & Share
Loathing Cereal
I have tried to force myself to like cold cereal since childhood — and failed. Instead, I make a fruit salad almost every morning, loosely following what's available seasonally. I allow a few additions to the usual bowl of mixed diced fresh fruits – including at least one dried fruit such as apricots, cherries, raisins or figs. The real lift, though, is the addition of a candied fruit like ginger or pineapple. In the winter Cara Cara oranges, apples, pears and grapes are regular players; in spring, strawberries and then later blackberries, blueberries, raspberries. Whenever I can find Ataulfo mangos those get added. In summer, of course, local peaches and nectarines, and then usually a teensy tibble of Triple Sec. But the one constant is pineapple. It seems to be seasonless and successfully so, at least from a grocery store point of view. We go through two or more pineapples a week, and I now look for interesting desserts featuring fresh pineapple slices. Although I enjoy a couple of unusual pineapple upside down cakes, I make these two pineapple desserts more often, both in hot weather and cold.
Pineapple Round Up
Around 40 types of pineapple are grown commercially in various tropical climates around the world. But what is normally available to us non-tropical citizens is the Smooth Cayenne or Cayena Lisa. While we associate Hawaii with pineapples primarily due to the rapacious history of Dole Pineapple, the fruit originated in Brazil and Paraguay. The weird little diamond shaped sections are referred to as berries, and they have fused together around the core. The pineapple itself is referred to as a collective or multiple fruit. On ripeness, I have followed the generally available rules. Pick ones that are more gold than green, if the leaves pull easily that also indicates ripeness. Always smell near the base for an aroma, and it should feel heavy in your hand and have a little give when you press into the side. I was intrigued by this video on how one is really supposed to pick pineapple "berries." I did try this method -may I say valiantly? – once. I am curious to know if any KD readers have had success with this method of eating pineapple!
Grilled
Bobby Flay asked for an Easy Bake Oven for Christmas when he was eight years old, which may be the reason he includes cake with his presentation of this terrific little recipe. We thought after the first time we made this that the cake was too much and diminished the combination of the grilled fruit and sauce. Coconut, hazelnut or pecan ice creams work as well as the standby vanilla with this pineapple dessert. I grill the slices (in this case with the core) on a carbon steel ridged grill pan on top of the stove. Grill on each side, flipping twice to get cross
hatch grill marks – just give a quarter turn for each slice on the second grilling. It should be about 2 minutes on each side.
Try this sauce with true Muscovado sugar (In this case I used the Dark Muscovado from India Tree) rather than brownulated sugar or brown sugar. Muscovado sugars have much more molasses in them and are tastier and more fragrant. The brown grocery store versions are white granulated sugar which has the molasseses added back in. The process to create brownulated sugar, which is dryer than either traditional brown sugar and thus doesn't clump, apparently is a closely held secret. A food magazine staff guessed that white sugar is melted with some added molasses and then sprayed, dried and ground. It becomes a much drier sugar and thus is easy to pour. A lot of manufacturing trouble for a meh product, in my opinion. You can make the sauce and grill the pineapple slices ahead and then put the dessert together right before serving.
Grilled Pineapple with Caramel Sauce
2023-06-19 17:21:05
Serves 4
I don't pair this dessert with cake, Ice cream is enough
Ingredients
2 tablespoons unsalted butter
3/4 cup (156gr) dark brown sugar or Dark Muscovado
2 tablespoons dark rum (such as Gosling's)
1/2 cup(125nk) heavy cream
1 small pineapple – peeled, sliced 1/2 thick and cored (you can get this already sliced and cored at most grocery stores)
1/4 cup canola oil - I use sunflower seed oil
1 9-inch loaf vanilla pound cake
Instructions
Melt the butter in a small saucepan over high heat, add the brown sugar and rum and cook, whisking until the sugar has melted and the mixture is smooth. Whisk in the heavy cream and cook until heated through and slightly thickened. Transfer the mixture to a bowl, keep warm.
Heat your grill or stovetop grill to high.
Brush the pineapple on both sides with the oil and place on the grill.
Grill until golden brown and caramelized on both sides, about 6 minutes.
Remove from the grill, stack the slices and cut into chunks.
While the pineapple is grilling, place the pound cake on the grill until lightly golden brown on both sides, about 20 seconds on each side.
Remove the pineapple from the grill and, when cool enough to handle, either slice or cut into chunks.
Top each piece of pound cake with some of the pineapple and drizzle with the caramel-rum sauce.
Top with more pound cake, vanilla ice cream and a maraschino cherry, if desired.
Notes
I don't use the cake as I think it takes away from the dessert and I think the maraschino cherry is useless.
I don't cut the pineapple into chunks; rather I leave each as a whole slice and place the ice cream and sauce on top.
Coconut ice cream, butter pecan or hazelnut ice cream are excellent altnernatives.
Adapted from Boy Meets Grill
Adapted from Boy Meets Grill
Kitchen Detail https://lacuisineus.com/
Poached
I have written about Claudia Fleming's desserts in another post. She has a very unusual and discerning palate and is a master at combining tastes and textures without overloading the plate. Her twist on blueberry muffins – really a cross between a French Financier and an American Muffin – was a revelation for me. Her biscuits for strawberry shortcake made me a believer. And I think you will find this subtle treatment of pineapple with bay leaf and pink
peppercorns a delight.
The reason she has you add the teaspoon of corn syrup is that it is an invert sugar (it contains glucose) that will inhibit evil crystallization when you make the caramel. I had always used an unlined copper pan to make caramel, but this addition removes that tedious process of brushing down the sides of a non-copper pan to stop crystallization. I have tried coring a pineapple (even had a pineapple corer) but could never get it to go down the core line completely. Now, I use a round biscuit cutter to core the slices. Or simply leave the core in and then when it is served, one has to cut around the core, as you would a poached whole pear. Well worth the minor trouble.
Poached Pineapple With Pink Peppercorns
2023-06-19 17:14:35
Unusual and delicious
Ingredients
1 cup (200gr) granulated sugar
1 teaspoon light corn syrup
1/3 cup water
1 pineapple, peeled, cored, and cut into 8 rings
1 vanilla bean, split lengthwise, pulp scraped
1 bay leaf
4 tablespoons (57gr) unsalted butter
1 tablespoon dark rum
2 teaspoons pink peppercorns
Instructions
Preheat oven to 375° F.(190C)
Place 1/3 cup (79ml)water in a 10-inch ovenproof skillet over low heat.
Add the sugar and the corn syrup and increase heat to high.
Cook, swirling the pan occasionally, until the mixture is a amber brown color, about 7 minutes. Add the pineapple, vanilla pod and seeds, and bay leaf.
Bake for 40 minutes, basting every 10 minutes, until pineapple is tender and translucent.
Using a slotted spoon, carefully transfer the pineapple to a serving platter and tent with foil to keep warm.
To prepare the sauce, whisk the butter, rum, pink peppercorns and salt into the hot pan juices until smooth.
Return the pineapple to pan to heat and serve with sauce spooned over the top.
Notes
I use caster sugar from India tree and also about a tablespoon of pink peppercorns.
Adapted from The Last Course
Adapted from The Last Course
Kitchen Detail https://lacuisineus.com/
Shop Items Mentioned in the Post
Hungry for More?
Subscribe to Kitchen Detail and get the newest post in your inbox, plus exclusive KD Reader discounts on must have products and services.
---
Share Us on Social Media: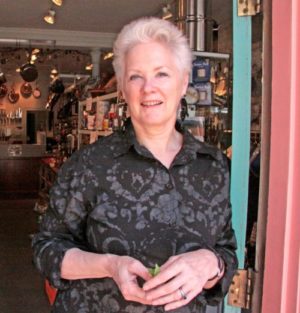 After owning one of the best cooking stores in the US for 47 years, Nancy Pollard writes a blog about food in all its aspects – recipes, film, books, travel, superior sources and food related issues.