June 9, 2021 - Written by: Nancy Pollard
Read Time: 6 Minutes Subscribe & Share
Where Have You Been?
Mangos are something I did not grow up with, not even the dried or frozen versions. We were strictly an apples and bananas family. At some point, I realized they were swirling around in restaurant fruit salads, and that was a big taste discovery for me. Mangos mixed in with chilies and zippy herbs were another dining out epiphany. But we are not talking fancy here. While the varieties of mangos number anywhere from 100 to 500, depending on which country is counting, my access to them is limited to fewer than five. So, within that narrow selection, my favorite has been the small golden one (Ataulfo) named after its grower in Mexico, Ataulfo Morales Gordillo. Some of the others I have bought are larger and harder to ripen, and also have that unfortunate whiff of turpentine when they become mature and soft.
A Mango Meets A Motorcycle
An intriguing drama with mangos from India, particularly the type called Alphonso, played out here. In 1989, the US formally banned the importation of mangos from India – the official reason given was an outbreak of fruit flies, but it should be noted that it may have been a subtle part of a mango trade war between Mexico (where US agro-corporations are heavily invested) and India. Mangos are annually a 250,000-ton produce commodity in the US alone. But the story gets better.
According to the website Mango Basket, an Indian-born dentist who had settled in Pennsylvania invited his father for a visit. Apparently Dr
. Bahskar Savani had told his father in several phone calls how much he missed the taste of mangos from his area. So the loving dad tried to smuggle in several kilos of the prized fruit from Gujarat as a gift to his son. Dr. Savani , who was waiting for hours outside of JFK airport, finally saw his father exiting the doors after having eaten as many of the mangos as he could after Customs Inspectors ordered him to throw them in the trash bin. The fire was lit in Dr. Savani's brain, and he went on a crusade of over six years to have the Indian mango ban lifted. His relentless efforts and flights from his home in Pennsylvania to Washington, DC and New Delhi helped set the stage for this remarkable trade.
An Alphonso mango-tasting was arranged for then-President George Bush in 2006, during an official visit with the Prime Minister of India, Manmohan Singh. Bush is quoted as saying to the Prime Minister that it was "one hell of a fruit" and a most intriguing trade was finalized. The US had been trying to get an agreement to send Harley Davidson motorcycles into India, which had been forbidden as this iconic brand of US motorcycles did not meet Indian emissions standards. No irony here. And so the ban of mangos from India disappeared, and Harley Davidson was allowed to export its motorcycles. Dr. Savani, who still practices dentistry in both Pennsylvania and New Jersey, is working closely with mango growers to make the fruit more accessible to US consumers.
Help Is On The Way
When I make a salsa or a fruit salad, the diced or sliced mango holds its own against other ingredients, but when they are sweetened, pureed, and added to cream or
eggs or even coconut milk, the mangoiness gets lost. There are a couple of episodes in the British Bake Off series, where one of the finalists creates an ambitiously conceived dessert that has mango as a theme, and the steely-blue-eyed Paul Hollywood invariably says, "I don't get the mango flavor, mate". I even tried frozen mango pieces, and I got nothing of that dreamy flavor. Sometimes their flavor gets enhanced with beefed-up mango juice concentrate, but there was always something "tinny" in the taste. While I think Boiron makes really good frozen fruit purees, I still can detect the Boiron stamp in many fancily priced fruit sorbets, including mango, whether in ice cream boutiques or restaurant dessert menus. If you can take advantage of a windfall of aromatic mangos, and want to create something besides a fruit salad, this is a case where the Mango Essences from Grasse, France, will give you that missing je ne sais quoi.
Some Summer Suggestions
We always wait until it is over 90 degrees Fahrenheit before we spoil ourselves with a
daiquiri. I need to be sweltering to really reap the benefits of this classic drink. My father and his only son-in-law have perfected the lime version. Here is his refreshing take on a mango variety. You will need two Ataulfo mangos for the original ratio given by Ina Garten. We found that frozen mango pieces and even the peeled and cubed ones in containers totally lacked flavor when pureed. And we needed much more than 1 teaspoon of one-to-one sugar syrup. So just add a squirt or two of the Mango Essence from Grasse.
Mango Daiquiri
2021-05-27 17:49:35
Serves 2
Ingredients
2 ataulfo mangos, fruit peeled and chopped
1/4 cup(60ml) fresh lime juice
1-2 tablespoons (15-30ml) sugar syrup (1 to 1 ratio of sugar to water)
3/4 cup (178ml) white rum
Crushed ice
1/4 teaspoon of Mango Essence from Grasse
Mint sprig or thin slice of lime for garnish
Instructions
Place the mango, lime juice, sugar syrup and rum in a blender and process until smooth.
You can pass this through a sieve if your mangos are too pulpy.
Add mango essence in 1/8 teaspoon increments to your mix.
Fill your cocktail glass with crushed ice.
Pour mixture over and garnish with mint or lime slice.
Adapted from Ina Garten
Adapted from Ina Garten
Kitchen Detail https://lacuisineus.com/
The first mango sorbet (with coconut milk) I tried to make was a taste disaster. And yet it had all these wonderful reviews. I should have read the fine print in the recipe, as it was developed as a low-calorie dessert, something that rarely appeals to me, alas. This one is a slightly tweaked adaptation of an Italian recipe from the website Giallo Zafferano. Even if you can't understand high-speed Italian, just watching some of the hipster cooks on GZ is so diverting. Besides the Mango Essence, I think it is important to pass your mango puree through a sieve. Adding a little Triple Sec, which is not overwhelming in citrus flavor, also makes the sorbet velvety smooth.
Mango Sorbet
2021-06-03 15:37:54
Ingredients
450 gr (1 1/2 cups) mango roughly diced
500 ml (2 1/8 cups) water (if your water is heavily chlorinated, used bottled water)
200 gr (7oz) caster sugar (I use India Tree)
1 1/2 tablespoons Triple Sec Liqueur
1/4 - 1/2 teaspoon Mango Essence from Grasse
Instructions
Prepare your syrup with the water and caster sugar. by mixing the two over medium heat and simmer, stirring occasionally until the liquid looks clear.
While the syrup is cooling - I put mine in the freezer- Puree in a blender or food processor the diced mango.
Cool in freezer for a couple of h ours or in the refrigerator for several hours.
Add the Triple Sec and the Mango Essence from Grasse to your taste.
Process this cold mixture in your ice cream maker until you reach a very thick and creamy consistency.
I always put the container that I am going to use to store sorbets in the freezer while the ice cream maker is doing its job.
Adapted from Giallo Zafferano
Adapted from Giallo Zafferano
Kitchen Detail https://lacuisineus.com/
The original recipe for mango mousse, once again from the 1989 Best of Gourmet (my copy has been in use for
so long that the pages are falling out), can also be molded in individual ramekins or poured into dessert coupes with raspberries folded in. You will need 3 -3 1/2 cups of diced mango (this can be just three large ones ore 5- 6 small ones like the Ataulfo.) I prefer sheet gelatin as it solidifies more quickly and evenly, but this one works well with powdered gelatin as indicated in the original recipe To release the mousse, quickly dip your mold in hot water about two thirds the way up the side, in this case it was a 7 by 2 inch round cake pan. Then run an icing spatula around the inside perimeter and it should release easily onto a serving platter. Wait until serving time before you garnish with raspberries and sauce. The sauce is also lovely with the mango sorbet featured here.
Mango Mousse with Raspberry Sauce
2021-06-03 16:08:52
Serves 6
Refreshing and adaptable to individual molds.
Ingredients
1 envelope ( 8-9gr leaf gelatin) unflavored gelatin
1/4 cup (60ml) fresh lime juice
3 -31/2 cups (830ml) mangos, peeled and cut into rough dice
1/3 cup (75gr)caster sugar (I use India Tree)
1/2 cup (119ml)heavy cream
For the sauce
2 cups (473ml) red raspberries
2 tablespoons (30ml) fresh lime juice
1/4 cup (55gr)caster sugar
1/4 -1/2 teaspoon Raspberry Essence from Grasse, if they are shipper raspberries, use 1/2 teaspoon.
1 tablespoon (15ml) Framboise or Chambord (optional)
Instructions
In a small saucepan, sprinkle the gelatin powder over the lime juice and allow to soften for about 5 minutes.
Heat the mixture over moderately low heat, stirring until the gelatin is dissolved.
In a food processor, puree the mangos with the sugar and cream, and then add the gelatin mixture
Blend well and add the essence to bring out the mango flavor.
If the mangos are still pulpy, pass the mixture through a strainer.
Pour into an 8 inch (20cm) cake pan that has been rinsed in cold water, but not dried, and then chill in the refrigerator for 4-6 hours until it is set.
Make the sauce by pureeing the berries in a processor or blender with the lime juice and sugar.
Strain the puree through a sieve and adjust with some raspberry essence if needed to bring out the raspberry flavor.
You can quickly hold the large mold or individual molds in a bowl of hot water to loosen
Run a thin knife around the edge of the mousse and unmold onto a serving plate.
Your can garnish with sliced fresh fruit fro presentation before cutting into wedges and serving with the sauce.
Notes
This is a dessert that can easily be made 1 day ahead, covered with cling wrap and unmolded and sauced before serving.
Adapted from The Best of Gourmet 1989
Adapted from The Best of Gourmet 1989
Kitchen Detail https://lacuisineus.com/
And just in case you need a primer on dismembering a mango! Simply Gourmand also has its original discount for KD readers which is 15% off on your first order – WELCOME15%. This code only works if you have not placed a previous order with Simply Gourmand
Hungry for More?
Subscribe to Kitchen Detail and get the newest post in your inbox, plus exclusive KD Reader discounts on must have products and services.
---
Share Us on Social Media: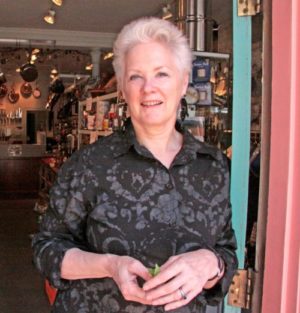 After owning one of the best cooking stores in the US for 47 years, Nancy Pollard writes a blog about food in all its aspects – recipes, film, books, travel, superior sources and food related issues.