February 2, 2022 - Written by: Nancy Pollard
Read Time: 5 Minutes Subscribe & Share
Safe Celebrations
With yet another wave of Coronavirus surging across the globe, perhaps celebrating Valentine's Day at home is a wise idea. Lucky for us, a home-grown version of February 14 has stunning possibilities. This menu from a post a few years ago gets downloaded every year at this time, for good reason. And then there is my all-time favorite chocolate cake, the incomparable and deadly simple creation from The River Cafe in London – Chocolate Nemesis But my husband's favorite menu and video remains this one from 2019. Use the services of your local florist, too, since you are dining at home. We always get a Valentine's Day bouquet delivered from our favorite local florist KAubrey Floral and Vintage. A florist in your area will create something much nicer than the leathery long-stemmed red roses that seem to stalk you at every corner.
If you are in the snow-benighted DMV, the resourceful and discerning folks at Open Hand are offering a Valentine menu for Kitchen Detail subscribers with a 15% discount. We celebrated safely at home last year with their Valentine menu. Their new offering is priced at $55.00 per single (but very generous) serving. We have always had leftovers. And it includes a hefty portion of Open Hand's unique focaccia.
Valentine Options & a 15% Discount
Order online from Open Hand here
and use the code
KDVD15
when you check out. Delivery will be on February 12 between 12pm and 5pm. One of the unique aspects of Open Hand is that John Wood and his team select as much as possible from organic, biodynamic and regenerative organic farms and suppliers. That makes my heart sing, but I also wholeheartedly endorse his decision to use other crème de la crème suppliers from hither and yon, when the need arises. Many of them have online ordering services or are part of sustainable produce distributors such as Earth N Eats in Waynesboro, PA. You may want to explore their sites, as they offer several options for individual orders. In the meantime, you can start planning your Valentine's Day repast with this early peek at the Open Hand menu.
Choose your First Course:
Mixed green salad (carrots, beets, oranges, fennel and winter greens) with pomegranate dressing OR Honeymoon Oyster consomme with guanciale and leeks
Wulf's Fish
is Open Hand's source for the plump and briny oysters called Honeymoon. In my very
occasional meetup with oysters, it seems that the farther north you go, the smaller, plumper and more mineral-tasting the bivalves ares. Honeymoon, pictured here, are the epitome of those attributes and are raised in cages suspended by buoys in the freezing and nutrient-rich waters of BedecBay in New Brunswick, Canada.
Many KD readers are already familiar with the mightiest, tiniest farm –
San Giovanni
. – and I'm happy to say it supplies the greens for this menu. Search them
out at farmers' markets in the DMV. They also have an online ordering system. Whatever is available from Phil Barrow and his crew has spoiled me for alternatives, even organic ones from supermarkets. I had forgotten how tasty and tender romaine could be until he brought them to the
Old Town Farmers' Market.
Choose Your Main Course:
Cacciucco (seafood stew with head-on shrimp, mussels, clams, octopus and monkfish gently braised in a tomato broth with fennel and potatoes) -or- Open Hand Cassoulet with duck confit, pork belly and rabbit sausage
Cacciucco (according to my
trusty source, Wikipedia) is a traditional mixed seafood stew originating in Tuscan ports and sea fishing villages, the most referenced being Livorno. One tradition is that it must have as many different types of seafood as the number of "c"s in the name. In some cases, cooks of this particular stew will add a stone from the sea while cooking. The hearty broth is a mixture of locally available vegetables. Ironically, the name is most likely derived from a Turkish word meaning "odds and ends." And Wulf's Fish is the supplier for the five "c" ingredients.
Cassoulet is a dish my husband loves and that I have tried to make with extremely mixed results, probably due to the places I bought my ingredients.The base for Open Hand's version is the cannellini beans grown and harvested by
Next Step Produce
. Heinz Thomet and his family have provided my kitchen with superb fava beans, nettles and rice, but I was unaware of his bean growing ventures. John makes his own sausage from the pork and rabbit from
Liberty Delight Farms
. Shane Hughes, whose family owned the original farm, has used his corporate finance experience to turn Liberty Delight into a farm group that adheres to humane and sustainable livestock practices. Open Hand makes their own duck confit from the Moulard breed sourced from
LaBelle Farms
in New York. They grow their own feed and never use antibiotics and have been awarded certification from Pennsylvania Certified Organic. In addition, it should be noted that LaBelle is the culmination of an immigrant family's dreams and hard work.
Choose Your Dessert:
Snapdragon Apple Napoleon or Fresh Ricotta Cake with Citrus Supremes and Vanilla Cream
John always picks out the best apples. We still remember how delicious his thinly sliced apple tart was.
Other times he has served a different apple in a compote as a garnish for another dessert. Sometimes a particular apple is added to a salad, which pairs perfectly with one of Open Hand's unique vinaigrettes. This time he is sending a kit to assemble an Apple Napoleon with a new-to-me apple -Snapdragon, a variety that took a decade in the making at Cornell University. It is based on the Honeycrisp but is not an easy apple to grow. The trees take a long time to mature and yields are small. Naturally, John thinks it is the perfect apple for this dessert and his favorite local grower is Catoctin Mountain Orchard.
Don't let the term ricotta cake fool you into thinking it is some sort of cheesecake – rather it is a soft textured Italian cake that is delicious with just about anything. Open Hand makes their own ricotta, which of course enhances it even further. This is my Valentine's idea of a happy ending.
Order Gourmet Valentine's Dinner from our friends at Open Hand and take 15% off with code KDVD15.
Hungry for More?
Subscribe to Kitchen Detail and get the newest post in your inbox, plus exclusive KD Reader discounts on must have products and services.
---
Share Us on Social Media: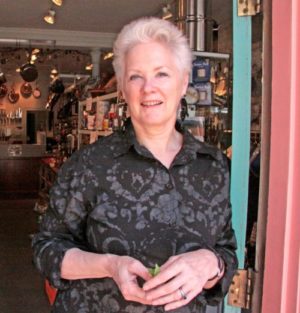 After owning one of the best cooking stores in the US for 47 years, Nancy Pollard writes a blog about food in all its aspects – recipes, film, books, travel, superior sources and food related issues.