February 10, 2021 - Written by: Nancy Pollard
Read Time: 5 Minutes Subscribe & Share
Setting The Scene for Valentine's Day
Now that the somewhat clichéd restaurant dinner out for Valentine's Day is somewhat of a quaint memory, it makes good sense to revisit the idea of a special dinner for two at home. Something special, yes, (this would have to be meat and not fish for the resident male Valentine here) but not too hard to fulfill. We need a little stab at vegetables along with the carbs – potatoes are the preferred white accessory. And you already know that I feel a little celebratory bubbly cocktail is compulsory. (Look here for horses doover suggestions from the KD recipe file) I still like a little chocolate something to make up for the red meat takeover of the Valentine main event. We both like flowers but not the long-stemmed red rose found absolutely everywhere, including highway median strips and gas station mini-marts. Our choice is always something small from our favorite florist, K Aubrey Flowers and Vintage. Chances are, there is a florist near you who could add a little romantic and lovely smelling bouquet to set the scene. And if any Valentine participants need a review on the proper approach to gift-giving, look no further than this commercial from over a decade ago.
Beforesies
For Valentine's Day, pick a horses doover of your choice from our highly curated and well-nibbled collection to sample along with this lovely Parisian cocktail. We had had it years ago in a
little family-run restaurant in Paris which we returned to on every trip in the Before Times. The wife of the chef ran the front of the house and the bar. I would never have found such a charming and well-priced restaurant if it had not been for our well-used guide book from Sarah Gustafson, Great Eats-Paris. My copies of her guides for dining and sleeping in Italy (she focuses on Rome, Florence and Venice) and Paris are falling apart, but many of her recommendations are still alive and well. The cocktail could not be simpler: 1 teaspoon each of Peach liqueur, such as Mathilde, and cognac and then fill (about 6 oz) your glasses with prosecco or champagne and top with a raspberry. I'll have another!
Meat And Potatoes for Valentine's Day
I have done racks of lamb in many overly laborious ways, but this simplified approach from Shelley Wiseman has been our thumbs-up winner for years in this Valentine's Day household. I gravitate to her recipes as her techniques and sense of how the dish should be are terrific. Wiseman was a recipe developer for over a decade at Gourmet Magazine and now is a partner and teaches cooking at The Farm Cooking School. She suggests this amount of herb mixture for two racks of lamb, each with 8 chops, but I like the herb mixture so much I slather it all over just one 8-rib rack. We always have a half a rack left over, and it reheats beautifully without losing its degree of rareness in a 350F (175C) oven, uncovered, in 15 minutes. Many of Shelley Wiseman's on-target recipes can be found on the Epicurious website.
Rack Of Lamb With Garlic & Herbs
2021-02-04 22:55:20
Serves 8
My favorite recipe for racks of lamb. Easy and delcious for two or for a larger dinner party.
Ingredients
2 (8 rib) frenched racks of lamb (each rack 1 1/2lb (2/3kg) trimmed of all but a thin layer of fat
1 1/2 teaspoons fine sea salt
3/4 teaspoon freshly ground black pepper
1 teaspoon vegetable oil
For the herb coating
3 large garlic cloves, peeled and minced
1/4 cup finely chopped fresh flat leaf parsley
1 tablespoon finely chopped fresh thyme
2 teaspoons finely chopped fresh rosemary
1/2 teaspoon fine sea salt
1/2 teaspoon freshly ground black pepper
1 1/2 tablespoons extra virgin olive oil
Instructions
In a heated frypan which will fit the racks singly or together, sear them on all sides, after having seasoned them with salt and pepper
Set an oven rack in the middle position in the oven and preheat oven to 350F (175C)
Stir together garlic, herbs, salt, pepper, olive oil (I use a mortar and pestle) and press the mixture into the meaty parts of the lamb rack(s)
Select a roasting pan that is just large enough to fit the rack(s) so that they have enough space to roast but not a huge amount of space left over.
Roast for 15 minutes and if they are getting too dark before you reach the desired internal temperature, cover with foil until the internal temperature reaches 120F for rare, 125 for medium rare.
Remove and let rest for 10 minutes more, and the interior temperature should go up 5 degrees more.
I like it rare, but medium would be 130 - 135F.
You can cut racks into double or single chops.
Notes
I use a Thermapen MK4 religiously as I can never tell doneness using other methods.
Adapted from Gourmet Magazine via Epicurious
Adapted from Gourmet Magazine via Epicurious
Kitchen Detail https://lacuisineus.com/
I love doing this gratin in the winter. It's a real two-for-one winner. Especially when one person at the table sincerely wants to like green vegetables but finds it much easier if they are camouflaged by potatoes. You can halve this recipe easily, but you might as well make the full amount as it too warms up nicely the next day at 350F, uncovered, in about the same time frame as the lamb. Once again, this recipe was originally chosen by Gourmet editors to be included in one of their Menu cookbooks. And, as you probably expect from me, this comes from yet another Best Of Gourmet Cookbook, this one published in 1994, reflecting and the editors' choices from the twelve issues of Gourmet in 1993. The original recipe calls for unmolding at the end so that the potatoes can brown under a broiler. I didn't like the crsipy, almost leathery effect, so I have omitted that final step.
Spinach And Potato Gratin
2021-02-06 16:02:44
Ingredients
2 pounds (907gr) russet (baking) potatoes (about 3 large)
2 pounds (907gr)fresh spinach, washed well and the coarse stems discarded
1/2 pound(227gr) Feta cheese
1 1/2 cups (355ml) half-and-half
3 large eggs
1 1/2 teaspoons salt))
3/4 teaspoon black pepper
Instructions
Preheat the oven to 350°F.(175C)and oil a 2 quart (1.9L baking dish lightly, line it with wax paper, and oil the paper lightly.
Peel the potatoes and slice them crosswise in a food processor fitted with a 2-mm slicing disk. (Alternatively, the potatoes may be sliced thin with a hand-held slicing device.)
In a kettle of salted boiling water boil the potatoes for 7 minutes, or until they are just tender, drain them in a colander, and rinse them briefly under cold water.
In the kettle cook the spinach in the water clinging to the leaves, covered, over high heat, stirring occasionally, for 2 minutes, or until it is wilted. Drain it, and refresh it under cold water.
Squeeze the water from the spinach by wringing it by handfuls in a kitchen towel, transfer it to the food processor fitted with the metal blade, and add the Feta.
In a bowl whisk together well the half-and-half, the eggs, the salt, and the pepper, add half the custard to the spinach mixture, and pulse the motor of the processor until the mixture is coarse.
Transfer the potatoes to the prepared baking dish and spread them in an even layer.
Pour the remaining custard over the potatoes, shaking the dish slightly to distribute the custard evenly, and top the potatoes with the spinach mixture, smoothing the top.
Bake the gratin in the middle of the oven for 45 to 50 minutes, or until it is set in the middle, and let cool on a rack for 30 minutes.
Run a knife around the side of the dish, invert the gratin onto a flameproof plate, and peel off the wax paper.
Broil the gratin under a preheated broiler about 4 inches from the heat for 10 to 15 minutes, or until top is golden brown, and serve it cut into squares.
Notes
The broiling steps, I decided I did not like as much and no longer do that part.
I do line the pan with paper as directed as it makes unmolding so easy.
I do blalnch the potato slices as directed as it made for a creamier gratin.
Adapted from Best Of Gourmet 1994
Adapted from Best Of Gourmet 1994
Kitchen Detail https://lacuisineus.com/
I found this recipe for Valentine's Day in the only cooking magazine my husband has saved. I assumed that it had been tucked away in his reading basket because it features only male chefs. He says that is not the case at all, and that I am too quick to judge, but rather that it has a short ribs recipe he wants me to make. This dessert is by Jaimie Oliver, and so easy that I am planning on teaching it to my grandsons. You can use any type of good quality chocolate, milk chocolate works fine for the chocolate faint-hearted. You can replace the cognac with cold espresso, strained orange juice or even a complementary tea such as Earl Gray. He serves it in espresso cups, but you can use ramekins or little bowls.
Chocolate Pots
2021-02-06 16:08:00
Serves 6
Easy, delicious, Bet you can't eat more than one for dessert!
Ingredients
300 ml (1 1/4 cups) single cream (half & half)
200 gr ((7oz weight) quality dark chocolate , (70%)
2 large egg yolks
3 tablespoons (44ml) brandy , the best you can get
20 gr (2/3oz weight) unsalted butter
Instructions
In a thick-bottomed pan, heat the cream until nearly boiling. Snap in the chocolate and stir in until melted and smooth. Remove and set aside for 1 minute and allow to cool slightly.
Beat in the egg yolks and brandy and stir until combined. Stir in the butter and a pinch of sea salt until the mixture is smooth.
Pour into small individual serving pots and pop in the fridge to set for about 2 hours.
Notes
A large rosette of sweetened whipped cream is the perfect finish.
Sometimes I also very lightly oil or butter the ramekins and coat them with caster sugar - it gives a nice crunch.
Kitchen Detail https://lacuisineus.com/
No Fuss Valentine Celebration
Too crazed with working online and home schooling kids who don't want you to be their teacher? If you are in the DC and Baltimore areas (Hooray – they just started delivering in Baltimore neighborhoods! ) you are in luck. Open Hand is delivering a beautiful menu with some options. Valentine's Day Dinner for two including a pretty-in-pink salmon option for those of us who have grown weary of a steady red meat diet. It is delivered to your door on Saturday, February 13. Open Hand is so appreciative of the KD subscribers who became clients that the team is offering you a 10% discount on this lush dinner. Use the code KDV21 when you check out. Contact them if you have questions about the options.
Hungry for More?
Subscribe to Kitchen Detail and get the newest post in your inbox, plus exclusive KD Reader discounts on must have products and services.
---
Share Us on Social Media: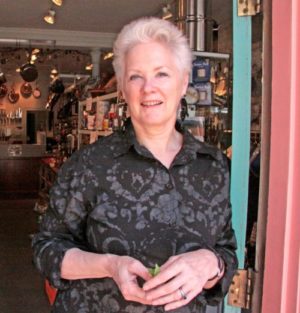 After owning one of the best cooking stores in the US for 47 years, Nancy Pollard writes a blog about food in all its aspects – recipes, film, books, travel, superior sources and food related issues.