February 24, 2021 - Written by: Nancy Pollard
Read Time: 5 Minutes Subscribe & Share
Flour And Water
"It is amazing that you can make so many shapes from just flour and water" says Domenica Marchetti in the second pasta class I signed up for via Zoom. (Click here to see her current class offerings.) I learned so much from her first one that I even signed up my son-in-law in the UK for this one, as he with his big Rugby fingers makes tinier tortellini than I can. It was a perfect class, where you use your hands to create shapes that are the base for many delicious Italian meals. Like her first class, with pulled rings of pasta dough that is a specialty in Abruzzo, this one showcases regional pastas that are not rolled out with a mattarello (pasta rolling pin) or pressed through a pasta machine. While I have finally gotten a beginner feel of rolling out pasta by hand and have used a pasta machine for almost a half century, these hand-done shapes are really quite an adventure. I have managed to successfully create garganelli and ricotta gnocchi, but trofie, busiate, orrechiette and lorighitte have been abysmal failures or just video daydreams. To be honest, I had never tried lorighitte or trofie; I just looked at the videos longingly. And while I enjoy the Pasta Grannies immensely the way I enjoy The British Bakeoff, I never have been able to use them successfully to learn a pasta shape from scratch. Domenica's Zoom class was the fortuitous link.
Flour You Can Taste
In the class notes, Domenica always gives a list of sources for ingredients, some available at your local grocery store and others that have to be
ordered online. Hayden Flour Mill in Arizona was one of them. Since I had a semolina flour from a reliable store brand, I was curious to taste the difference in the milled flours from a historic stone mill – Hayden first started its operations in 1874, and currently uses a stone mill imported from Austria. And, yes, it turns out you can taste the difference. One of my big discoveries in Sicily was that you could taste the different flours even in white breads. Hayden Mills farro or spelt flour, I now add to my somewhat successful trials of the Poilâne sour dough loaf, and a buckwheat flour I use in making crackers from sourdough discard. Hayden Mills' success story is unusual: a father-daughter decade-old enterprise in Arizona (the father grew up working long hours on a family farm in North Dakota) teamed up with growers of heritage grains, grains that existed in a natural non – hybridized state before 1950. White Sonora is an example. A Spanish missionary brought it to this corner
of the New World in the 17th century so that he could make proper Communion wafers instead of fabricating them from local corn flour. So, like some of the flours in breads in Sicily, it has a pronounced nutty flavor of darker grains but the lower protein levels and lightness of white flour. One of my discoveries was that most hybrid flours have very short root systems (which cause other problems) but heritage wheats such as White Sonora have root systems that go down six to eight feet, thus creating more complex flavors, not unlike wine grape vines that dig deep into the earth for sustenance. The Blue Beard Durum flour, whose origins go back to Iran, has yet a different taste and texture and is used for their semolina flour, which is what I used in Domenica's class.
Haden Mills offers Kitchen Detail subscribers a 10% discount to introduce their flours and other products. They offer free shipping on purchases $75 and over. Sample their flours. Use the code KITCHENDETAIL2021 when you check out at their website. This code expires March 14, 2021 and is good only for the first purchase.
The Real Deal (Pasta Flour Tools for Success)
But the tools…I know you can use a fork, and I know that that no self-respecting pasta grannie (or Domenica) would make orrechiette with anything but a table knife with serrations and a rounded end. But when I was in Bologna (the home of the Italy Insider) I found and fell in love with their pasta flour tools, including beautiful gnocchi boards, and exquisite brass cutters and dies for making pasta shapes. I could never find anything like them from a distributor in the US when I had the shop, only the cheesy ones you see in any culinary store – definitely casalinga, not professionale. I truly stumbled on a most surprising source in Vancouver, Canada on Etsy, no less, under the name of Nonna's Woodshop. I now have a mattarello in a manageable size for my kitchen counter – 36 inches instead of the 60 inches that I used in Vecchia Scuola Bolognese . But even better is this bag of beautifully made wooden forms to create pasta shapes and brass cutters with exquisite wood handles. Daniel Ewart's father had his own furniture business and he says he grew up in the shop. But he rose to the position of sous chef at the Osteria Savio Volpe in Vancouver, which featured homemade pasta dishes. The tools that they used to shape the pastas were probably no better than what we had available at La Cuisine. Daniel, using his training from his father's woodshop, began to make absolutely stunning versions as seen on his Etsy page. When Covid temporarily shut down dining operations at Osteria Savio Volpe, Daniel turned to researching and creating these tools full time. Currently, he is getting his brass dies and cutters from Italy, but is planning on producing his own. He even offers a brass skewer for making busiate (twirly long macaroni). After all, flour and water do miraculous things together, but with a little help from glorious tools, they can be transformed into amazingly unique and beautiful shapes.
Hungry for More?
Subscribe to Kitchen Detail and get the newest post in your inbox, plus exclusive KD Reader discounts on must have products and services.
---
Share Us on Social Media: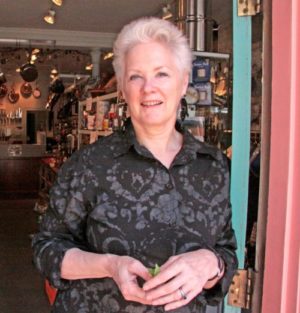 After owning one of the best cooking stores in the US for 47 years, Nancy Pollard writes a blog about food in all its aspects – recipes, film, books, travel, superior sources and food related issues.