August 18, 2019 - Written by: Nancy Pollard
Read Time: 2 Minutes Subscribe & Share
There are so many cakes on this summer theme. I am always testing alternatives, but this still comes up as an outstanding example. Your blueberries can be frozen and drained, or they can be local ones – although the blueberries from Maine take no prisoners. This cake freezes well or you can leave it under a dome at room temperature for a week. This cake is done in a copper tin lined mold, which has never failed to release beautifully. I also have done it in a commercial aluminum mold such as Fat Daddio or the ones from Bundy Baking Solutions. I never use non-stick molds anymore. I found that the non-stick surfaces give a cake crust a sweaty texture and look. Plus they never last as a baking surface and have to be discarded into the ether of landfills. For baking sugars, you cannot beat the quality from India Tree. I use a Thermapen to test the doneness of all my baked goods. It is one of the best utensil investments you can make. For a domestic vanilla, I think Nielsen Massey products are first rate but the Vanilla Essence from Grasse, France is my favorite. I add the blueberry essence to the fresh berries and even a bit the lemon one if lemons are not flavorful. And I am really happy with the Bakewell Baking Powder. I don't know the why, but results are better with it than when I have used other brands.
Blueberry Lemon Pound Cake
2019-08-17 16:03:58
Serves 10
This is our favorite blueberry cake for summer snacking, breakfast accessory and picnic friend
Ingredients
1/3 cup (79ml) milk
6 large eggs
1 1/2 tbs (22ml) vanilla
2 2/3 cup (360gr) white all purpose flour
1 tsp (4gr) double acting baking powder
1 1/4 tsp (8gr) fine sea salt
1 1/2 cups (339gr) unsalted butter, softened
1/2 cup 9110gr) granulated sugar
3/4 cup I142gr) packed light brown sugar
1/4 cup freshly grated lemon zest (zest from 4 large lemons)
3 cups (3/4 liter) picked over blue berries,
1 1/2 tbs (15gr) flour or almond powder
For the syrup
1/3cup (79ml) fresh lemon juice
1/2 cup (100gr) granulated sugar
Instructions
Preheat oven to 350F (175C) and grease and flour (I use almond powder instead of flour) the interior of any tube pan that has about a 12 cup capacity.
Coat the blueberries with 1 1/2 tbs flour or almond powder.
In a small bowl whisk together the milk, eggs, and vanilla
In another bowl, sift together the flour, baking powder and salt
In the bowl of an electric mixer, cream the butter, granulated sugar, brown sugar and zest until it is light and fluffy.
Add the flour mixture alternately with the egg mixture, beginning and ending with the flour mixture.
Whisk the batter after each addition until just combined, before adding the next.
Fold in half the blueberries into the batter.
Spoon one third of the batter into the prepared pan, spreading it evenly and then sprinkling 1/2 cup fo the blueberries over the top.
Repeat again with the batter and the blueberries, ending with the blueberries on top.
Tap the pan on counter to even the batter.
Bake for 1 hour to 1 hour and 15 minutes or until your insteant read thermometer reads 200F (93C)
Make the syrup by combining the lemon juice and sugar in small saucepan over medium heat until it comes to a boil.
Sugar should be completely dissolved.and then remove from heat.
Remove the cake from the oven, poke the top all over with a skewer and brush with half the syrup.
Allow the cake to cool for another 10 minutes and then unmold onto a cooling rack.
Brush inverted cake with the remaining syrup before transfering to a serving plate..
Notes
I use a Thermapen thermometer to test all baked goods. It is the most reliable investment a baker can make. At 205F the cake will have a slightly deeper crust.
India Tree's caster sugar and their light Muscovado sugar are what I use in making this cake.
It's optional, but if you add 1/2 tsp of the Blueberry Essence from France to the blueberries you they will have a more intense flavor and aroma in the cake.
I also add 1/4 teaspoon of the Lemon Essence to the cake if the lemons I can get are not very flavorful.
The flavoring essences from Grasse, France are superior to our domestic flavoring extracts. You will use less and the flavor and aroma will be exceptional. These are the ones that we carried at La Cuisine. They are available at www.simplygourmand.com
Adapted from 1991 Gourmet Recipe Compendium
Adapted from 1991 Gourmet Recipe Compendium
Kitchen Detail https://lacuisineus.com/
Hungry for More?
Subscribe to Kitchen Detail and get the newest post in your inbox, plus exclusive KD Reader discounts on must have products and services.
---
Share Us on Social Media: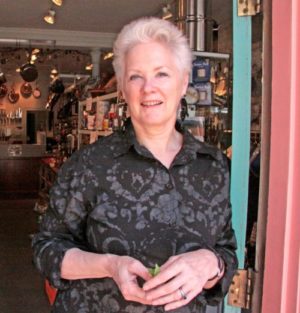 After owning one of the best cooking stores in the US for 47 years, Nancy Pollard writes a blog about food in all its aspects – recipes, film, books, travel, superior sources and food related issues.