September 18, 2018 - Written by: Nancy Pollard
Read Time: 4 Minutes Subscribe & Share
A Gift Of A Better Bakewell Baking Powder
Not an astonishing amount has been written about the discovery of sodium acid pyrophosphate by Byron H Smith, a Bangor, Maine chemist in the 1940s. But Smith's creation has proved miraculous, dramatically changing the fortunes of countless bakers, including numerous clients of La Cuisine — and me. Cream of tartar, when mixed two to one with baking soda, creates what we call baking powder. Traditional cream of tartar is a fortuitous by-product of the production of champagne and wine. Cream of tartar was shipped to the US and other countries from France — until the Nazi occupation interrupted supply lines. Byron H. Smith was one of many in the US who tried to dream up substitutes for wartime shortages. He found a close replacement for cream of tartar in sodium pyrophosphate (a mineral acid), mixed it with re-dried cornstarch, and called it Bakewell — because that's exactly what it did. Bakewell Baking Powder.
Try It, You'll Like It
The product contains no dairy: The "cream" in its name refers to its use in traditional Maine cream biscuits. Mr. Smith added the cornstarch to prevent moisture absorption. If used in a 2:1 ratio with baking soda, it is an excellent replacement for baking powder. It is obviously GMO and gluten free. There is no aluminum added to it, which sometimes gives a tinny taste to baked goods made with other baking powders. Currently, you can get Bakewell Cream baking powder with no cornstarch as well, if that additive is a problem in your diet. No one can quite figure out why Smith's invention gives a superior baking result. For me, no explanation necessary. I quit using other baking powders the minute a customer gave me Bakewell Cream as a gift almost twenty years ago.
Not with Meringue, Though
Bakewell Cream won't function as a substitute for cream of tartar when beating egg whites for meringues or angel cakes. Traditional cream of tartar quickly reduces the pH factor of egg whites, thereby warding off browning. Sodium pyrophosphate, on the other hand, becomes acidic only when heated in the presence of water.So you won't get the white fluffy meringue result with Bakewell Cream that you would with traditional cream of tartar. It's worth noting that it is proudly manufactured in small batches in Maine and not from overseas sources. And it is interesting that two of the largest commercial buyers of Bakewell Cream are Hannaford (of Hannaford Baking Powder fame) and King Arthur Flour, whose recipe for biscuits without buttermilk is in the link.
Bakewell Baking Powder Still Made In Maine
Mr Smith's wonderful discovery and his company are now under the aegis of New England Cupboard, which is a specialty food mix manufacturer and distributor located in Hermon, Maine. New England Cupboard was founded in 1995 and is currently owned and operated by Jim Collins, who proudly oversees the production of Bakewell, Winterport Company Dips and Mixes, and Jimbo's Seasonings, Jakes Treats, and Cook In The Kitchen. You can get the Bakewell Cream with or without the baking soda. Bakewell Cream by itself has a four-year shelf life, while the baking powder has an 18-month shelf life, because of the addition of baking soda. I have both and have used the combined powder and created my own by adding baking soda to the Bakewell Cream. The results were the same. Having read about the cleaning powers of cream of tartar, I am planning on testing out the Bakewell Cream as a cleaning agent too, so stay tuned.
A Rainy Day Recipe For Children
We have included his recipe for making a substitute for a homemade playdough using Bakewell Cream instead of cream of tartar. . You and the kids of your choice can use India Tree Natural Colors to create shades that have no artificial additives. You can divide up the "dough" in three pans while it is in the soupy state and add colors. Or you can have your kids knead in the hues after the concoction has reached the "playdough" stage.
Aunt Ellen's Fun Puddy
2018-09-09 19:16:17
a Bakewell Cream version of this substitute childrens modeling clay. It can be kept in ziploc bags
Ingredients
2 cups all purpose flour
1 cup fine salt
4 teaspoons Bakewell Cream
2 cups water
2 tbs vegetable oil of your choice
Food coloring (we suggest India Tree Natural Food Colors)
Instructions
You can make the dough in one saucepan and then knead in the colors, once the mixture becomes "dough" - or you can divide the mixture into saucepans while it is in its soupy stage and add the different colors.
With a whisk or pastry cutter, mix together (the least expensive all purpose) flour, salt and Bakewell Cream.
Pour into a saucepan and then add the water and oil.
Stir regularly while the mixture cooks so that no lumps form.
Cook over low heat until the mixture forms a ball.
(Before it forms the ball stage, you can decide whether you want to add color while it is liquid or wait until later, when it will have to be kneaded in.)
At this point, allow it to cool somewhat before dividing and kneading in the colors.
It can be kept in ziploc bags in your fridge indefinitely.
Notes
The India Tree Colors will not give you the intensity of color that artificial colors will. But you can mix them to give you some astonishing variations. Each pack comes with red, yellow and blue naturally derived colorants and it makes for a nice lesson on producing secondary colors with primary ones.
Kitchen Detail https://lacuisineus.com/
New England Cupboard's Discount For Kitchen Detail Readers
And best of all, if you need to replenish your current supply of Bakewell Cream products or have never tried them, now is the time! Jim Collins is giving all Kitchen Detail readers a 25% one-time discount. Use the promo code LACUISINE when you check out at their website. The code is good while his supplies last. If you have a friend who loves to bake and has never used this product, it is a great gift.
Hungry for More?
Subscribe to Kitchen Detail and get the newest post in your inbox, plus exclusive KD Reader discounts on must have products and services.
---
Share Us on Social Media: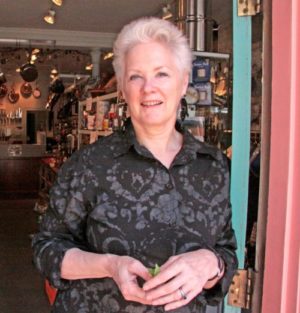 After owning one of the best cooking stores in the US for 47 years, Nancy Pollard writes a blog about food in all its aspects – recipes, film, books, travel, superior sources and food related issues.