January 1, 2019 - Written by: Nancy Pollard
Read Time: 5 Minutes Subscribe & Share
Sacred Lemons And Limes
I have a confession, I keep trying to recreate the Amalfi coast on my deck in the summer and in my living room
in the winter. We visited Sorrento in January – and there were lemon trees (and the occasional lime and orange trees) with lemons, thriving. So naturally I thought, "I can do this. I can have them in pots just like all the citrus trees growing happily in vessels all over Sorrento." So, I am proud to announce that I have had some qualified success.
Not the orange tree, alas. I lost the orange tree. (It died a very slow and graceful death with two oranges still clinging to its branches…sort of a Tim Burton version.) This was replaced by a lime tree, which produced a few great daiquiris and a lime pudding cake before succumbing to a different death. It has now been replaced by Capital Roots with a much more stalwart version. But the lemon tree has actually been chugging along and produces a handful of lemons every year. We call these "The Sacred Lemons" and "The Sacred Lime Or Two." And we have nailed a few recipes that pay tribute to these precious few, zest and all.
If you have not tried the lemon ice cream (which you can make with either limes or lemons) from our inaugural post, put it on your To Make List. It is embarrassingly easy and refreshing at any time of the year. I align myself with the owners of Berthillon in Paris – real ice cream lovers who eat it outside in the dead of winter
Sacrificial Fruit For Your Meals
So, just to give you an idea of the difference between the lemons from the grocery store and the ones off the somewhat stingy tree (neither my Lemon nor my Lime Tree bears any resemblance to The Giving Tree by Shel Silverstein), look to the picture at your immediate left. Top are two lemons from two different grocery stores, and the bottom beauty is guess what? The aroma from the cut fruit of either my lemons or limes can almost be appreciated from another room. I had the best daiquiri of my life from those limes (and I have had quite a few, first from my Dad and then from my husband, who inherited his recipe).
You must know how much we revere the recipes from Maida Heatter at Kitchen Detail, and this Lemon Buttermilk cake from her original version of Maida Heatter"s Book Of Great Desserts is no exception. This recipe apparently met with some resistance and was deleted from some subsequent reprints. But I have discussed this cake with other lifelong home baking friends who have made this cake with no problem, and we all fail to see any reason for controversy. It's such a delicious cake. Tender, lemony, with great keeping power. And it uses buttermilk, which I always seem to have left over after making things like Southern biscuits. You can make this in individual loaf pans as well. We recommend the stiff paper ones from Novacart or the nifty French ones from Panibois that are made from birchwood and can be put in the oven.
Buttermilk Lemon Cake
2018-12-05 23:47:06
Yields 10
This is lemon flavor in a cake with no additional lemon fortification! Light and moist with great keeping power under a cake dome
Ingredients
Finely grated rind of 2 large lemons
3 tbs(4.4cl) lemon juice
3 cups (420gr)unbleached all purpose flour
1/2 tsp baking soda
1/2tsp fine sea salt
8oz (227gr) or 1 cup unsalted butter
3 cups (612gr) caster sugar
5 large eggs
1 cup (240cl) buttermilk
For the glaze
1/3 cup (7.9cl)lemon juice or mixture of lemon and lime juice
1/2 cup (100gr)caster sugar
Confectioner's sugar for sifting before serving
Instructions
Preheat oven to 325F
Butter a 10-12 cup tube cake mold of your choice
Dust with fine dry bread crumbs or (my choice) almond flour
Mix lemon rind, juice and set aside
Sift together flour, baking soda and salt and set aside
In a large bowl of an electric mixer, with the whisk attachment, cream the butter and gradually add the sugar until it is light and not sandy looking.
Add the eggs one at a time, beating after each addition at a medium high speed.
Beat for an additional 2 minutes after the last egg has been added.
Add the sifted ingredients in three parts and the buttermilk in two parts while your beater is on low speed.
Scrape down sides of bowl with a spoonula or rubber spatula and give a final few folds to make sure all intredients are gently but thoroughly combined.
After removing the bowl from your mixer stand, fold in the lemon juice and rind before turning the batter into your prepared pan.
Rotate pan and smooth batter, give a small thump on the counter to level it.
The cake should bake over an hour but check with a Thermapen as your done temperature should be a bit over 200F in the center or use the cake tester approach.
Mix the glaze while the cake is baking and let the liquid smooth out any little lumps in the confectioner's sugar.
When the cake is done, allow it to cool in the pan for 5 minutes.
Cover with a rack and invert (I always loosen the exterior edge and the tube edge with a narrow knife) over a sheet pan or parchment.
With a pastry brush, wipe the glaze allover the warm cake until it is absorbed, then let it stand until glaze is set.
Sprinkle generously with confectioners' sugar through a fine strainer and tranfer to serving platter.
Adapted from Maida Heatter's Book Of Great Desserts
Adapted from Maida Heatter's Book Of Great Desserts
Kitchen Detail https://lacuisineus.com/
Waste Not Want Not Muffins
I am not wild about most muffins as they are often too dry, and sometimes overstuffed with healthy
ingredients. These are different- they are meltingly tender, reheat easily, and aremade from a rough puree of whole lemon! I took the image at left to give you an idea of what it looks like before the pulsed nuts get stirred in. This recipe adapted from The Pastry Queen by Rebecca Rather was a favorite with our Teen Cuisinettes and Cuisiners, so make this with some kids hanging around in your kitchen. (As a non-lemon aside, Rather's Tuxedo Cake and Jail House rolls are worth the price of admission) The muffin recipe also has the benefit of using up a lot of yogurt, which I have in the fridge because we try to eat yogurt and then fail – bacon and eggs, popovers, sticky buns always seem to call. I tried using free-standing paper muffin cups, but they never seem to work for me. So I now bake these in a muffin pan. The stiff mini-panettone ones from Novacart work beautifully as freestanding baking forms.
Whole Lemon Muffins
2018-12-03 00:18:30
Perfect tender muffin to make with tweens and teens. No lemon extract needed!
Ingredients
1 medium lemon, preferably organic
1 cup walnuts or pecans
1 cup unsalted buttr at room temperature
1 1/2 cups caster sugar or granulated sugar (can be mixed with Light Muscovado sugar for deeper flavor)
3 large eggs
2 teaspoons vanilla extract
2 3/4 cup all purpose flour
1 teaspoon baking soda
1 tablesppon baking powder
1teaspoon sea salt
1 2/3 cup (16oz) plain whole milk yogurt
For the glaze
1 cup powdered sugar
freshly squeezed juice from two small lemons
1/2 teaspoon vanilla extract
Instructions
Preheat oven to 350F
Grease or line a muffin pan of your choice with muffinc papers (if you use one that measures 3.5x2.inches, that should give you 9 muffins.
If you use Italian muffin forms which are stiffer, than you don't need to use a muffin pan.
If you use a smaller muffin pan, you should get 12 to 18 muffins.
Wash and dry your lemon and cut it into quarters, removing the seeds.
Proces the quartered lemons (skin, pith, and all) in a food processor until you get a puree.
Scrape this lemon puree into a bowl and then add the walnuts and pulse 10 or 12 times. - no need to wash out the food processor bowl.
Stir the walnuts and lemon puree to combine and set aside
In a bowl, stir together the flour, baking soda, baking powder and salt and set aside.
Use your paddle attachment in your electric mixer bowl, and cream the butter on high speed for a minute.
Scrape down the sides of your bowl before adding the sugar.and set your paddle for medium speed.
Cream these two indgredients until light anf fluffy and then scrape down the bowl.
Add the eggs all at once and beat on medium speed until combined.
Add vanilla and mix in completely.
Add one third of the flour mixture to the batter, on low speed followed by half the yogurt.
Add more flour, then the yogurt and finish with the flour.
Fold in thoroughly the lemon walnut misture into the batter.
Spoon the batter in to your muffin pans or cups, filling to the top.
Bake for 35 minutes, or until a toothpick inserted into the middle of the muffins comes out clean.
Allow the muffins to cool in their pans for about 5 minutes before removing.
For the glaze
Combine the sugar, lemon juice and vanilla in a medium bowl. Drizzle or brush the glaze over each muffin.
The glaze sets in about 15 minutes.
Serve then, or you can freeze them wrapped when cool, for about 3 weeks.
These muffins can be be reheated in the oven if you are keeping them in the fridge, but they should be eaten within three days.
Adapted from The Pastry Queen
Adapted from The Pastry Queen
Kitchen Detail https://lacuisineus.com/
A Double Decker
Lemon pudding cake is one of those crafty American recipes that you pour into a form after mixing, and it divides itself into a pudding layer at the base and a sort of sponge cake top. You can make it in just about any ovenproof container you want. This works best with lemons or limes and not well with oranges. When I use Meyer Lemons, I decrease the sugar (amount variation is in the recipe card). I also have used almond flour instead of sugar to line the ramekins. I have seen this recipe used in some pretty fancy restaurants where the pastry chef substitutes an unusual citrus fruit or citrus combination. It is then unmolded and garnished with some kind of frou-frou for $12.00. If you simply put whipped cream on top of standard issue citrus and toss on a few berries, you can charge $12.00 too.
Citrus Pudding Cake
2018-12-07 17:57:13
Yields 6
Diane Rossen Worthington mixes the lemons and limes in this classic American Recipe, but I prefer one or the other.
Ingredients
3/4 cup plus 2tbs caster sugar
2tbs softened unsalted butter
2 tsp grated lemon or lime zest
3 large eggs, separated
1/4 cup all pupose unbleached flour
4 tbs strained lemon or lime juice
1 cup half and half or 1/2 cup each milk and heavy cream
1/2 cup whipping cream, whipped to soft peaks
berries for garnish
Instructions
Preheat oven to 350F and wipe the interiors of your baking container with butter and some additional sugar.
In a large bowl (with a hand mixer) beat the 3/4 cup sugar, butter and citrus zest together until well blended and sandy.
Add egg yolks to this mixture and beat until blended and the batter looks creamy.
Alternately blend in the flour and the citrus juice and half and half until well combined. and has the conssistancy of pancake batter.
In another bowl, beat the egg whites until soft peaks form and then gradually add the 2 tbs caster sugar, while beating until a meringue with stiff shiny peaks is formed.
Fold the meringue into the other mixture until just incorporated.
Pour into 6 1 cup molds or in a single 1.5 quart souffle dish
Set your containers in a large baking pan to create a bain marie with enough hot water to come up half way.
Bake about 45 minutes (less for individual molds) until the top is set.
Sever immediately, with a garnish of berries and whipped cream.
Notes
I sometimes use 2/3cups cup or 132gr of sugar if the lemons are sweeter (Meyer lemon is a good example) I also line the ramekins, or souffles with butter and almond powder or flour instead of sugar.
You can umold these. The sauce wil slide over the side but it still makes a great presentation,
Adapted from The Taste Of The Season
Adapted from The Taste Of The Season
Kitchen Detail https://lacuisineus.com/
Curiously Refreshing
Let's face it, because it is January, we need a restorative cocktail while looking out the window. And I think a
slightly updated Sidecar fits the bill. My mother-in-law was very chic (and she made many of her own stunning outfits, like the one pictured in this photo). Dorothy Remington Pollard knew a thing or two about cocktails. She whisked my husband into the Knife and Fork ( a very swish restaurant in DC in the 1950s) to celebrate his birthday and first legal cocktail – which was a Sidecar. It is thought to have been invented after World War I, most likely in Paris, and was indeed named after a soldier's sidecar attachment on his motorcycle. This one is adapted from an excellent book on making cocktails titled The Bar Book by Jeffrey Morganthaler. Do include the orange peel garnish, as it takes the cocktail to another level.
Robert Pollard's Sidecar
2018-12-09 23:28:04
Yields 1
Ingredients
3.4 oz lemon ljuice
3/4 oz Cointreau
1.5 oz VSOP Cognac
2 tsp simple syrup
caster sugar to rim the glass
a piece of orange peel for garnish
Instructions
Combine the ingredients with enough ice cubes to cover in a cocktail shaker.
Shake vigorously and strain into two prepared coupe style cocktail glasses.
Twist a fresh orange peel to release the oils and then drop into the cocktail.
We like to to sugar the rim of the glass with caster sugar.
Wipe the rim with a piece of lemon, then dip and swirl the glass in a plate of caster sugar.
Notes
Simply multiply the amounts in the ingredient list to create the number of cocktails you want to serve at a time.
Adapted from The Bar Book by Jeffrey Morganthaler
Adapted from The Bar Book by Jeffrey Morganthaler
Kitchen Detail https://lacuisineus.com/
Hungry for More?
Subscribe to Kitchen Detail and get the newest post in your inbox, plus exclusive KD Reader discounts on must have products and services.
---
Share Us on Social Media: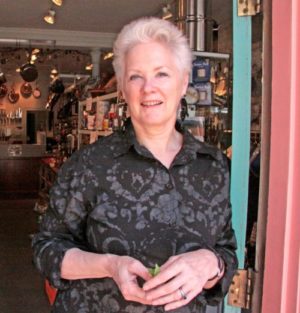 After owning one of the best cooking stores in the US for 47 years, Nancy Pollard writes a blog about food in all its aspects – recipes, film, books, travel, superior sources and food related issues.