October 1, 2019 - Written by: Nancy Pollard
Read Time: 5 Minutes Subscribe & Share
Blame It On Brigitte
We were traveling through the south of France when my husband fell in love with this dessert, which had become synonymous with Brigitte Bardot and Saint-Tropez. I was so relieved that he was seduced by Tarte Tropézienne and had separated from Charlotte Russe, that it has become a mission to make one similar to those we devoured in Saint-Tropez.
In 1956 Ms. Bardot and her husband of the moment, Roger Vadim, had settled on Saint-Tropez to film And God Created Woman. By chance the crew set up lodgings near a pastry shop that had been opened by Alexandre Micka a year earlier. He was hired to provide meals for the film group and his menu included a tender brioche-type cake, filled with an unctuous, enriched pastry cream — its top layer studded with lots of pearl sugar. While Bardot, Saint-Tropez, and this dessert were all unknowns in 1956, by the 1960s BB had a become a star synonymous with sex, Saint-Tropez was a hot resort, and the cake (which Bardot loved) had transformed Micka's pâtisserie into an empire. He trademarked the name La Tarte Tropézienne for his shops, with branches throughout the south of France. I think it is so charming that the recipe is based on one of his Polish grandmother's cakes, and it was written on a piece of cardboard from a pastry box. It was kept by Micka in a lock box within another box in his desk drawer. His fellow pâtissier Alfred Dufrêne took over the La Tarte Tropézienne empire in 1985, and the recipe remains a closely guarded secret. That hasn't stopped many of us from trying to unravel its mysteries. Some versions use whipped cream or meringue added to the pastry cream, but it really should have a classic buttercream folded in.
Dedicated To The One I Love
Tarte Tropézienne is the dream birthday cake of the other person in this marriage. Charlene and I think we have cracked the code with this recipe. And while there are all sorts of riffs and garnishes to tarte
tropêziennes throughout France and also the US, we think that this comes closest to what I ate several times in Saint-Tropez. I felt obliged to watch the film that accidently made this dessert so famous but it does not stand the test of time nearly as well as Tarte Tropézienne does. The tastiest pearl sugar for this cake is available from Simply Gourmand. (If you haven't used your KD discount, now would be a good time to go through their website for grocery shopping, French style) The grains are a bit larger than the Swedish version and have a more dramatic appearance and delightful crunch. The French Food Blogger Encore Un Gateau has come the closest to recreating the original Micka creation, which Charlene and I adapted. Her recipes are all done by weights, including eggs. The glucose is added to the dough to produce a bread that is moist and soft. The video shows how the the dough should look during the baking process and how the filling is mounded up in the center when served.
It's A Project
Please, please, please get yourself a kitchen scale, particularly for baking. Whatever one you choose, you can always test for accuracy with a 5 lb bag of flour. Cathy Barrow, who has written three cookbooks (one on preserving and two on making pastry) tested cup measures of flour against weight and found the volume measures differed radically). Charlene did a free-form circle of Tropézienne dough rather than a ring. The free-form version spreads out more and creates a wider cake with not as much height as the one within a pastry ring, which we thought was preferable. The internal temperature should be no more than 185F so you will have to watch your baking times. You want a pale gold crust. It is easy to overbake this very eggy, buttery bread. Another reason to have a well engineered cooking thermometer like Thermapen. The filling is a thick pastry cream (which sets aroudn 200F) with a buttercream folded in when both are at approximately the same temperature. Your final crème Tropézienne should not be runny . Make sure your thermometer is accurate when you make the sugar syrup. Immersing the probe into boiling water will always correctly test the accuracy. (You're looking for 212F). The syrup made with confectioners' sugar is more viscous and may help make the filling stand up better. The important alert is to not let the syrup crystalize, which is why you see so much sugar work done in unlined copper pans. Traditionally, the filling was flavored with orange flower water, but if you prefer vanilla, we highly recommend using the vanilla essence from Grasse, France as it will give you a superior flavor to domestic vanilla extracts and you will use less.
Nancy Pollard & Charlene Sinkin
Tarte Tropézienne
2019-09-22 19:52:47
For the Brioche
5 large eggs (about 10oz in the shell)
10 grams(1/3oz)fine sea salt
50 grams ( 1 3/4oz) confectioners' sugar
25 grams (.1oz) whole milk
10 grams (1/3oz) liquid glucose
500 grams (17 2/3oz) white all purpose flour
20 grams (2/3oz) fresh yeast or 7 grams (1/4oz) instant yeast
250 grams(8 3/4oz) unsalted butter at room temperature
1 egg
pearl sugar
For the Base Pastry Cream
7 large egg yolks (160grams or 5 2/3oz)
100 grams (3 1/2oz) confectioners' sugar
25 grams (1oz) cornstarch
25 grams (1oz) white all purpose flour
500 grams (17 2/3oz) whole milk
1 tbs orange flower water or vanilla essence
For the Butter Cream
1 large egg
180 grams (6 1/3oz) confectioners' sugar
45 grams (1 2/3oz) water
180 grams (6 1/3oz) unsalted butter at room temperature
Instructions
In an electric mixer bowl, combine the eggs, milk, sugar, salt, glucose, flour and the yeast of your choice - you can warm the milk and dissolve the yeast in it first if you want to see that it proves.
With a dough hook,and on medium speed, mix until the dough forms a ball and clears away from the sides of the bowl.
Cut the softened butter into pieces or scoop the butter in spoonfuls and add them singly until they are blended via the dough hook on medium speed.
Raise the speed of your mixer when all the butter is added and let the dough form a ball once again.
You may have to add a bit more flour if the dough is too sticky and does not clear the sides of the bowl.
Cover the bowl with a clean towel and allow to rise at room temperature until it is double in bulk. But if you see the dough releasing melted butter, that means your rising area is too warm, so move it to a cooler area.
Place the risen dough on a flour-covered surface and in a few kneading folds, deflate the dough.
At this point you can divide the dough to make one large one and several smaller versions.
On a baking sheet, lined with baking parchment, make a lightly buttered circle for each cake.
Use about 600-700 grams of dough to make a circle of about 25cms or 10 inches and 4-6 smaller ones of 10cm or 4 inches.
Pat or gently roll the circles of dough to the desired sizes and allow them to rise again at room temperature.
Whisk the remaining egg with a bit of salt or water so that the egg becomes a smooth wash.
When the brioches have risen (doubled again), brush each one with the wash and generously sprinkle the pearl sugar over the tops.
In an oven preheated to 350F (175C) place your baking sheets with the prepared brioche cakes.
If you have made small ones, they should bake within 15-20 minutes, while the larger one will take several minutes longer.
You are looking for a light golden crust and an internal temperature of no more than !85F (85C)
Allow them to come to room temperature on a cake rack before slicing and filling.
Pastry Cream Base
During the rising process,you can make the two components to the Crème Tropézienne.
In a glass, ceramic or stainless steel bowl, whisk the egg yolks and confectioners' sugar until the mixture is thick, smooth and pale - this is best done with a hand mixer.
Add the cornstarch, mix, and then the flour, keep mixing until it looks like a mayonnaise.
Bring the milk to a boil in a saucepan and then add it to the egg mixture in three increments, stirring until this combination is smooth.
Pour the pastry cream base back into the saucepan and over medium low heat, continue to whisk until a boil is reached - pastry cream sets at 200F (93C)
Scrape pastry cream into a clean bowl and cover with cling wrap to refrigerate. - if you see lumps, you can pass it though a sieve into the bowl.
Make the Buttercream Addition
Using a hand mixer, whisk the whole egg in bowl.
In a saucepan add the water and confectioners' sugar over medium high heat..
Have your thermometer ready so that when the syrup reaches 250F (120C), you will be ready to add it to the beaten egg. Whisk as you slowly add the syrup.
Allow this mixture to lower to 86F (30C) before adding the butter, piece by piece, while still whisking with a hand mixer.
You want to make sure that the pastry cream base and the butter cream are at about the same temperature before you combine the two.
Whisk the pastry cream to make sure that it is homogenized, and then fold in the buttercream.
Add and mix in the orange flower water or vanilla.
Scrape the filling into a large pastry bag that has been fitted with a plain round pastry tube or fluted one that is 3/4 inch (2cm) in diameter.
Cut the brioches in half with a serrated slicer, and mound the cream on the base layer and gently lay the top layer on top of the filling.
Regrigerate for at least an hour
Notes
The flavoring essences from Grasse, France are superior to our domestic flavoring extracts. You will use less and the flavor and aroma will be exceptional. These are the ones that we carried at La Cuisine. They are available at www.simplygourmand.com
Adapted from Encore Un A Gateau
Adapted from Encore Un A Gateau
Kitchen Detail https://lacuisineus.com/
Hungry for More?
Subscribe to Kitchen Detail and get the newest post in your inbox, plus exclusive KD Reader discounts on must have products and services.
---
Share Us on Social Media: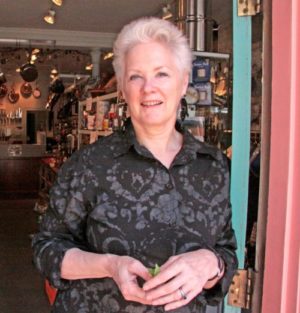 After owning one of the best cooking stores in the US for 47 years, Nancy Pollard writes a blog about food in all its aspects – recipes, film, books, travel, superior sources and food related issues.