July 9, 2019 - Written by: Nancy Pollard
Read Time: 4 Minutes Subscribe & Share
Our Teisseire Introduction
Around 35 years ago, I made a decision with one of my best friends to spend a month in France with our three girls and I hoped my husband would come along (he always had a work excuse not to take a vacation). Nancy and I rented a gîte in the middle of the Corrèze near a tiny village called Objat, and we rented a car. The better driver in our family relented and decided he needed to be the one behind the wheel. Even though he does not speak French, The Resident Wine Maniac has never regretted his last-minute decision. The two older girls were great troopers when it came to trying new foods and drinks, while the youngest one happily survived on soup, baguettes and chocolate mousse (which she called moosey). But one of the best on-the-road discoveries was French Syrups Teisseire. Because we were so clueless as to how to keep the children happily hydrated (plain water was not a palate pleaser after a few hours in a car) while we were bumping along in the countryside, the owner of the gîte gave us a bottle of Teisseire syrup with instructions on how to make a soda with 7 parts carbonated water to one part Teisseire. It was indeed très simple and délicieux. We used it on picnics (actually quite nice mixed with a cold, local white wine too) and when we visited all sorts of wonderful sites in neighboring Perigord as well. In fact, I even brought a couple of canisters home. I never found it again in the US. I found other French and Italian syrups, but Teisseire had spoiled us.
Where Oh Where is Teisseire
Fast forward to sometime in 2000. I was going through the lists of foods that one of my favorite French distributors carried, and there was
Teisseire. We bought all the available flavors and held some tastings for our clients. Boom. Especially in the summer months. Because it is a syrup, there will be sugar (although they make a 0 sugar one too) but it is glucose-fructose and not corn syrup. The fruit content is over 30% and Teisseire uses no colorants or preservatives. My personal online source is simplygourmand.com
Marianne Prébet carries a fresh stock of 12 of the flavors that we used to carry in the store, and she stocks four of the 0 Sugar syrups from Teisseire too. As a bonus, she features on her site an eclectic collection of foods that you take for granted in French grocery stores but have a hard time finding in the US. The Simply Gourmand staff treats you well – and actually they respond to questions about French ingredients which are difficult to find.
There Was A Real Monsieur Teisseire
Like many European companies, Teisseire has a history that goes back centuries. In 1720, Matthieu Teisseire founded a vinegar and liqueur distillery in
Grenoble. Matthieu's cherry liqueur became quite sought after, and it was his grandson who took the reins and actually became a local hero in The French Revolution, with a district in Grenoble named after him. The company in the early 20th century was sold to Francois Reynaud, a liqueur merchant who was equally passionate about creating pure flavored spirits. Reynaud's sons then took that expertise and started to create the non-alcoholic syrups that are now the backbone of the Teisseire name. A metal canister was developed for French cyclists, a clever tradition that is maintained today. Teisseire is the number one-selling syrup in France. And now that my daughters are former children, they still love them when it gets hot. You can mix them to make all sorts of cocktails. Or even add them to vanilla ice cream, milk and ice in a blender for a cool shake on a sultry evening.
The Teisseire website has some nifty drink recipes for you to try. I have used them in summer seasonal fruit salads to add some flavor zip. One of our clients says that a bit of vodka, ice cubes and Teisseire syrup is her idea of the best summer drink in our hot humid weather. You can make lovely popsicles with Teisseire by simply adding the syrup of your choice to about 6 parts uncarbonated water. And a final tip from a French bartender – to frost a cocktail glass with sugar, dip it into the syrup first before swirling the rim in caster sugar.
Make the plunge with a 15% discount coupon from Marianne Prebet not only on Teisseire but from her entire French Food collection on www.simplygourmand.com. Use the code WELCOME15%. Once you try Teisseire in this heat, you'll understand why we told you so.
Hungry for More?
Subscribe to Kitchen Detail and get the newest post in your inbox, plus exclusive KD Reader discounts on must have products and services.
---
Share Us on Social Media: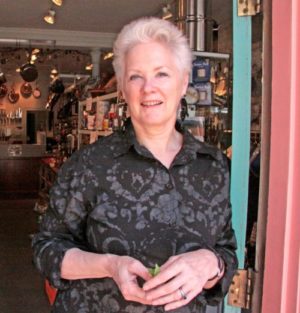 After owning one of the best cooking stores in the US for 47 years, Nancy Pollard writes a blog about food in all its aspects – recipes, film, books, travel, superior sources and food related issues.