June 26, 2020 - Written by: Nancy Pollard
Read Time: 5 Minutes Subscribe & Share
Summer (hors d'oeuvres) Horses Doovers & A Contest
This twice yearly post about nibbles to have with drinks — first when it is depressingly cold and cloudy and then when we are all hot and sweaty — has turned into a tradition. Our (hors d'oeuvres) horses doover recipes are frequently downloaded throughout the year. And if you need a suggestion for a cocktail to go with them, check out the carefully curated suggestions by our Resident Bartender. Plus, we are running our second annual Horses Doover KD Readers Contest so KD readers can have a chance to win one of three prizes. The KD crew wants to hear about your favorite Horses Doover inventions or adaptations. It can be your own original recipe or your interpretation of an existing one. And certainly tell us a bit about the recipe itself, such as if there is a bit of family history to it. Did you make it up with ingredients you happened to have on hand and it was a wild success? Or it can be your take on something you tasted in a restaurant or party and recreated. We want to know all about how it came to be your favorite Horses Doover.
Get Ready, Get Set, Go!
Winners will be announced in our Juicy Post the first week of September. First
Place winner will be sent a hand made and hammered copper mixing bowl from Sertado Copper in Austin, Texas. This company makes beautiful and functional copper cookware that is competitive in design and quality with our favorite French and Italian brands.The hammered surface is not just a pretty face; it improves the
tensile strength of the piece.
The second prize is a fully forged Santoku cleaver from Lamson Products, another US company that produces excellent cutlery and tools in Massachusetts. This is the jack-of-all trades knife that always goes in my travel batterie de cuisine. Third place winner will receive one of our large prints of the hilarious Roger Blachon poster commissioned by Louis Tellier in France that we call "Chaos In the Kitchen"
Rules Of Engagement
To enter, you have to subscribe to the newsletter. You must be subscribed here.
You can enter more than one recipe.
Entries accepted from July 5 through July 31.
Recipes will be tested and photographed during August.
Winners will be announced in the Juicy Post of September 2.
You must include at least one photo.
24-36 portions is suggested but not a game breaker
Your amazing recipes should be submitted using our handy-dandy form, here.
Back To Our Summer (hors d'oeuvres) Doovers
Cucina Italiana has both an Italian language site and an English one. I found this on their English site in 2015, and it has been a mainstay in our house since. You really should add the Kirsch, as it adds to the flavor, just as it does to a cheese fondue. And you need fine bread crumbs, so if you use Panko, grind them in a processor or blender before creating the coating for the cheese mixture. You can freeze the puffs on a tray after they have been rolled in the bread crumbs and then store them in a freezer bag for up to three months. Allow them to come to room temperature before frying. It takes just seconds for them to become golden and crisp, but if they are still frozen, the cheese won't melt.
Cheese Puffs
2020-06-13 15:13:29
Light bite to have with a glass of white or rosé wine in the summer
Ingredients
3/4lb (350gr) Gruyère cheese, finely grated
3 tbs (44ml) Kirsch
freshly ground black pepper
2 egg whites
1 cup (240ml) fine bread crumbs
3 cups (710ml) extra virgin olive oil or a combination of grapeseed oil or sunflower oil mixed with the olive oil for frying
Instructions
Grate the Gruyère cheese on a fine to medium fine grater
Place the grated cheese in a bowl and mix in the Kirsch, then season with a generous grinding of black pepper.
In a separate glass or metal bowl, beat the egg whites until stiff peaks from.
Fold the beaten egg whites gently into the cheese mixture, using a spoonula or spatula to help keep the egg whites from deflating.
Use a small ice cream scoop (1 1/4 inch diameter) or two small spoons, shape about a tablespoon full of batter into balls.
Pour the bread crumbs onto a plate and roll the balls into the bread crumbs, coating them well on all sides.
Heat the oil until it registers 350F (175C) on a thermometer.
Drop in a few cheese puffs at a time and fry them until they are crisp and golden on the outside,- turning once - 2-3 minutes
Remove the puffs with a skimmer or slotted spoon and place on a plate with double thickness of paper towels
Serve the puffs immediatelyl
Notes
I freeze these when they have have been rolled in bread crumbs and then bring them to room temperature before frying.
Adapted from Cucina Italiana
Adapted from Cucina Italiana
Kitchen Detail https://lacuisineus.com/
Kevin Canfield from K Aubrey Flowers and Vintage serves these at his parties. I fell in love
with them and stationed myself right next to the platter where they were placed. It is a riff on shrimp and grits, He freezes the grits "tart shells" and then makes the ham filling and shrimp garnish the day of his party. If you make lots of them, just put a few on a plate as people like myself will eat them all and won't have any room for dinner. Having fallen in love with
real grits when we first lived in Charlottesville, Virginia, I was determined to carry a really good brand in the shop. We found a winner with the corn products produced by Wade's Mill in southern Virginia. I made this with their Butcher's Blood grits, ground from a red corn local that Indian tribes introduced to Virginia settlers in 1840. It gave the tart shells a nutty flavor and texture. If you want a creamier texture to your shrimp n'grits tarts, use the white kind instead. You should try Wade's buckwheat and polenta too. On a non-recipe note, I have fallen in love with the school teacher's cabin that is available for vacation rentals. I can't think of a better way to self-isolate.
Shrimp And Grits Tarts
2020-06-12 22:20:03
There are never enough of these.
Ingredients
3 1/2 cups (830ml) chicken broth, divided.
1 cup (237ml) whole milk
1/4 cup (57gr) butter divided
1/2 tsp white pepper, ground
1 cup (9247ml) uncooked coarse or regular grits
2/3 cup (158ml) shredded Parmesan cheese
2./3 cup (158ml) diced smoked ham
3 tbs white (44ml) all purpose flour
3/4 tsp Worcestershire sauce mixed with a dash of white wine
36 medium peeled and cooked shrimp
3 tbs (44ml) chopped fresh parsley
Instructions
Bring 2 cups(473ml) chicken broth, the milk, 2 tbs(30ml) butter, white pepper to a boil in large saucepan over medium high heat.
Gradually whisk in the grits and return to a boil.
Reduce heat and simmer, stirring occasionally about 10 minutes until thickened.
Add the Parmesan cheese and whisk until melted and blended.
Spoon 1 rounded tablespoonful of the grits and cheese mixture in lightly greased miniature muffin pans.
Make an indentation in the center of each grit tart, using the back of a small spoon or your thumb..
Bake at 350F for 20 to 25 minutes or until lightly browned..
Let them cool completely before removing them from the muffin pans.
At this point you can freeze them on a sheet, and then transfer them to a sealable freezer bag.
When you are ready to fill, remove them from the freezer and place them on a baking sheet.
Melt the 2 tablespoons (30ml) butter in a smaller saucepan over medium high heat.
Add the ham and saute 1 to 2 minutes.
Sprinkle flour over the ham and cook stirring often (1 to minutes) just until lightly browned. Gradually add remaining 1 1/2 cups (355ml) chicken broth, stirring until smooth.
Reduce heat and cook, stirring often until thickened and then add the Worcestershire sauce and white wine. - adjust seasoning at this point to your taste.
Spoon evenly in the indentations and top each with 1 shrimp. - or half if the shrimp are large
Bake again at 350F(175C) for 5 to 10 minutes until just warm.
Garnish with finely chopped parsley if desired.
Adapted from Kevin Canfield
Adapted from Kevin Canfield
Kitchen Detail https://lacuisineus.com/
I had never heard of Hildegard Von Bingen before I read this recipe on the Italian site of Cucina Italiana. She was a
remarkable and revered abbess in the 12th century who founded an independent convent (no mean feat) near Bingen in Germany. She wrote music and hymns, which are still played today. Her philosophy and adaptations of her recipes come from a treatise she wrote on how to live a healthy life amid the pestilence of the Middle Ages. They still have followers today, and there are even Pinterest boards dedicated to her. This is a reconstruction of one of her recipes. I am not a religious person, but I do grow a lot of sage and I found this crisp chip an unusual light and savory bite with drinks. Having experimented with different types of sage, I think the smaller leaves crisp up better than the larger ones. You can dip them in the batter lightly or leave a heavier coat before roasting. A great improvement over kale chips.
Roasted Sage Leaves
2020-06-18 18:48:12
A light and unusual "chip" to serve with summer drinks, and it could be from your garden!
Ingredients
200gr (7/8 cup) light (not dark) beer
50 sage leaves
100 gr (3.5oz) farro or spelt flour
Flaked salt such as Maldon or Fleur de Sel de Guerande
Grated nutmeg
Freshly ground pepper
Instructions
Wash and dry the sage leaves.
Make a batter in a bowl with the flour, beer, with the salt, pepper and nutmeg added to taste.
Immerse the sage leaves in the batter - make sure that each leaf is coated on both sides with the batter.
Place them on a baking sheet that is lined with either baking parchment or a Silpat.
Bake in a preheated oven - 250C or 475F for about 7 to 10 minutes.
They should be green with gold edges and served hot with some additional flaked salt sprinkled on top of the leaves
Notes
These also make a nice garnish with cooked fish.
Adapted from Cucina Italiana
Adapted from Cucina Italiana
Kitchen Detail https://lacuisineus.com/
Hungry for More?
Subscribe to Kitchen Detail and get the newest post in your inbox, plus exclusive KD Reader discounts on must have products and services.
---
Share Us on Social Media: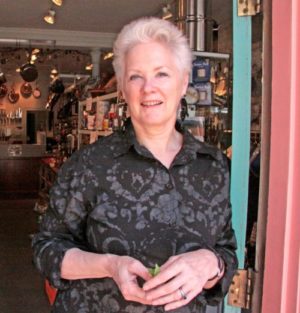 After owning one of the best cooking stores in the US for 47 years, Nancy Pollard writes a blog about food in all its aspects – recipes, film, books, travel, superior sources and food related issues.