November 13, 2019 - Written by: Nancy Pollard
Read Time: 5 Minutes Subscribe & Share
The Kitchen Well Traveled
Before Airbnb became an app and a noun, my husband and I discovered that rental apartments were a much
better deal than hotels when we visited our daughters who live in different European countries. I love shopping in local food markets; he loves trying out new wines. We're not interested in minibars or room service, but adore a washer (and hopefully a dryer), so we used whatever apartment rental services we could find. Now it is so much easier with the ubiquitous Airbnb, Homeway and Holidaylettings sites offering just about any type of accommodation. Even my daughter and her husband redid their first apartment in Bologna's historic center as a travel rental casetta– and theirs even has a neat restaurant in the ground floor. But since their kitchen, like other traveller apartments, has few utensils, I always pack a kit of things that I prefer to have on hand. An apron, a Microplane, a Santoku knife, a whisk, the Emsa beaker, my husband's beloved dishwashing brush and his choice of corkscrew count as essentials. I fold a dish towel inside the beaker and wrap the utensils inside the apron. The knife, it goes without saying, will not pass muster as carry-on. Even though I have access to several cooking apps on my phone, I usually throw in a paperback published in 2007 titled Pure Simple Cooking, my first of many books by British food writer Diana Henry .I have had to replace it twice as it mysteriously disappeared in each of the cities my daughters live in.
The Whys Of The Travel Kit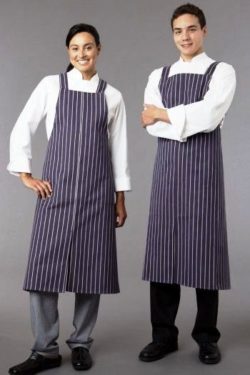 I started out trying to use a towel as an apron, but after I repeatedly got grease stains on even the most casual of tee shirts, I started packing the genuine article. I usually pack
an apron from Cayson Designs as they are made to restaurant standards and actually are a pretty good deal. We used to carry a small selection of their aprons and chef's jackets in the shop and their response to special orders is wonderful.
One of my favorite inexpensive whisks is produced by a West Coast firm, Best Manufacturers. Their chromed handles have a thick grip for your hand and the stainless steel wires are heavy enough to whisk mashed potatoes but still quickly make a vinaigrette. A Microplane is flat and miraculous for grating hard cheese, citrus zest, ginger, nutmeg, garlic, and chocolate. Santoku is a Japanese knife design that has been
graciously stolen by every major knife company in the West. Santoku apparently means "three virtues" in Japanese. Thus, it is truly a Jack-Of-All-Trades blade that can be a sort-of cleaver, a kinda chef's knife and a decent slicer with its dimpled blade. You can carve a small roast, cut apart a chicken and slice vegetables and fruits with this nifty little guy.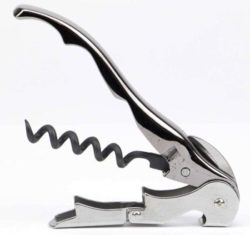 The Resident Wine Maniac is convinced that all apartment owners are intrinsically teetotalers. We have been in a couple of rentals where the wine opener actually did not open either a wine or bottled water. From the selection of corkscrews we carried at La Cuisine, the Pulltex Pulltap version remains his all-time favorite. The PullTap double hinge makes pulling out a cork soooo much easier. So it gets packed along with his beloved Küchenprofi dish brush and a linen dish towel. He is justifiably entitled to both in my suitcase as he does a superb job washing dishes after a meal. And we actually have found that linen does dry dishes better than any other fiber.
And To Top It Off
Even though it does not pack flat, this German beaker with its funnel-like design is so practical. I don't need measuring cups or spoons, as it makes sure that the
smallest amount of dry and liquid ingredients get measured accurately in terms of volume. It holds 16 ounces and half a liter -500ml or 50cl and it can measure tablespoons, teaspoons, cups, pints, milliliters. Its narrow base and wider top insure accurate measuring of small amounts. So you don't have to worry about different countries' measurements for cooking. It has been scientifically calibrated (and yes, I know, it is not going to equal the accuracy of a scale, which I preach about endlessly). The rim is beveled for easy pouring with no drips. You can do combined ingredient measures too. It's pretty hardy, as it is made from a BPA free acrylic. And at under 7 inches, it is still eminently packable.
And the last item is a paperback cookbook that is packed with easy dishes, from appetizers to desserts. Diana Henry's Pure Simple Cooking was out of print, but has been mercifully reissued. She remains an extraordinary food writer with an adventurous palate. Even with cooking apps, I find her recipes – which are international in flavor – a delight. This book's blessing for the traveller who likes to cook, is that you can adapt her recipes to what's available in a local market with a minimal amount of equipment. And my daughters have almost framed her page on what to do with a tub of vanilla ice cream.
Hungry for More?
Subscribe to Kitchen Detail and get the newest post in your inbox, plus exclusive KD Reader discounts on must have products and services.
---
Share Us on Social Media: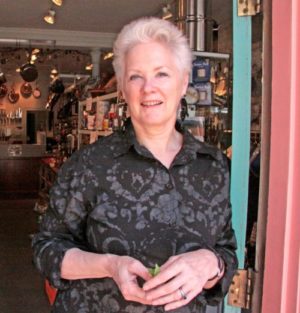 After owning one of the best cooking stores in the US for 47 years, Nancy Pollard writes a blog about food in all its aspects – recipes, film, books, travel, superior sources and food related issues.