April 13, 2021 - Written by: Nancy Pollard
Read Time: 3 Minutes Subscribe & Share
Bugs Bunny Never Had It So Good
Why this Carrot & Taleggio Tart recipe is referred to as a variation of tarte tatin is beyond my abiltiy to comprehend. It is not remotely like a savory version of the Tatin technique. But it is simple to make, unusual, and truly scrumptious – and pretty when made with rainbow carrots. A lovely layering of puff pastry, Teleggio cheese, and colorful carrots. This particular version is inspired by a recipe my daughter in the UK uses from a British vegetarian cookbook titled The Green Roasting Tin by Rukmini Iyer. She is also a noted food stylist and hosts supper clubs in her home in London.
Rather than presenting the carrots cut in half
lengthwise, I prefer the trimmed and peeled carrots to be cut on the diagonal and scattered across the cheese as thin ovals 1/8 inch or less. You can do this easily with a Santoku knife, chef's knife, or Benriner. I cut off the Teleggio rind and slice the cheese in pieces a bit less than 1/4 inch. The Teleggio does not need to fit together like tiles, just place them so that they are about 1/4 inch apart in any order that you choose. The cheese melts together during baking. If you have access to DuFour Frozen Puff Pastry, that would be my choice. And it really is important to bake the tart long enough so that the bottom exterior of the puff pastry sheet is a deep golden color.
Carrot & Taleggio Tart Recipe
Serves 6
A scrumptious combination of melted cheese and carrots on a crisp puff pastry crust.
Ingredients
1 14oz.(397gr) puff pastry sheet, rolled out – DuFour is my choice.
1 tbs French Dijon Mustard
8-10oz (227–285gr) trimmed Taleggio cheese
10oz (285gr)carrots, trimmed and peeled
2 tbs Extra Virgin Olive Oil
Fleur de sel or Maldon sea salt and freshly ground pepper
Some sprigs of fresh thyme
Instructions
Preheat oven 350F (180C)
Cut carrots into diagonal ovals with a knife or Benriner slicer
Combine the olive oil, salt, and pepper in a bowl and add the carrots
Lay out the puff pastry sheet on parchment or a Silpat.
Roll out to remove creases.and place in sheet pan.
Prick the base with a fork several times.
Spread the mustard thinly over the base, leaving 1/2 inch (1.25cm) border unspread.
Turn edges over on all side about 1/4 inch (2/3cm) to create a wall.
You can optionally brush some additional mustard on the top of this edge, but very thinly.
Slice the Taleggio into pieces less than 1/4 inch (2/3cm) thick.
Place the slices randomly about 1/8 -1/4 inch apart – they will melt togehter in the oven.
Scatter the carrots across the cheese and the thyme (removed from the stems) over the carrots.
Bake 35-45 minutes, until carrots are soft but not mushy, the cheese is melted, and the pastry is a deep golden color.
Check the base to make sure the underside is baked through.
Serve with a salad or as a side dish with grilled meat or poultry.
Notes:
I have made the tart several hours ahead, covered it with cling wrap and then baked it about an hour before serving. A small handful of microgreens with a bit of good olive or nut oil and balsamic vinegar sets this tart off beautifullly.
Hungry for More?
Subscribe to Kitchen Detail and get the newest post in your inbox, plus exclusive KD Reader discounts on must have products and services.
---
Share Us on Social Media: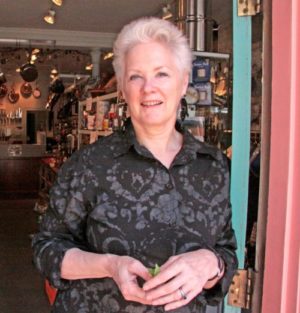 After owning one of the best cooking stores in the US for 47 years, Nancy Pollard writes a blog about food in all its aspects – recipes, film, books, travel, superior sources and food related issues.