April 7, 2021 - Written by: Nancy Pollard
Read Time: 5 Minutes Subscribe & Share
Growing A Greenish Thumb
I was born with a black thumb. But over time, I discovered that not killing a purchased plant was possible, especially if I remembered to water it and at
least look up the amount of sunlight it needs. I am all in on filling up my wagon with fledgling plants every spring, but this year, as part of my Guerilla Garden project, I am going to try to grow some seeds. Survivors will have a chance to show off around my two adopted tree wells, horse troughs and various containers on the sidewalk in front of my building. And with little monitoring, let's just just see what happens. Victoria Sackett, the KD sharp penciled editor, has tried planting from seeds but became broken hearted when she had to pull away and allow to die, weaker seedlings from robust ones. She also needed recipes for sourdough discard because she did not have the heart to throw those yeasty organisms down the drain. (We might not include her in this project.) I have had a couple of gardening fairy godmothers who have successfully waved their magic trowels at both the tree wells, the troughs and me. I have recurring visions of flowers around trees, and I don't mean liriope. And then I have visions of them reseeding for the next year. Food seedlings will be a project for my pots on my deck and the horse troughs in the front, because we would prefer that our salad greens not be watered with dog pee.
Tree Well Advice
I used to buy a (very) few gardening books and would be discouraged after looking at them (enviously) because their photographs seemed unobtainable in real life. Besides my gardening fairy godmothers, the website Gardening Know How is my source for the limited information that my non-gardening brain can absorb. Their suggestions have made a visible difference for my two adoptees. Jody McGowan, my current gardening fairy godmother, totally dug out both tree wells and replaced the existing soil with organic soils from Organic Mechanics. This soil does not clump up and become clay-like when doused by torrential rains or too heavy watering by yours truly.
Trim away the lower branches of the tree whose home you want to share – cities are grateful and so are people who park beside them. It allows more light to filter down into the area. And surprisingly (I made this mistake years ago) do not create a raised bed. Trees actually have exposed roots for a reason. They need the oxygen to help the tree survive. You can create a small hole and fill it with organic compost and transfer an already established small plant as long as you don't hit a large established root .Suggested seeds that will grow and then even haphazardly reseed the following years are Cleome, cosmos, coneflowers, morning glories, zinnias, marigolds, nigella, milkweed, butterfly bush and larkspur. Under my adopted trees this year are reliable sprouters cosmos, coneflowers and tithonia, plus rudbeckia, which, rumor has it, might drop mature seeds for next year. Stay tuned.
Seed Sources You May Not Know
But back to my flinging seeds idea: The first two companies that pop out if you want to grow organic heirloom plants or seeds that are not prisoners of Monsanto and Sygenta are The Southern Exposure Seed Exchange and Hudson Valley Seeds. The Southern Exposure Seed Exchange locally is carried by MOMs. Their member farms are located not far from here, between Charlottesville and Richmond. They carry hundreds of seed types for vegetables, flowers and even grains or cover crops. Their focus as the name indicates are plants that thrive in the Mid-Atlantic and Southeast US. Over 60 percent of their seeds are certified organic. I also admire them for participating in lawsuits against the death grip that Monsanto has on farmers.
Hudson Valley Seeds packets, which is the brand I bought from Mason & Greens, will be my
experiments this year. Owner Anna Marino said "on top of bringing plastic free goods to our community, we love to foster a sense of reconnecting with nature. Nature, after all, is what we are fighting to save. Hudson Valley has their own organic farm where they produce much of what they sell. Their commitment to responsible seed production, growing organically, sourcing locally and sustainably and preserving crop diversity is why we chose to work with Hudson Valley Seed Co. The seed packets they create aren't just full of seeds but stories of the seeds and their legacy. "
Johnny Seeds
is one of the nine companies that founded the Safe Seed Pledge in 1999 and provides both organic and sustainably harvested seeds. It is an employee-owned company. Its founding in 1973 and well documented history makes for interesting reading.
A very unusual and completely organic seed and tuber provider is
Peace SeedsLive.
They offer poetry and garden philosophy aplenty, and their selections include some plants that are perfect for trellises according to Jody. Their selection of tubers from the Andes was an education to me. You will have to send a check or money order, but read what they have to offer on their list
here
I only wish with the BLT season coming up that I had the space for an additional horse trough, because I'm so curious to try the renegade "Dirty Girl" tomato seeds from
Joel Schirmer.
The Giving Garden
Out of curiosity I have joined the Million Gardens Movement which was conceived by the founders of Modern Farmer and Big Green. They also have a much older Han Solo as a poster boy. This ingenious project is probably a pandemic byproduct where suddenly lots of people became interested in growing flowers, herbs
and food. One signs up to get guidance and updates on successfully growing seeds if you are all thumbs about plants. And your donation goes to setting up school garden and community garden kits with mentoring thrown in. I even took the exam and am proud to say that I am allowed to grow radishes and spinach considering my circumstances and level of ability. The Million Gardens Movement does speak to the larger picture of growing food and flowers to create communities where all participants survive and grow. This short video from the Canadian city of Surrey offers a fine example.
Hungry for More?
Subscribe to Kitchen Detail and get the newest post in your inbox, plus exclusive KD Reader discounts on must have products and services.
---
Share Us on Social Media: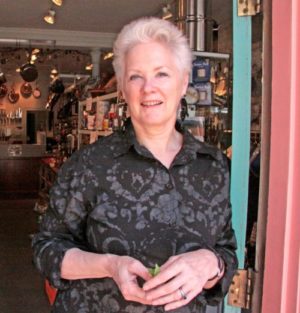 After owning one of the best cooking stores in the US for 47 years, Nancy Pollard writes a blog about food in all its aspects – recipes, film, books, travel, superior sources and food related issues.