August 5, 2020 - Written by: Nancy Pollard
Read Time: 4 Minutes Subscribe & Share
It's Too Darn Hot
Cole Porter was right. Why do we always forget about August in March? In the DMV it is really too hot and humid to always grill outside.. Even the spatchcocked chicken from July's Bonus Recipe is better than standing outside waving the smoke around the burning coals. And if you have not treated yourself to granita, another hot-weather Sicilian specialty, now is the time to drag your body over to the sink, create a syrup around your flavoring, allow it to get really cold, partially freeze and then flake the slush, refreeze and flake again a few times. Or throw it into an ice cream maker, which is what I do – and that seems to be the method used in almost all the restaurants that I went to in Sicily. Granita is lighter then sorbetto, with the latter really a sweetened fruit puree that is aerated and frozen (sometimes with an egg white). And the success of a sorbet depends on the sugar density of the puree, while a granita's triumph does not.
Colazione di Campioni
I have always, always hated cereal for breakfast. Pastries, fruits or cookies, I get that. Even cold cuts and cheese with whole grain bread, but a processed
grain cereal – yuk. A Sicilian bun with granita and whipped cream, which I had read about for years and probably have waited for all my life, is my ideal summer breakfast. I think one of the nicest books you can use for inspiration is the one written by Nadia Roden titled Granita Magic. It doesn't get a lot of traction, but I think it is a gem in introducing you to savory and sweet granite. Although I don't have a dairy allergy, this is my go-to dessert for friends who can't tolerate any milk product. The standard Sicilian breakfast accessory for granita is an Italian take on a French brioche (watch one of my favorite tee shirt clad cooks on Giallo Zafferano) I sometimes skip the brioche part when I make a fruit-based granita. Instead, I make a seasonal fruit salad with a bit of Triple Sec and top it with a scoop. But if I've made coffee or pistachio granita, and I really want to feel like a morning champion, I top it off with whipped cream. I feel almost Sicilian.
Four Breakfast Possibilities
I keep a Bialetti Moka coffee maker and a Frieling French Press just for coffee desserts and variations of ice coffee. . The Moka will give you a more intense coffee flavor out
of the two. Use an espresso roast, and I prefer one that is made with all Arabica beans. If you run it through your ice cream maker, the granita will be very fluffy, almost meringue-like in its appearance and more velvety in taste. The real discovery with this coffee version is the glorious substitution of Light Muscovado sugar for white sugar. You can add a couple of tablespoons of pure Pistachio Cream to the Pistachio recipe below to make Bronte (pistachio) flavor more pronounced. My favorite brand is Stramondo. For a garnish, crushed Amaretti crumbs fit almost all flavors.
One of the reasons I love the Granita Magic book is the wildly imaginative way she combines flavors I would never think of in a granita – sour and sweet cherry or pineapple coconut (delicious with maple syrup on top); or fresh ginger, lime and my windfall of blueberries. The other person in this household, who said he didn't like granita, has changed his mind and adores her pineapple coconut version, with the addition of the aforementioned maple syrup…and whipped cream.
Roden's directions to hand flake any granita mixture are simple: pour it into a shallow container with a lid or cling wrap. Freeze it until the mixture has frozen around the edge – about 30 minutes to an hour. Remove it from the freezer and with a fork stir the frozen part toward the center. Repeat this process every 20 to 30 minutes until the whole mass has turned into a tray of tiny ice crystals.
Coffee Granita
2020-07-22 00:01:29
It's almost not a recipe, but this can be dressed up for a dessert any time and it is my classic breakfast treat.
Ingredients
3 cups (710ml)brewed Italian espresso
3/4 cup (150gr) Light Muscovado Sugar
Sweetened whipped cream for garnish
Instructions
Use the grind specified for espresso and use an all Arabica bean blend
For best flavor use a Bialetti stovetop coffee maker or a french press.
Pour the hot coffee over the sugar in a container that you can put in the freezer or refrigerator to cool down.
Once cool, freeze as you would any ice cream mixture and store in a covered container.
If doing by hand, pour the coffee syrup in a shallow pan that will fit in your freezer and allow it to freeze abut 1 or 2 inches around all the edges of the pan.
Take a fork, and stir the ice crystals from the edges into the center and refreeze for another 20 minutes or a bit longer and repeat the procedure.
It takes about four repetitions to get this crystal-like texture
Keep in a covered container in your freezer, and let it sit out for about 5-10 minutes to soften a bit before serving..
Notes
My favorite brand of Muscovado Sugar is from India Tree and is usually available from Amazon.
Kitchen Detail https://lacuisineus.com/
Pistachio Granita - Sicilian Style
2020-07-24 15:58:10
Serves 4
Make this with the Bronte pistachios only. It makes all the difference in the flavor
Ingredients
200 gr (7oz) peeled Bronte pistachios
200 gr (7oz) white granulated sugar
800 ml (3 1/3 cups) water
Optional enrichment is 3 tbs of pure bronte pistachio paste - my favorite is Stramondo.
Instructions
Toast the pistachios in a dry frying pan over medium low heat just to bring out the aroma.
Bring the sugar and the water to boil and make sure that the sugar has dissolved, and then remove it from the heat.
Grind the pistachios in a blender or food processor until they form sort of a paste.
Add the syrup and blend again briefly.
Pour into a container to allow it to get cold before putting it in an ice cream maker.
You can also use the tray procedure using a fork to create crystals.
Notes
I use India Tree caster sugar as it dissolves beautifully in a syrup
Kitchen Detail https://lacuisineus.com/
Blueberry Granita
2020-07-30 21:50:47
Serves 4
Ingredients
3/4 cup (170gr) white granulated sugar (I use India Tree Caster Sugar)
2 tbs (10 1/2 gr)peeled and grated or finely chopped )fresh ginger
1 lb (454gr) blueberries
5 tbs (74ml) fresh lime juice
1 cup (237ml) water_
Instructions
In a food processor, combine the sugar with the fresh ginger and puree to a paste
Add the blueberries, lime juice, water and puree to a liquid
Strain through a fine sieve, stirring and pressing with a spoon or rubber spoonula.
Discard the solids, allow the mixture to cool in the firdge.
Then process in your ice cream mixer or follow instructions for making in a tray in your freezer.
Notes
I always add about 1/2 teaspoon or capful of the French Blueberry Essence from Grasse, which is available from www.simplygourmand.com. It intensifies the blueberry flavor without it being overly sweet.
Adapted from Granita Magic
Adapted from Granita Magic
Kitchen Detail https://lacuisineus.com/
Pineapple Coconut Granita
2020-07-30 22:43:12
Serves 4
Top your serving with some maple syrup (trust me)!
Ingredients
1 large pineapple
Juice and zest of 1-2 limes
4-8 (59-89 ml) tablespoons of white granulated sugar (I use India Tree caster sugar as it dissolves so beautifully)
13 oz (385ml) unsweetened coconut milk
Instructions
Cut the crown off and halve the pineapple lengthwise.
Cut away the peel and pare away any of the "eyes"
Cut each half into two lengthwise slices and cut away the core from each slice.
Cube the pineapple slices after you have discarded the core.
Place the pineapple cubes in a food processor with the lime juice and zest, sugar and coconut milk.
Process this into a fine puree.
Strain the puree through a fine sieve, pressing with a spoon or spoonula.
Discard the solids, and pour into a container that can stay in the refrigerator until the puree is cold.
Process in your ice cream maker or follow instructions to flake the mixture in tray that is removed from your freezer several times.
Adapted from Granita Magic
Adapted from Granita Magic
Kitchen Detail https://lacuisineus.com/
Hungry for More?
Subscribe to Kitchen Detail and get the newest post in your inbox, plus exclusive KD Reader discounts on must have products and services.
---
Share Us on Social Media: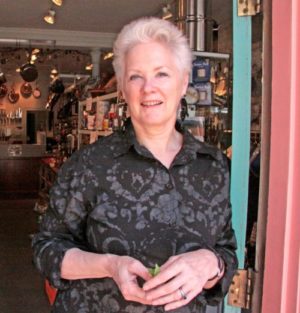 After owning one of the best cooking stores in the US for 47 years, Nancy Pollard writes a blog about food in all its aspects – recipes, film, books, travel, superior sources and food related issues.