February 19, 2020 - Written by: Nancy Pollard
Read Time: 5 Minutes Subscribe & Share
Sweet Vs. Bitter
I wrote earlier about the essences from Grasse, France, which we used to carry at La Cuisine. I'm happy to report that Simply Gourmand, the French online grocery store, has added some of them to their website. The almond essence is one that I would choose over any other almond flavoring. It is
made from the bitter almond, which is the only one that can make an almond flavor that holds up in a recipe without being sickly sweet. Unlike sweet almonds that we munch on and use in a variety of desserts and savory dishes, the bitter almond is poisonous in its raw state – not too far removed from the leaves of the rhubarb plant, which are also quite toxic. According to an essay written in Spruce Eats, bitter almonds have prussic acid, which is a natural variant of cyanide. Never fear. This fearsome element disappears when cooked. The concentrated flavoring is far superior to that from sweet almonds, and you can be assured that all bitter almond products are made from the cooked version. So, risk-free and also free of the cloying, artificial almond flavor that characterizes too many domestic essences. And a little goes a long way. Our recipes call for only half the amount that you'd need if using a domestic product. Below are three recipes to showcase this particular essence from Grasse.
A Savory Sauce
The first is a sauce used for seafood, from a cookbook written by Sarah Leah Chase in 1990, titled Cold Weather Cooking
which was her adaptation of a sauce for raw oysters crafted by a Texan, Bill Rapson. Mr. Rapson was a client on one of the bicycle tours in Normandy that Sarah Leah Chase organized. She described him as a " cigar-chomping, Calvados-swilling Texan" who knew his way around seafood condiments. This unusual and downright tasty sauce is put together on top of the stove in about 30 minutes. I prefer pulsing it in a food processor to make it less chunky. I use it with raw veggies as a dip and mix it into a filling for deviled eggs, You can make it a day or two ahead of a seafood feast. We organized a platter of grilled scallops and shrimp, raw oysters, and steamed clams and mussels, and all were devoured with lashings of Red Sauce Rapson.
Red Sauce Rapson
2020-02-02 01:07:57
Yields 3
unusual sauce for any seafood appetizer
Ingredients
3 tbs olive oil
4 large ripe tomatoes, seeded and finely diced
2 jalapeno or serrano chiles, stemmed, seeded and minced
1 small red bell bepper, stemmed, seeded and diced
1/2 cup (50gr)coarsely ground almonds
1 tsp pure almond extract or 1/2 tsp almond essence from Grasse
3 tbs minced fresh tarragon or 1 tbs dried
Fine sea salt and freshly ground pepper to taste
Instructions
Heat the olive oil over medium heat in a large skillet.
Add the tomatoes, chiles, bell pepper, almonds, almond essence or extract.
If using dried tarragon, add it now with the other ingredients.
Simmer uncovered, stirring occasionally for about 15 minutes.
Remove from heat and stir in fresh tarragon, if using, and adjust seasoning with salt and pepper;
Chill the sauce for several hours in the refrigerator.
Serve with raw oysters, clams, or as a dip for cooked mussels, shrimp, lobster or crab.
Notes
I pulse this in a food processor as I like it less chunky than in the original recipe.
Adapted from Cold Weather Cooking
Adapted from Cold Weather Cooking
Kitchen Detail https://lacuisineus.com/
A Sicilian Breakfast
Granita was my favorite breakfast in Sicily (I didn't even need the brioche). I can still taste the one made with Avola almonds.This is a dessert I make when I have friends over who are dairy and gluten intolerant. I use croquant as a topping, but you could use an almond praline topping, too. The almond essence from Grasse is as close as I can get to that Sicilian almond flavor. This recipe uses a base of almond milk, which I find easier to use than almond paste. This particular ratio and procedure is from a cookbook of an American who has literally returned to her roots in Sicily – Melissa Muller. If you are seduced by the cuisine of Sicily both in its traditions and its innovations, her book is a delightful read. I have earmarked the recipe on page 123 to remember to make her savory eggplant trifle with this summer's produce! But I digress. Instead of hand-flaking the mixture, I throw it into an ice cream maker (I use the Lusso one) – and so did all the restaurants and cafés I went to. Allow the granita to defrost a bit on the counter before serving. You can keep granita in the freezer easily for a month. Seriously, it is great for breakfast.
Almond Granita
2020-02-02 01:38:14
Yields 1
You need the Almond essence from Grasse to get the intensity of almond flavor of this most Sicilian of frozen treats
Ingredients
1 1/2 cups (355ml) water
3/4 cup (170gr) caster sugar
4 cups (946ml) unsweetened and unflavored almond milk
1/2 tsp or a bit more Almond Essence from Grasse
Instructions
Combine the water and caster sugar in a saucepan and bring to boil over medium low heat.
The syrup should be clear before you add it to the almond milk.
Allow to cool in the refrigerator and then add the almond essence to taste.
Either use your ice cream maker (which will make a more velvety granita) or freeze in a shallow pan for about a half an hour.
At that point, take a fork to flake the frozen mixture into the unfrozen part and put in the freezer again.
Repeat this process every half hour, about four to six times until you get an icy flaky mass.
Granita keeps easily in the freezer for at least a week....and up to a month.
Notes
There are shelf-stable forms of almond milk, but I prefer the taste of the fresh ones that are in the fridge section of the grocery store.
Adapted from Sicily
Adapted from Sicily
Kitchen Detail https://lacuisineus.com/
A Whiz Of A Cake
A cake in a food processor that is actually really good? This has become my husband's favorite breakfast cake with coffee. An almond cake that is
easy to make for any season can be found in one of the many cookbooks (and I have several of them) written by British food writer, Diana Henry. You should go to her website and check her journal of recipes from time to time. Her recipes presume a bit of knowledge around the stove and fridge, and they will take you to places you have never been (think Georgian food — not the state, the country) or Turkey or Japan. Plus, I just love how she writes.The first cookbook I got from her years ago pretty much stays in my suitcase. I use it all the time in rental kitchens when we travel. Her current title, which this recipe comes from, has lots of new ideas on how to use ingredients in different ways: Her squash salad is my Dreary Season go-to side for barbecued pork and her broccoli with harissa is a format for cauliflower and rapini as well. But this cake – well, in the summer she puts some sugared fresh fruit on it before baking, but it is great in the winter months with just a boozy fruit salad and whipped cream. I found that it bakes within 40 minutes and usually less than that, if there is no fruit topping that is baked in. A note on the marzipan: if you can purchase the Stramondo Marzipan from Sicily, it is worth it for any recipe that calls for marzipan as an ingredient. My second choice is Odense, and third would be Solo from the selection in grocery stores.
Almond Cake
2020-02-07 15:16:36
Serves 8
A processor cake with big almond flavor, which can be baked with fruit on top...or not. The perfect cake with morning coffee.
Ingredients
4oz (112gr) softened unsalted butter
2/3 cup (150gr) caster or superfine sugar
2 large eggs, lightly beaten
3/4 tsp (3 2/3ml) Bitter Almond Essence from Grasse or 1 1/2 tsp almond flavoring
1 1/2 cups (192gr) all purpose white flour
3/4 tsp baking powder
1/2 cup marzipan,(115gr) cut into smaller pieces
1/2 cup (120gr) sour cream
pinch of fine sea salt
Optional fruit topping in Diana Henry's recipe
2 ripe nectarines,, pit removed, halved and sliced
1 large plum, pitted, halved and sliced
1/2 cup (63gr) raspberries
3 tbs (42gr) caster or superfine sugar
confectioners' sugar for dusting
Instructions
Preheat oven to 375F, and grease an 8 inch(20cm) cake pan if you are making it without the fruit topping - use a springform if making it with the fruit topping.
For either cake, line your cakepan with an 8 inch circle of parchment. I then "flour" the interior surface with finely ground almonds.
Put all the cake ingredients in a food processor and mix well with the regular blade.
Pour the batter in the pan.
If adding fruit, mix the fruit with the superfine sugar, and lay the pieces in any fashion you like.
In the original recipe, she advises to bake for 1 1/2 hours, but in my oven the cake was done in under 40 minutes without the fruit topping.
Allow the cake to cool before unlatching the springform..
If baked plain, unmold the cake on a rack and then peel paper off and invert onto a serving platter
Notes
You can top the cake with croquant or any streusel topping. It is a most forgiving cake!
Adapted from Simple - Effortless Food, Big Flavors
Adapted from Simple - Effortless Food, Big Flavors
Kitchen Detail https://lacuisineus.com/
Simply Gourmand
still has a 15% discount code for Kitchen Detail readers which can be used on all items in a first-time purchase. If you have not used your introductory code WELCOME15% this would be a good time to use it not only on the essences but other French ingredients as well. Add the code in the promo field at checkout.
Hungry for More?
Subscribe to Kitchen Detail and get the newest post in your inbox, plus exclusive KD Reader discounts on must have products and services.
---
Share Us on Social Media: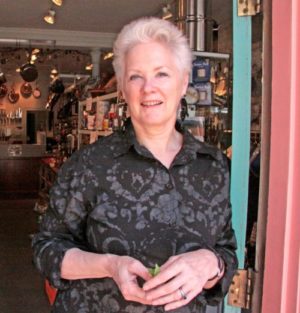 After owning one of the best cooking stores in the US for 47 years, Nancy Pollard writes a blog about food in all its aspects – recipes, film, books, travel, superior sources and food related issues.