October 5, 2021 - Written by: Nancy Pollard
Read Time: 5 Minutes Subscribe & Share
A Cardboard Figure
I had never heard of Flat Stanley until one of the Cuisinette children had to participate in a Flat Stanley project. He is simply a cut out figure, and his adventures began as bedtime stories by the author, Jeff Brown, for his son. The first book was illustrated by Tomi Ungerer, no less. Flat Stanley accompanies various children (sometimes adults) on their travels and is photographed wherever he goes. His adventures have been translated into German, French, Italian, Japanese and several other languages, as children all over the world joined in sending their paper or
cardboard Stanleys on journeys and sharing photos of where he had been. It became a school project for thousands of school children across more than 80 countries – an idea proposed by a Canadian elementary school teacher, Dale Hubert. His idea was to make reading and writing fun, and it took off. According to a Keith Olbermann report, a Flat Stanley was aboard the US Airways Flight 1549 that landed in the Hudson River. He was reported to have been carried safely off the wing in the briefcase of his traveling companion. And of course, now there is work underway for a Flat Stanley app, but it, too, is enduring some turbulent travels.
The Flat Soufflé
Even though it's not famous (yet) The Flat Soufflé Project actually began in my head when I first read Jacque Pepin's wonderful autobiography, in which he recounts his mother's first adventure with the classic soufflé. Her husband had airily told her that, oh you make a béchamel, you add the eggs and the cheese and voila! No one told her that in the classic procedure, the eggs were separated, a béchamel was made with the yolks, the whites were whipped, the fragile mixture baked in a high cylindrical mold and rushed to the table. So she made a soufflé without separating the eggs and poured it into a low-sided gratin dish – and it rose, maybe not in the most classic sense of the ones we featured in this earlier post, but it was creamy and light. There are several videos about his mother's soufflé, but this is my favorite. As he says, it's easy, no-fuss, and I found out that it travels well to vacation rental kitchens. I am thinking of a Flat Soufflé Instagram hashtag.
Since we have stayed in some places where the equipment was pretty basic, I have developed a fascination for the Flat Soufflé – one that can be made easily with the few items that are almost always available in vacation rentals. This less lofty soufflé is sturdier, and can hang around in the kitchen until you are ready to pop it into the oven.
Harriet Healy's chocolate souffle can be baked in any oven-proof dish that holds about 10 cups or a bit more. It was my first Flat Soufflé recipe made in a London rental kitchen. In 1953, Harriet was the first student to show up for the cooking classes organized by Simone Beck and her soon to be famous co-conspirator, Julia Child. Simone Beck credits her student with this recipe in New Menus From Simca's Cuisine which she co-wrote with Michael James, a very promising chef who died in one of the first waves of the HIV pandemic. Personally, I found that Simone Beck had some of the most interesting and palate-pleasing recipes of the three women who started the cooking school that launched Julia Child's career.
This savory version is one I recently discovered from a book written by Joanne Weir in 1994 (the same time that the Flat Stanley Project took off internationally) in which she travels around the Mediterranean Sea seeking out different dishes from Spain, France, Italy, Greece, Turkey and a few from the Middle East and North Africa
. There are no photographs, alas, but I have happily travelled around the Mediterranean Bowl with some of her recipes, including this one. The yolks and whites are separated, with the latter whipped into a meringue -I actually carry a whisk in my suitcase as part of my traveling batterie de cuisine – before folding them into the goat cheese and onion mixture. You can switch out the goat cheese, but I really like the creaminess and the mild taste. If I make it in a large gratin or baking dish, it will take longer than the baking time in her recipe. She suggests an oven-proof platter as a baking vessel, which then makes it larger and even flatter. I am going to try it on a half-sheet pan.
As for the onions, I follow the recipe from Paula Peck (a very talented cook who worked, I think quite unsung, for both Craig Claiborne and James Beard).Paula Peck was shown this technique by her Polish neighbor, Mrs. Rudski, who topped her pierogi with them. I adjust her recipe to the amount of onions specified for this soufflé, and have used this easy and delicious way to cook onions for other dishes. You chop 2.2lbs (1kg) onions (I do thin half moon slices) and put them in a heavy fry pan with out any fat. Cover and cook over medium heat for around seven minutes. Add 1/4 cup butter (or you could switch to olive oil; it will give you a different flavor) to the onions and cook uncovered over low heat, stirring occasionally until they are the consistency you like. Season to taste.
Consider this the first sharing of photos of the many international adventures of The Flat Soufflé. I look forward to seeing yours! Post yours in Comments below, or on Instagram and tag #kitchendetailblog or send us a photo to admin@lacuisineus.com
to
Caramelized Onion & Goat Cheese Souffle
2021-10-01 22:31:59
Serves 6
I don't follow this recipe exactly, so look at the notes in the text.
Ingredients
3 tablespoons (45ml) olive oil
3 medium onions (1 1/2lbs or 550gr) thinly sliced
Fine sea salt & freshly ground pepper
6 tablespoons + 2 teaspoons (95gr) butter - 2 teaspoons allotted for greasing platter or gratin
1 teaspoon stripped chopped thyme
6 tablespoons (50gr) all purpose white flour
1 cup (237ml) whole milk
1 cup (237ml)heavy cream
5 egg yolks
5 ounces (142gr) crumbled goat cheese
6 egg whites
1/2 cup (118ml) grated Parmigiano cheese
Instructions
Heat the olive oil in a skillet and add the onions, seasoned with salt, pepper and half the thyme.
Saute the onions over medium low heat, covered, stirring occasionally for 30 minutes.
Then uncover and saute for another 30 minutes and then remove them to a strainer over a bowl to remove excess liquid.
Butter a 10x18 inch oval oven proof platter with 2 teaspoons of the reserved butter and preheat the oven to 450F.
Melt the remaining butter in a saucepan over low heat and add the flour, stirring with a whisk to combine - it should take about 2 minutes.
Add the milk and cream to this base and whisk until smooth, and then stir for 2-3 minutes to get a thick, smooth sauce.
Transfer to a bowl and add the drained onions and mix well.
Add the egg yolks, one at a time, stirring well after each addition.
Add the goat cheese, stirring until it is blended into the mixture
Season this mixture with salt and pepper before baking.
Beat the egg whites until stiff and then whisk half of them gently into the cheese mixture,
then fold in the remaining half of the whites - I use a large whisk to do this rather than a spatula now.
Pour onto your platter or low gratin dish and top with the grated Parmigiano and remaining thyme
Bake until golden brown.
Notes
I switched to doing Mrs. Rudskis onions, and then drained them.
I found that in a gratin dish it takes longer to bake than on an open platter
Adapted from From Tapas To Meze
Adapted from From Tapas To Meze
Kitchen Detail https://lacuisineus.com/
Harriet Healy's Chocolate Souffle
2021-09-30 22:03:06
Serves 6
A souffle you can make from just about any kitchen. I have made a few adjustments
Ingredients
2 tablespoons (30gr) unsalted butter
3 tablespoons (25gr) white all purpose flour
1 1/2 cups (355ml) whole milk
7 ounces (200gr) mild bittersweet chocolate
1/4 cup espresso coffee
6 eggs separated plus 2 egg whites
pinch fine sea salt
3/4 cup (145gr) granulated sugar - I use India Tree Caster Sugar
powdered sugar for dusting
Instructions
Butter a 10-11 cup (2 1/2 lt) shallow baking dish
In a medium saucepan, melt the butter, then whisk in the flour and stirr while cooking 2 minutes to cook off the flour.
Off the heat, whisk in the milk - it does not need to be at room temperature.
Return to the heat, bring the sauce to a simmer, whisking until it thickens and is smooth and then remove from heat.
Place the chocolate and the espresso coffee in another larger saucepan and melt while stirring the two elements
Whisk the yolks.
Remove this saucepan from the heat and add the yolks, stirring constantly until the combination is thickened, smooth and just warm.
Stir the béchamel into the melted chocolate, whisking until the two mixtures are well blended.
This mixture can be covered and stand at room temperature for 1 to 2 hours.
When ready to bake, stir the chocolate egg mixture (you may have to reheat it a bit if your kitchen area is cold)
Preheat your oven to 400F (205C)
Whisk the egg whites with a pinch of salt until they form soft peaks.
Gradually sprinkle in the granulated sugar as you are beating until you achieve a meringue with firm peaks.
Fold the warm sauce into the meringue (I use a whisk for this) and pour into the prepared dish.
Tap the baking dish on the counter and put it into the oven for about 20-25 minutes.
At 25 minutes this soufflé should rise about an inch or two above your baking dish.
If you want a more firm soufflé, bake about 5 minutes longer.
Dust with powdered sugar.
Spoon onto plates and serve.
Adapted from New Menus From Simca's Cuisine
Adapted from New Menus From Simca's Cuisine
Kitchen Detail https://lacuisineus.com/
Hungry for More?
Subscribe to Kitchen Detail and get the newest post in your inbox, plus exclusive KD Reader discounts on must have products and services.
---
Share Us on Social Media: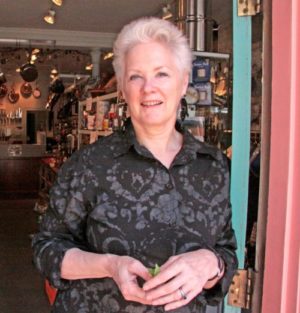 After owning one of the best cooking stores in the US for 47 years, Nancy Pollard writes a blog about food in all its aspects – recipes, film, books, travel, superior sources and food related issues.