May 4, 2021 - Written by: Nancy Pollard
Read Time: 5 Minutes Subscribe & Share
Holiday Excuses
Being married to an atheist who loves all holidays including religious ones, with the caveat that the holiday precludes his being denied food and drink, has its advantages. He looks forward to special meals, has taken over the setting of the table, researches dishes, and spends time with his most immediate concern, that of the celebratory libation. So it should not come as a surprise that we have added Cinco de Mayo to our list. We both feel that the US has a paucity of national holidays in comparison to the UK and Italy. Since I do n
ot have a cc of Mexican blood but have loved learning how to make tortillas from Diana Kennedy and try to grow limes to fuel mindblowingly flavorful margaritas, our embrace of Cinco de Mayo should also not be a shock. As a side note, I don't have a cc's worth of El Salvadorian blood either, but ever since I was introduced to pupusas by El Salvadorian Cuisinettes, I have decreed that my last meal should be several pupusas with the required curtido and salsa.
The surprising thing about Cinco de Mayo is that it is not a major holiday in Mexico, while it has taken on great importance in the US. We seem to use it as an excuse for recognizing a large segment of our population with margaritas and Corona beer. But, as I have read, the favorite Mexican drink combining tequila and grapefruit soda, called La Paloma is more popular than our appropriated lime and tequila one. In the US, this celebration of Mexican-American culture generates beer sales that approximate the Super Bowl's. Not surprisingly, if you dig down a bit, Cinco de Mayo has numerous threads of the New World against the Old and some startling correlations to our Civil War.
A Little History Never Hurts You
Cinco de Mayo
celebrates a single battle fought against the French, whose government under Napoleon III was anxious to carve out an empire in Mexico. Benito Juarez, a lawyer and member of the Zapotec tribe, was elected president of Mexico when it was in financial ruin and unable to pay back debts to England, Spain and France. Spain and England cut a deal with Mexico, but the French government wanted to capitalize on Mexico's financial distress to expand its colonial empire there. It also desired to maintain good relations with Southern cotton planters, as France had a successful fabric business. As such, they perceived the American Civil War as a propitious time to gain a stronger foothold in Mexico. In one of those Hurrah! moments, a vastly under-equipped Mexican army under General Zaragoza, a native of Texas, whupped an elite French force in a single day at Puebla. The victory was short-lived, and the French government became more enmeshed in its military endeavors and colonization in Mexico. There is some thought among historians that this French defeat and further embroilment in Mexico gave Lincoln's army some breathing space as the French government had plans to arm the Confederacy with superior munitions.
French And Mexican Inspirations
In 1989, I stumbled on a recipe for Huevos Rancheros that is probably as Mexican as I am, but is equally well intentioned. And having sampled many
versions of this dish, we still love this one the best. You can purchase tortillas to go with it, or you can follow numerous videos to make them. You don't need a tortilla press; cast iron frypan and two plastic bags do the trick quite well. I follow the proportions in Diana Kennedy's book, which is 300gr masa flour to 325ml water. I add a bit of salt to the dough. Individual balls of masa dough should be 40-50gr . Put a slightly flattened ball in between two bags, take a cast iron frypan to flatten, and finish with a rolling pin. She advises you to pull one bag off, flip the exposed tortilla side into your hand and peel off the other plastic bag when you are ready to flip the tortilla onto your griddle(we like the Mineral B Crepe & Tortilla Pan from the folks at de Buyer) . Leftovers from this recipe for Huevos Rancheros make a delicious filling for your tacos the next day, or put it in the freezer for a quick tortilla filling later.
For dessert, we discovered at Easter this dreamy combination of the French Île Flottante with some of the elements of a Mexican flan in yet another Gourmet Menu cookbook. So again, it's maybe Mexican only around the edges, but is just as delicious as the above Huevos Rancheros. It's a bit of a project also, but can be done the day ahead. Make the caramel syrup, the nut or seed brittle and the crème anglaise a day ahead. Sometimes I have made the meringue (which is formed in a ring mold and baked in a water bath) ahead too. I pulverize the brittle
instead of breaking it into pieces as pictured in the Gourmet centerfold. And you can use nuts instead of pepitas and sesame seeds – for me it is pistachios and pine nuts. The praline powder keeps forever in a covered container.
In the Huevos Rancheros, I have used red and yellow bell peppers sometimes instead of green, three or four chilis in adobo instead of the canned ones listed. I make the beans, pork stew and tomato sauce a day ahead. They are also all freezable. I am not a fan of canned beans, so I soak and cook dried ones instead. You have lots of wiggle room in this dish, just as we have with the US version of Cinco de Mayo.
Huevos Rancheros
2021-04-20 18:46:44
Serves 6
You could easily put this into two smaller gratins and create 4 indentations in each to serve 8 people.
Ingredients
For the pork mixture
2 tablespoons (30ml) olive oil or lard
1 1/2 lbs (680gr)boneless pork shoulder, cut into 1 1/2 inch pieces
2 large onions chopped into medium sized dice
1 tablespoon (15ml) chili powder
2 teaspoons (10ml) paprika
1 cup (237ml) chicken stock
2 tablespoons (30ml) white wine vinegar
1 1/2 cups pinto beans(355ml) cooked
For the tomato sauce
1 cup (237ml) onion in medium dice
2 tablespoons (30ml) olive oil
3 large garlic cloves, minced or crushed in press
2 28 oz (1.7lt) cans of plum tomatoes, drained and chopped, but reserve 1 1/2 cups (355ml) of the juice
4 oz (118ml)canned green chilis, drained and chopped fine
2 (10ml)teaspoons seeded and minced pickled jalapeño pepper (use less, if you want a milder sauce)
3/4 teaspoon (4ml) dried oregano, crumbled
1/4(2ml) teaspoon dried thyme, crumbled
1 (5ml)teaspoon sugar
1 green bell pepper, chopped into fine dice
6 large eggs at room temperature
minced fresh parsley or cilantro for garnish
Corn tortillas that have been briefly fried
Instructions
To make the pork stew: preheat your oven to 325F and have a 2 quart low casserole ready.
Pat dry your pork pieces and generously salt and pepper them - they will brown better if they are dry.
In a saute or casserole, heat the oil or lard over moderately high heat so that you can brown the pork pieces - you may have to do this batches so the pork pieces don't stew instead of brown.
Transfer the browned pork pieces to a plate and then lower the heat before putting in the diced onion.
Cook the onion until softened and then add the minced garlic, but just cook it, stirring, for about a minute.
Mix in the chili powder and paprika, stirring again for about 30 seconds.
Add the pork pieces, chicken broth and vinegar and bring to a boil.
You can braise the mixture in a preheated 325F oven for about 2 hours until the pork is very tender.
Mash the pork into the braising liquid with a fork, stirring until it is well combined.
Stir in the cooked beans.
Spread this mixture in the casserole.
For the tomato sauce, cook the diced onion over moderately low heat in a large skillet or saute pan until softened and then add the garllic but only cook for another minute.
Add the canned chilies as well as the tomatoes and the resrverved juice along with the fresh slivered jalapeno, the dried thyme and oregano, sugar and then add some salt and freshly ground pepper to taste.
Bring this to a boil and then lower the heat to a strong simmer for about 10 minutes - then add the diced green pepper and cook until the sauce is thickened and the green pepper is just cooked through.
Preheat oven to 400F
Spoon the tomato sauce mixture over the beans and pork, cover the casserole with foil and
bake for 30 to 45 minutes - it should be bubbling.
Make six indentations with a large spoon, spacing them evenly on the stew.
Break an egg in each indentation and bake for a further 10-15 minutes so that the whites are set but the yolks are still runny.
Sprinkle the top with parsley or cilantro and serve.
Notes
Both the pork mixture and the tomato sauce can be made two days ahead, covered and refrigerated.
I make the tomato sauce while the pork is braising.
Adapted from Best Of Gourmet 1989
Adapted from Best Of Gourmet 1989
Kitchen Detail https://lacuisineus.com/
Mexican Floating Island With Kahlua Custard Sauce & Sesame Pumpkin Seed Brittle
2021-04-27 21:18:42
Serves 6
Dreamy to look at, even better to eat. There won't be any leftovers.
Ingredients
1 3/4 cups (385gr) white granulated sugar (I use India Tree Caster Sugar)
6 large egg whites
1/4 (1.5ml)teaspoon fine sea salt
1/4 teaspoon (1.4ml) cream of tartar (If you are not using a copper bowl)
For the Kahlua Custard
1 cup heavy cream & 1 cup milk or 2 cups(473ml) Half & Half
1 vanilla bean split lengthwise or 2 tsp vanilla extract or 1/2 teaspoon French Vanilla Essence
6 large egg yolks (whites are used in the meringue)
1/2 cup(118ml) white granulated sugar (I use India Tree Caster Sugar)
3 tablespoons (44ml)Kahlua Liqueur
For the Seed or Nut Brittle
1 cup (237ml) granulated sugar ( I use India Tree Caster Sugar)
3 tablespoons (44ml)pepitas or pistachios
1 -2 teaspoons (5-10ml) sesame seeds or pine nuts
Instructions
In a dry, heavy skillet, cook 1 cup of the sugar over moderate heat until it begins to melt and continue to cook, stirring occasionally with a fork, until it is melted completely and is a golden caramel.
Pour the caramel into a 1 1/2 quart (1 1/2Ltr) ring mold.
Using potholders to hold the mold, tilt and rotate it so that the caramel coats the bottom of the mold, and let the caramel cool.
Preheat oven to 350F and whisk the egg whites in a bowl with the salt until they are foamy - add the cream of tartar if not using a copper bowl.
Continue whisking/beating until they just hold stiff peaks, then beat in in the remaining 3/4 cups sugar, a little at a time.
You should achieve a meringue with stiff, glossy peaks.
Spoon the meringue into the ring mold, rapping it sharply on the counter to expel any air pockets.
Transfer the mold to a baking pan, adding enough hot water to the pan to reach 1 inch up the side of the mold.
Bake in mold in the water bah for up to 50 minutes - the meringue will rise above the ring mold and the top will be lightly golden.
Turn off the oven and let the meringue rest in the oven for another 10 minutes.
Transfer the meringue still in the mold, onto a rack to allow it to cool.
You can keep the meringue in the mold, covered and chilled overnight.
When ready to serve (I run a thin icing spatula around the exterior and interior edges) invert on a large-lipped serving platter, letting the liquid caramel drip out of the mold onto the meringue.
Some of the caramel will have hardened, so you can melt it by placing the mold in a skillet of simmering water.
Spoon the Kahlua custard sauce around the meringue and decoratively drizzle the melted caramel over the meringue and custard sauce.
Crumble the brittle decoratively around and on the meringue, of if you have turned it into a powder, do the same, to your taste.
Serve the extra custard sauce separately.
To make the Kahlua Custard Sauce
In a small heavy saucepan, bring the cream/milk or half & half just to a boil with the split vanilla bean and remove from the heat.
In a bowl, whisk the yolks and sugar until the mixture is well combined and then add to the hot cream in a slow stream., whisking constantly.
Return to a burner over moderate heat, and stir constantly until the sauce reaches 175F on a thermometer.
Strain the custard through a sieve and remove the bean (or add the vanilla extract or essence, and stir in Kahlua.)
Taste and adjust, cover the sauce and chill until serving time.
Adapted from The Best OF Gourmet 1994
Adapted from The Best OF Gourmet 1994
Kitchen Detail https://lacuisineus.com/
Hungry for More?
Subscribe to Kitchen Detail and get the newest post in your inbox, plus exclusive KD Reader discounts on must have products and services.
---
Share Us on Social Media: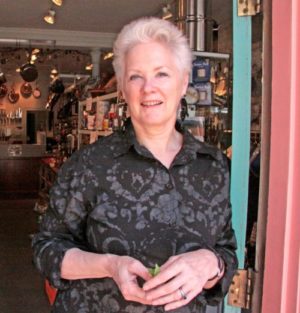 After owning one of the best cooking stores in the US for 47 years, Nancy Pollard writes a blog about food in all its aspects – recipes, film, books, travel, superior sources and food related issues.