July 14, 2020 - Written by: Nancy Pollard
Read Time: 5 Minutes Subscribe & Share
Life Goals
I have a new goal: be in my 90s and tear around the countryside in my SUV – oh, and also research and cook the foods I love. Pull down your copy of any
of Diana Kennedy's books or purchase her new memoir, pick a recipe that suits your mood this summer (and she would be happy if you make guacamole her way), make a pitcher full of Palomas (my new favorite summer cocktail), and enjoy virtually meeting this extraordinary woman. The book that I got through Old Town Books is The Essentials of Mexican Cuisine. It is a compilation of three of her earlier books, with some additional recipes and notes on ingredients and techniques. Her recipe for tortillas made from Quaker Masa was the one I used until one of my dogs ate the original book. Luckily, it is included in this edition. I followed her recipe for guacamole to the letter (minus 2 of the 4 serrano chiles, but with seeds included), deep fried some cut-up flour tortillas (not having access to chicharrones), and the two of us consumed the entire bowl along with a bottle of rosé.
Enthusiasm, Resilience And Good Humour
Kennedy's
latest book Nothing Fancy is her memoir with recipes that is reflected in a documentary film of the same name. Kennedy recently donated her archive, which includes her collection of regional Mexican cookbooks, to the University of Texas at San Antonio. She was feted wearing a stunning black leather jacket, while reveling in her moniker as the "Mick Jagger of Mexico".
I met Diana Kennedy at an IACP conference where the store had a booth. She bought and had shipped to
Mexico some Italian earthenware cookware that we used to carry at La Cuisine. Later, when she was consulting with Joe Raffa for Oyamel Restaurant, she visited the shop. Kennedy may have come up to my bra line, but she had an outsize personality, as you will see in the film. Funny, predictably candid, and appreciative of what we were doing in the shop. Joe has had delightful times with her when they were working together on the cooking techniques used at Oyamel (which remains a favorite restaurant for both my sons in law when they visit). He wrote me about two of his favorite Diana stories.
"We were cooking
arroz a la tumbada
in the Oyamel kitchen. I was there with my sous chefs and one of our Spanish chefs. As Diana was explaining the dish, the Spanish chef said, "So this is basically a paella." Diana put down her spoon, looked him in the eyes and replied, "Yes, but it took Mexican cooks to make it correctly."
I also remember our General Manager trying so hard to make sure Diana Kennedy was well cared for during her visits. What ruined him though was tea time. I saw him one afternoon practically shaking. I asked him what was wrong. He gave me an exasperated look and practically yelled "Do you know how scary it is to make afternoon tea for an English woman?"
The documentary itself is a bit erratic in its unfolding of the life of Diana Kennedy, so you really don't get pulled into what she has accomplished. But that said, you discover that she had a house built to ecologically sound standards, and has made the cuisines of home cooks in corners of Mexico her life's work. Her independence is inspirational, and her cussing is charming. You might miss that she had ended up working in the Women's Timber Corp in wartime Britain, because she didn't want to give a salute to anybody. That anecdote speaks volumes about her life, as Emma Vickers, the author of The Forgotten Army of the Woods, wrote, "In terms of physicality, there is little evidence to suggest that women were recruited on the basis of their stature or physical strength. Enthusiasm, resilience and good humour were deemed to be more important." And that describes Diana Kennedy almost perfectly.
Guacamole
2020-07-07 18:45:51
Try it, you'll love it. So simple, no appliances are necessary.
Ingredients
2 tbs finely chopped white onion
4 serrano chilis, or to taste, finely chopped and keep the seeds!
3 heaped tablespoons of roughly chopped cilantro
salt to taste
3 large avocados - about 1lb 6oz or 630gr
4 oz (115gr) tomatoes, finely chopped
To Serve
1 heaped tablespoon finely chopped white onion
2 heaped tablespoons roughly chopped cilantro
Instructions
In a mortar and pestle (or bowl) grind together the onion, chilis, cilantro and salt to a paste
Cut the avocados into halves, remove pits and squeeze the flesh out and roughly mash them into the paste.
Stir in the chopped tomatoes, adjust seasoning and top with additional garnish of chopped tomatoes and cilantro.
Serve immediately and do not save leftover guacamole - there won't be any.
Notes
I make my guacamole and numerous other salsas in the Italian marble mortar from https://www.marmotecnica.com/en/
Adapted from The Essential Cuisines Of Mexico
Adapted from The Essential Cuisines Of Mexico
Kitchen Detail https://lacuisineus.com/
Don't forget the mortar and pestle! Our friends at Marmotecnica provide the best options! Learn more in our post about them.
And No, It's Not A Margarita
I always thought that the Margarita was the numero uno cocktail in Mexico, but according to unsubstantiated reports, it is instead La Paloma. This one is good any time of the year, and for people who are not old enough to imbibe, or would rather not, simply substitute a bit more sugar syrup, with a squeeze of lime. Sugared rim instead of salted one. And a splash of soda or seltzer. We also add a cherry on the garnish for kids.
The fast version is done with grapefruit soda, but that shortcut really misses the mark in this refreshing drink. The magic here is a little sweetness, with a touch of sour and bitter and the coated rim that gives a spicy and salty note. No one knows the real story of the Paloma cocktail, and there are a lot of hotly contested tales about its provenance. It is slurpily delicious without knocking you off the sofa. We followed the advice of one bartender and mix about 3 tbs fine salt, 1 tsp caster sugar and 1 tsp chili powder to rim the glasses . "¡Arriba! ¡Abajo!
La Paloma Cocktail
2020-07-07 19:02:24
Serves 1
Ingredients
2 oz (60ml) tequila (white tequila is preferred)
2 oz (60ml) freshly squeezed pink (Ruby) grapefruit juice
1 oz (30ml) freshly squeezed lime juice
1 tbs (15ml) simple syrup (1:1 proportion)
Top with a splash of sparkling water or soda
Instructions
Make the salt, sugar, chili powder mixture to rim the glasses.
Shake grapefruit juice, lime juice, tequila, simple syrup in a cocktail shaker or lidded container.
Pour into a glass (highball or tumbler) filled with ice cubes.
Top with a splash of soda or sparking water
Garnish with a slice of grapefruit and lime.
Notes
We followed the advice of one bartender and mix about 3 tbs fine salt, 1 tsp caster sugar and 1 tsp chili powder to rim the glasses.
Kitchen Detail https://lacuisineus.com/
Hungry for More?
Subscribe to Kitchen Detail and get the newest post in your inbox, plus exclusive KD Reader discounts on must have products and services.
---
Share Us on Social Media: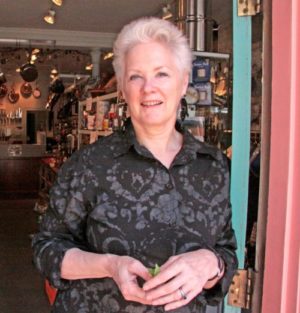 After owning one of the best cooking stores in the US for 47 years, Nancy Pollard writes a blog about food in all its aspects – recipes, film, books, travel, superior sources and food related issues.