January 5, 2022 - Written by: Nancy Pollard
Read Time: 5 Minutes Subscribe & Share
Celebratory Choices
When you have to choose among Panettone, Pandoro and Offella as a backup Christmas treat for
guests who might just show up, you must be in Bologna. And we are.
Panettone originated in Milan, and the "one" indicates in Italian that it is a large version of a "panetto" or small loaf cake. I tried making one once, without a shred of success. I blame directions that did not include the lengthy proofing process, and dough that certainly was not loopy enough — apparently panettone dough is quite acidic, almost like a sourdough. Mine was not. One thought based on folklore is that a panettone resembles the ceremonial hat of a cardinal. The 24-36 hour rising, which was actually a 20th century hack developed by Angelo Motta, gives the panettone its puffy chef's hat height and pillowy texture. You probably see Motta Panettone in the US and its competitor Alemagna, which were both bought by Nestle and thus have global distribution. Bauli, a baking giant in Italy bought back the two brands. Interestingly, a wide variety of panettone is available in South America, a nod to the culinary contribution of Italian immigration to the New World.
Pretty In Pink
Pandoro has traditionally been formed in an eight-pointed star-shaped mold or frustrum. We used to carry the pandoro molds in the shop, and I was roundly scolded by an Italian customer when I had suggested that she could bake her panettone in the pandoro mold. A mistake never to be repeated. According to Francine Sagan, a prominent culinary historian, the Pandoro's Renaissance roots, popularity and name are due more to the gold leaf or dust that covered similar cakes – for Venetian nobility, of course – rather than to the eggs and butter that are an intrinsic part of the current Pandoro. The 15th century cone-like cake was wedded to a Veronese specialty – Nadalin – a rounded star-shaped cake based on the comet the Magi followed. A commercial baker in Verona, Domenico Melegatti, trademarked his version of Pandoro in 1894, as well as commissioning the star design for the mold from the Impressionist painter Angelo Dall' Oca Bianca, which set the standard.
And today, Italy has set regulations for the ingredients of Pandoro, including the ratio of fresh eggs and a bare minimum of 20% of butter in each cake. According to Ms. Sagan, a correctly made pandoro is so aromatic that Italian realtors suggest resting one on a radiator to make your house even more appealing to buyers – similar to the cookie-baking and spice-mulling touted by some US realtors.
And again, Bauli will be the brand you most often see, with its distinctive pink lampshade box (which Italian children often recycle as mini-basketball hoops, toy train tunnels and helmets after Christmas). I found it charming that the founder Ruggero Bauli chose his only daughter to pick the color of the box.
Wherefore Art Thou Offella
Offella is the choice in a certain household where we are residing this December. It too is a Veronese specialty – much more so than Romeo and Juliet. It is a bit more lush in flavor, with the addition of first-rate sweet almonds in the batter and then more toasted almonds and a snowfall of powdered sugar on top. Giovanni Perbellini worked in the bakery of the famed Melegatti and learned some of the Viennese pastry techniques. He left and started his own bakery, with the understanding that he would not copy the celebrated (and trademarked) Pandoro of Melegatti. Rather, as noted in his cookbook, he created an enriched version of Nadalin, which he quickly trademarked as Offella D'Oro in 1891. As you can see on their website, many delicious sweets evolved in this very talented family-run bakery, which continue to be offered. Like the other Christmas cakes, Offella's height and dreamy texture is based on a very small amount of natural levain, which over a lengthy period puffs up angelically. All can be served with zabaglione or a mascarpone cream, and a sweet Italian wine makes a nice accessory.
New Dolce On The Block
After my disastrous failure with a pretty shaky recipe for Panettone, and the current lack of a recipe for
the closely guarded secret of Offella, I am looking at videos for making a Pandoro at home. Clearly I have access to the mold! The one pictured is the same one we carried in the store, and I have it on good authority that it can be used only for Pandoro.
Recently I discovered in Bologna another Christmas cake that I had
never read about. Looking at the recipes, I know I can conquer the Certosino. I bought an excellent version at Il Forno Di Un Chicco, a charming bakery and bar on Via De' Falegnami. Although its origins lie in the Middle Ages, it became a specialty of Bologna when a local order of Carthusian monks (Frati Certosini) began to make it. Like any fruitcake, this can be made a month ahead, and of course will withstand slow nibbling after New Year's Day. Below is the translation of Certosino from La Cucina Italiana, and when we return from Italy, I plan to bake it (and will make changes to this recipe if necessary) and treat myself and friends to this memory of my stay in Bologna.
Certosino Cake
2021-12-24 16:15:22
A little known Bolognese fruit cake, delicious with ice cream or just whipped cream, coffee and tea and of course a nice dolcetto. This recipe is a direct translation from the Italina version and I will test it as soon as I return from Italy.
Ingredients
350 gr white all purpose flour
300 gr honey
250 g quince jam - fig jam is a good substitute
200 g shelled almonds (but not peeled)
125 g frutta diced mixed candied fruit
75 g Dry Marsala
50 g pine nuts
50 g bittersweet chocolate
50 g cocoa powder
15 g butter
12 g baking powder
1 gr each powdered cinnamon and freshly grated nutmeg
Instructions
Heat the honey in a small saucepan and, when it has liquified, remove from the heat and add 60gr of the diced candied fruit.
Pour the flour into a large bowl or stand mixer bowl; add the almonds and pine nuts, baking powder, cinnamon, finely chopped chocolate, cocoa powder, jam, Marsala, and the honey with the mixed fruits.
With the flat paddle on your mixer, combine this mixture throroughly and pour it in a 25x8cm (10x3 1/8 inch) ring mold, which has been buttered and floured.
Allow the cake to rest at room temperature for 4 hours.
Decorate the top of the cake with whole or sliced candied fruits, blanched almonds, walnuts, pine nuts in whatever design in pleasing to you.
Preheat the oven to 360F or 180C and bake for about 50 minutes.
Unmold the cake when it has cooled for about 10 minutes and then refrigerate.
Heat some additional honey and brush it on top of the cold cake before slicing and serving.
Notes
Buy the very best candied fruits available. My experience has been that the best are Italian or Swiss.
Adapted from La Cucina Italiana
Adapted from La Cucina Italiana
Kitchen Detail https://lacuisineus.com/
Hungry for More?
Subscribe to Kitchen Detail and get the newest post in your inbox, plus exclusive KD Reader discounts on must have products and services.
---
Share Us on Social Media: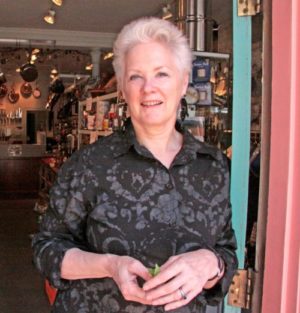 After owning one of the best cooking stores in the US for 47 years, Nancy Pollard writes a blog about food in all its aspects – recipes, film, books, travel, superior sources and food related issues.