January 18, 2023 - Written by: Nancy Pollard
Read Time: 4 Minutes Subscribe & Share
Guy Pleasers
A slight twist on our annual Winter Edition of Horses Doovers (one of the most popular are Diana Worthington's Dates stuffed with a sliver of Parmigiano and wrapped in bacon and then crisped in a hot oven). In the past I have been accused of ruining a weekend of watching American sports events by not only refusing to participate in the viewing ritual but also not providing appropriate munchies to starving and comfortably seated participants. Efforts have been made by several to explain maneuvers on the screen that I will never understand. For this, I apologize, as I have learned that not everyone in this house enjoys brisk walks in freezing weather or reading extremely light literature not to be found on The New York Times Best Seller List. As restitution for my flaws, Ladies and Gentlemen, I present to you some hearty winter horses doovers which have been Guy Tested and actually, Non Guys love them too.
Homely But Yummy
The first is this criminally easy appetizer from our sharp pencilled editor, which
she has made from one of her favorite horses doover cookbooks, Martha Stewart's Appetizers. These may not make it to a fancy party photo shoot, but they sure are easily wolfed down, and they're elevated by the Martha Stewart cloak of respectability. Victoria adds a bit of extra cayenne and some ground fennel to the sausage mix and prefers Trader Joe's Unexpected Cheddar cheese. Freezable, flexible and finished off by children of all sizes.
Sausage and Cheddar Balls
2023-01-05 19:44:43
Yields 45
Savory one-bite treats that are biscuity and sausagey.
Ingredients
1 1/4 c (170gr)all-purpose flour
1/2 tsp coarse salt
1/4 tsp freshly cracked black pepper
1/2 tsp cayenne pepper
1 1/2 tsp baking powder
2 c (473ml) grated cheddar cheese
1 pound (454gr) loose breakfast sausage ( or linked, removed from casings)
1 large yellow onion, grated on large holes of a box grater
3 tbs (60gr) unsalted melted butter
Instructions
Preheat oven to 400 F.(205C)
In a large bowl, whisk together flour, salt, black pepper, cayenne pepper, and baking powder.
Add cheddar and toss to coat.
Add sausage, onion, and butter.
With your hands, mix until well combined and then roll mixture into 1-inch balls.
Place balls 1/2 inch apart, on parchment-lined rimmed baking sheets.
Bake until golden and cooked through, rotating sheets halfway through, about 25 minutes.
Serve warm.
Notes
Victoria uses sweet Italian sausage and adds an extra dash or two of cayenne, plus about a teaspoon of ground fennel.
Make Ahead
You can form the balls and freeze on the baking sheet until firm, about an hour, then transfer to resealable plastic bags and freeze up to three months.
Bake as directed (do not thaw) for about 30 minutes.
Adapted from Martha Stewart's Appetizers
Adapted from Martha Stewart's Appetizers
Kitchen Detail https://lacuisineus.com/
Pigs In Blankets Upgraded
This to me is a quintessential American horses doover and my first introduction were
cocktail franks wrapped and baked in biscuit dough that you pulled in segments from a frozen or refrigerated can. Not a winner. I am very peculiar about my hot dogs. The dog itself has to be REALLY good quality and I require lots of accessories to be stuffed in the bun with said dog. I used to make chili just to have leftovers to make chili dogs, with chopped onions, pickled jalapenos, shredded cheese and mustard.
Recently we both read through a highly regarded appetizer recipe of dried figs, prosciutto and parmesan cheese wrapped in puff pastry. Being in a Euro snob mode, we thought what could go wrong. They tasted like upscale sawdust. A very sad person in the room remarked that Pigs in a Blanket would have been so much better. So this Pigs in a Puff is my homage to this American classic.
Number One rule, do not use cocktail franks, Our hot dog trials led us to choose Nathan's All Beef Franks as our personal favorite. Naturally this company is now owned by the largest global pork
producer in China. the WH Group, which also owns Smithfield Ham and Hormel. It still remains a terrific frank. I use the Oaxaca String cheese from Mexico, rather than Mozzarella as it is drier when it melts into the pastry.We also found that the milder pickled jalepenos made a better choice with the grated cheese. The really hot ones just took over the whole filling. I have baked the puffs standing up with the seam side down and also flat with the spiral facing upwards. I prefer the latter. When you brush the top (either way) with egg wash, sprinkle some poppy or sesame seeds after. I purchased via Coastal Goods.com, pepper seeds called Caviar de Poivre or Pearls of Pepper sourced from a plantation in Cambodia -peppery and fruity at the same time and they put a different twist on our Pigs in Puffs.
Pigs In Puffs
2023-01-05 16:14:05
Yields 30
A delciously upgraded version of Pigs In A Blanket. Trust me.
Ingredients
package of puff pastry - Prefer Dufour which rolls out into a 9x15 inch.rectangle
Enough Dijon mustard to smear the surface of the rolled out pastry
6 classic Nathans beef hot dogs
1 cup (237ml)grated Mexican Oaxaca cheese
1/3 cup (79ml) chopped medium heat pickled jalepeno peppers
egg wash made from a whole egg, tablespoon of water and a pinch of salt
Poppy seeds, or sesame seeds or my new find - Pearls of Pepper!
Instructions
Preheat oven to 400F (200C) if baking immediately
Roll out slightly thawed puff pastry - on baking parchment or Silpat
Sprinkle lightly with flour on both sides as you briefly roll out.
NB I prefer Dufour which, when rolled out, is about 9x15 inches. (23x38cm).
Spread a thin layer of Dijon mustard with a pastry prush or offset icing spatula across the surface of the pastry sheet..
Slice down lengthwise to divide the pastry into two long rectangles.and sprinkle a very light layer of the grated cheese on each half.
Next sprinkle the chopped pickled jalepenos on top of the cheese.
Line up your franfurters lengthwise (with Nathan's franks it takes two and 1/2 franks to create a line in the middle of each half.
I brush a bit of the egg wash on the length of one side that will be the outer edge of the seam.
Roll the pastry around the franks, with the seam being on the underside.
Slice into1 1-1 1'2 inch widths and place on parchment or Silpat lined sheet.
You can set them up seam side down, or lay them flat - in either case you brush the rollse with the egg wash.
Sprinkle with poppy seeds, or sesame seeds or Pearls of Pepper - see note in text
Bake in oven for 25-35 minutes, turning the sheet around hallfway through baking time.
The Pigs in Puffs should be golden brown with no raw dough toward the center.
Kitchen Detail https://lacuisineus.com/
A Tostito To Call Your Own
David Tanis had it right in one of his cookbooks. Why buy tortilla chips when it is so easy and so much
tastier to make your own.We are talking minutes here, Buy the best quality corn tortillas you can find in your grocery store, I found Ula Tortillas ( from Waynesboro, VA!) at MOMs in the refrigerated section and they were infinitely superior to the ones on the baked goods shelves. Take small corn tortillas and slice them into 6-8 equal wedges. Have a plate ready with a few paper towels on it to soak up residual oil from frying the chips. Heat a 1/2 inch of sunflower oil (not a fan of Canola oil) in carbon steel frypan until you have a temperature of about 360F. Carbon steel is quicker to heat up than cast iron
and easier to maintain an even heat than stainless steel. Drop in your tortilla wedges, turning them until they are crispy and slightly darker gold color. Remove the tortilla chips to the plate and continue until all are fried. Then salt them thoroughly, tossing the chips on the towels. Often I use this seasoning salt called Tajin.
And as a coda, you should have some homemade guacamole for said participants. The recipe I use is from my post on Diana Kennedy. The only change I make is that I use tomatillos and red onion instead of tomatoes and white onion.
Hungry for More?
Subscribe to Kitchen Detail and get the newest post in your inbox, plus exclusive KD Reader discounts on must have products and services.
---
Share Us on Social Media: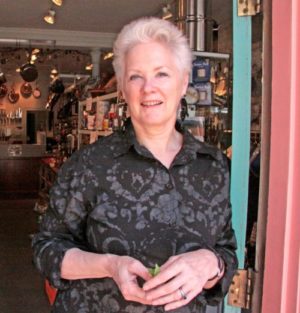 After owning one of the best cooking stores in the US for 47 years, Nancy Pollard writes a blog about food in all its aspects – recipes, film, books, travel, superior sources and food related issues.