November 9, 2022 - Written by: Nancy Pollard
Read Time: 3 Minutes Subscribe & Share
Pumpkin Pie Myths
Pumpkins in November are as ubiquitous as zucchini in August, at least on the American landscape. I am always a sucker for new-to-me varieties – this year it is the Black Futsu from Twin Springs Farm. My plan is to make the Italian Radicchio and Pumpkin Gratin I discovered last year. The skin is edible, either raw or cooked, and it goes from a greenish black in its infancy and adolescence to this wonderful warty foggy orange in adulthood. But of course, a pumpkin's crowning achievement is supposed to play out as a dessert ingredient for the most American of holidays – Thanksgiving.
I have tried making a whiz-bang pumpkin pie and have always gotten ho-hum reactions from the attendants at the groaning board. Ditto, pumpkin crème brûléee, ditto pumpkin ice cream with spiced caramel sauce – too much like the dread spiced pumpkin latte from the coffee chain that cannot be named. The divine recipe for Joy's Pumpkin Cookies from Stephanie Gorenflo cannot be substituted for the Thanksgiving pie, as those remain a sacred Halloween tradition. We do follow some rules!
Helpful Hints
But this Pumpkin Roll from Rebecca Rather's first cookbook is the Turkey Day Bomb. She also spoiled all other peach cobbler recipes for me with her version, which I wrote about
in a post that has had around 2000 downloads. I write this early, as there is a bit of prep for our favorite Thanklessgiving dessert. I make it a day ahead. And as Rebecca Rather wrote in her much splattered cookbook, it's easy to transport to someone else's house for a spectacular end to the meal.
The caramel sauce can me made several days in advance. She uses white granulated sugar, but I prefer either Dark Muscovado or Light Muscovado sugar. Both make a caramel superior to the white sugar version. The Dark Muscovado takes a lot more patience to make, and the resulting caramel is quite intense, almost like bittersweet chocolate. If you use Light Muscovado, it's easier, and you'll still get an exceptional sauce. Guests have asked to take some of the caramel sauce home, so often I have made extra.
The pumpkin roll, which has no butter, can be made, baked and rolled in a towel for up to two
days ahead of serving. If I do that, then I also cover the cake roll in the towel with additional cling wrap to make sure it does not dry out. It can be kept in a cool area or refrigerated. The baking pan called for is basically a half-sheet, and Silpats are available to fit, which I find a lot easier than parchment. If you use a Silpat, do not grease it as you would baking parchment. I do not use cream cheese (I can't find any that doesn't have the gum added to it) and substitute all mascarpone for the filling.
Rather than rolling the cake up from the short end, I prefer it rolled up along the length. It seemed a bit thick and unwieldy when rolled from the short end as pictured in the cookbook (same image as in the recipe below). I have used pecans or walnuts for the decor, always toasted. The author adds a drizzle of melted white chocolate, and bittersweet chocolate drizzle as a garnish, which, really, it does not need. Instead, I drizzle some of the caramel sauce onto the cake and then garnish with rosettes of whipped cream, sometimes adding a row of rosettes on each side of the base if I'm feeling fancy. The final touch is the toasted nuts on top of the whipped cream rosettes. The cake, with its caramel sauce, whippled cream, toasted nuts and the spiced filling does not need any additional furbelows. For this lovely pumpkin dessert, we are truly grateful.
Cream Filled Pumpkin Roll
2022-11-05 18:35:46
Serves 10
The only Thanksgiving dessert you will ever need
For the cake
4 large eggs, separated
1/2 cup (63gr)all purpose white flour
1/4 cup (50gr) firmly packed light brown sugar - I use India Tree Light Muscovado
1 teaspoon baking powder (my favorite is Bakewell Cream Baking Powder)
1 teaspoon baking soda
1/2 teaspoon salt
1/2 teaspoon ground cinnamon - I prefer Vietnamese Cinnamon
1/2 teaspoon ground allspice
1/2 cup canned pure pumpkin
1/4 cup white granulated sugar - I use India Tree Caster Sugar
For Filling
7 oz (200gr) cream cheese - I use mascarpone
1 cup (225gr)mascarpone
1 cup (130gr) powdered sugar
1 generous teaspoon vanilla extract
1/4 teaspoon ground allspice
1/2 teaspoon ground cinnamon
1/4 teaspoon ground nutmeg
1/8 teaspoon salt
1/2 cup (65gr) toasted pecans or walnuts, coarsely chopped
1/2 cup (118ml) heavy whipping cream
For the Caramel Sauce
1 cup (213gr) sugar - I use Light Muscovado or Dark Muscovado or even a combination of both
1/4 cup (57gr) unsalted butter
3/4 cup (178ml)chilled heavy whipping cream
pinch of salt
2 tablespoons dark rum (optional)
For the garnish
1 cup (237ml)chilled heavy whipping cream
1/4 cup (25gr)powdered sugar
1/2 cup (65gr)toasted pecan or walnut halves
2 ounces (57gr) each white and dark chocolate, melted over low heat, for drizzling
To make the cake
Preheat oven to 350F (175C) and cover the bottom of a 12x17 inch (30x43cmrimmed baking pan with parchment, lightly coated with baking spray.
Using the whisk attachment of your mixer, beat the egg yolks on medium high speed for about two minutes until the yolks are thick and frothy.
Add the brown sugar and mix on medium speed for a minute longer.
In a separate bowl, stir together the flour, baking powder and soda, salt and spices.
Add the dry ingredients to the yolk mixture in thirds, beating on medium speed between each addition until incorporated.
Add the pumpkin and mix on low speed until combined.
Pour the egg whites into a clean large bowl.
Using a mixer with the whisk attachment, whip them on high speed about 1 to 2 minutes until soft peaks form.
Add the granulated sugar, a tablespoonful at a time, beating on high speed after each addition, until all is incorporated.
Fold the egg whites into the batter and spoon evenly over the prepared pan.
Bake for 15-20 minutes until the cake is golden brown and springs when lightly touched.
Let the cake cool for 15 minutes.
For the filling
Using a mixer fitted with a paddle attachment, beat the cream cheese on medium speed until creamy.
Add the mascarpone and beat until incorporated.
Add the powdered sugar, vanilla, allspice, cinnamon, nutmeg and salt, beating on high speed for 1 minute until combined.
Stir in the chopped nuts.
In a separate bowl, whip the cream using a whisk attachment on high speed about 1 to 2 minutes until soft peaks are formed.
Fold the whipped cream gently into the cream cheese and mascarpone mixture.
Remove the cake from the pan, without peeling off the parchment paper.
Top the cake with the filling, spreading it evenly
Begin peeling the cake away from the parchment paper as you roll it up, starting at the short end closest to you.
When the cake is completely rolled up, set it on a rectangular serving plate or wrap it and refrigerate it for up to 2 days.
For the caramel sauce
Heat the sugar over medium heat in a heavy-duty saucepan or skillet until it is completely melted and turns amber in color -about 5 minutes.
Decrease the heat to low, add the butter all at once, and stir to combine - it should bubble up.
Add the cream, a couple of tablespoons at a time, stirring to combine between each addition.
Adding the cream slowly helps keep the caramel from clumping.
Continue stirring until the caramel sauce is melted and smooth.
Remove from heat and stir in the rum.
You'll have about 1 1'2 cups of caramel sauce which can be stored in a covered glass container in the refrigerator for up to 3 weeks.
Reheat over low heat or in a microwave before serving.
For the topping and garnish
Using a mixer with the whisk attachment, beat the cream at medium high speed until it is thick with medium -soft peaks forming.
Beat in the powdered sugar.
Use a large rosette or star tip, you can decorate the top of the prepared roll and then arrange the nuts decoratively on top.
Melt the choclolates separately in a microwave or in a heavy sauce pand over low heat and make fine drizzles over the top of the cake.
Serve with a pitcher of sauce and a bowl of additional whipped cream.
Read through the notes above the recipe card as I made some changes to this recipe
-no cream cheese, just mascarpone
-rolled the cake along the length, not the short side
-use muscovado sugar for the sauce
-use caster sugar instead of granulated white
-no additional melted chocolates for a drizzle
I also use Vanilla Essence from Grasse which is available online from Simply Gourmand
Adapted from The Pastry Queen
Adapted from The Pastry Queen
Kitchen Detail https://lacuisineus.com/
Hungry for More?
Subscribe to Kitchen Detail and get the newest post in your inbox, plus exclusive KD Reader discounts on must have products and services.
---
Share Us on Social Media: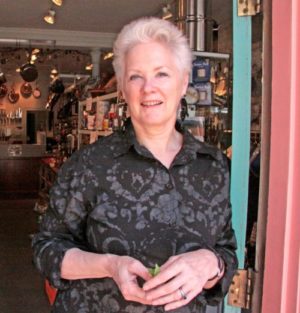 After owning one of the best cooking stores in the US for 47 years, Nancy Pollard writes a blog about food in all its aspects – recipes, film, books, travel, superior sources and food related issues.