April 23, 2018 - Written by: Nancy Pollard
Read Time: 1 Minute Subscribe & Share
Joy's Pumpkin Cookies
2018-04-23 20:50:27
Probably the most famous Cuisinette cookie ever. Stephanie got the recipe from her friend Joy.
Ingredients
1 cup(200gr) cane sugar, preferably caster
1 cup (225gr) pumpkin puree (organic if possible, but not pumpkin pie filling)
1 cup (225gr) unsalted butter
1 large egg at room temperature ( 65gr in the shell)
1 tsp (4gr) Bakewell Cream Baking Powder
1 tsp (3gr) baking soda
1 tsp (2.3gr) cinnamon
1tsp (5gr) Madagascar Vanilla Bean Paste, failing that, a good quality vanilla extract
1/2 teaspoon (12gr) fine sea salt
2 cups (240gr) all purpose flour, (unbleached, unbromated Hecker's Flour is a good example)
For the frosting
6 tbs (85gr)unsalted butter
1 cup (200gr)Light Muscovado Sugar (if you have, 1/2 cup fine maple sugar & 1/2 cup Light Muscovado sugar it kicks the frosting up a notch or two)
1/2 cup (119gr)heavy cream
1 tsp (5gr) Madagascar Vanillla Bean Paste or Tahitian Vanilla
2 cups (240gr) powdered sugar
Instructions
Preheat oven to 350F
If using decors, and chopped toasted pecans, prep them now so that they can be applied quickly to the frosting while it is soft.
Cream together sugar, butter until smooth and creamy Cream in the pumpkin puree, egg and vanilla - the mixture will look a bit curdled, which is fine.
Sift together flour, baking powder, baking soda, cinnamon and salt
The above can be done with a pastry blender in a bowl instead of sifting.
Add dry mixture to creamed mixture and mix until thoroughly combined.
Drop by 1.25" scoop onto a Silpat or baking parchment, placed on a cookie sheet, or you can pipe with a pastry bag and a large plain tube.
Bake for 10-12 minutes until the top springs back to the touch.
For the frosting, mix first three ingredients in a saucepan, over low heat, until the sugar has completely dissolved and the mixture is smooth.
Remove from heat and grdaually add the powdered sugar. and vanilla. Beat with a hand mixer until frosting reaches a smooth spreading consistency..
Cookies should be frosted while warm and the frosting (which is like a penuche) will set as they cool.
Toast roughly chopped pecans and add with sparkling sugar or decors, or demerara sugar onto warm, but not hot frosting.
Notes
Warning: make a double batch!
Cookies freeze beautifully, even when frosted.
Decorate with India Tree Orange sparkling sugar,or their Natural Orange Sprinkles and crushed pecans for added appeal.
I recommend India Tree sugars, a Europrean style butter (less moisture) to make this the superior cookie it deserves to be.
Hecker;s Flour, while not organic is a superior domestic all purpose flour
If you are making this batter into bars (like brownies to be frosted later with the penuche icing), omit the baking powder and soda so that the base is not too cake like. .
If you make the frosting first, apply to the warm cookie and it will melt a bit.
If you make the frosting while the cookie bakes, frosting can be hot on cool cookies or cold on warm cookies.
Kitchen Detail https://lacuisineus.com/
Hungry for More?
Subscribe to Kitchen Detail and get the newest post in your inbox, plus exclusive KD Reader discounts on must have products and services.
---
Share Us on Social Media: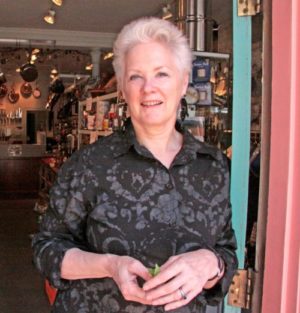 After owning one of the best cooking stores in the US for 47 years, Nancy Pollard writes a blog about food in all its aspects – recipes, film, books, travel, superior sources and food related issues.