April 7, 2020 - Written by: Nancy Pollard
Read Time: 6 Minutes Subscribe & Share
In My Market Basket
There are simple tasks in cooking that I mess up frequently. I will look at a video on how to remove pomegranate seeds easily and then forget about it. Ditto flawlessly cooked rice or the perfect hard boiled egg. The latter two are dealt with succinctly in this book, and by now I have looked at those two pages often enough that the techniques, along with some others, are embedded in my head. I started with this Tanis title and ended with all four of his books.
This later volume now has a permanent place in the back seat of my car, always at hand when we go see what's up in outdoor markets. I seem to wander from one book to another in no particular sequence or season. But since I have been evangelizing about organic crops and farmers market cooking over several posts, this one is a good place to start. In non-virus times, we go in person to several markets – fewer in winter, but as April has arrived, it's time to grab your basket and bags, and check out what's available. Many markets have websites that allow you to know ahead what has just been pulled out of the earth, and many vendors allow you to preorder for pickup while so many markets are shuttered. I have relied on some of the farmers who have cleverly turned to online pre-ordering with either a city-government-allowed pick-up point or delivery. David Tanis's cookbook will help to forestall your inner compulsive buyer and perhaps ease you into produce you are unfamiliar with. Market Cooking absolutely shines in your produce box or basket.
David Tanis was a chef at Chez Panisse, lived in Paris and somehow had a supper club in his third floor walk up. Recipes and techniques from his stint in restaurants in New Mexico also appear throughout his books. He has written the most appealing columns for the New York Times Food Section. He teaches workshops for the Maria Tasca Lanza Cooking School in Sicily, which one day I would love to attend (when we are not traipsing through the astounding remains of over 4000 years of history). And he is a quietly engaging writer.
Quick To Read & Easy To Do
Besides setting me straight on perfect boiled eggs and fluffy rice (Risotto is not a problem for me, but plain fluffy rice has had its ups and downs on my stove), his back-of-the-book Kitchen Essentials section is one you should read first.This hidden little gem is not a long treatise on making pantry items, but just a few unintimidating skills that you might not think of on your own. One example is making your own mayonnaise, and another is making small-batch stocks. We have had an ongoing standoff in our marriage about mayonnaise. After several decades of purchasing different bottles, both domestic and imported, the other person involved has agreed with David Tanis that homemade is sooooo much better. And it is done in less than 5 minutes. We use more grapeseed or sunflower oil to olive oil, but you can trust the author on this one. Then, a little stock (not gallons of it) can be made with trimmings from your produce box or basket, as well as discards from your cache of poultry, meat or fish, which I started to do when I read this part of the book. A quick soup, an almost instant risotto or a much more flavorful gravy for your roast has just been vastly improved. The equally short chapter in the front of the book sings the praises of all alliums – garlic, shallots, scallions, leeks and onions. Don't overlook it, even if you think you know your way around a head of garlic. I now make his version of skordalia, a Greek cousin to the French Aioli, and his Velvety Green Leek Soup.
Conquering The Unknown
Do you stare blankly in the produce section when looking at kohlrabi, celery root, or bok choy? Market Cooking by David Tanis comes to the rescue with not a ton of recipes, but rather just a few well chosen ones that will make your scary new vegetable exploration a success. In my case, it was bok choy. I had grilled them once, and it was kind of a shoulder-shrugging moment for me, but I noticed that my husband had tried to hide his behind a mound of protein. Try the recipe below, as it is good at room temperature as well as just out of the frypan or wok. Tanis even presents new recipes for familiar-to-me produce like zucchini blossoms, which I deep fry or add to a risotto or pasta. When you see them this summer, try his method for steaming them. Market Cooking also introduced me to miso, both red and white. It now graces eggplant and fall squashes thanks to the recipes found in this lovely book.
Glazed Shitake Mushrooms with Bok Choy
2020-03-30 16:38:51
Serves 4
Bok Choy and Shitakes,together in a deliciously spicy combination that can be served with any protein complement your choose.
Ingredients
Salt and pepper
2lbs baby bok choy
3 tbs vegetable oil
3 small dried chile peppers
1 lb shitake mushrooms, stems removed
1 tbs fresh ginger grated
1 tbs sugar
1 tsp toasted sesame oil
3 tbs tamari or soy sauce
6 scallions sliced on the diagonal
1 tbs toasted sesame seeds
Instructions
Bring a large pot of well salted water to boil.
cut off the bottoms and tough stems of the bok choy, then separate the leaves and rinse and clean them.
Drop the leaves into the boiling water and blanch only for 1-2 minutes (VERY IMPORTANT!)
Drain and spread out to dry on a towel lined baking sheet to cool.
Put a large wok or cast iron skillet over high heat, adding some vegetable oil until it is nearly smoking.
Add the chiles, shitake caps, stirring to coat.
Season lightly with salt and black pepper and stir-fry for 2 minutes.
Reduce the heat, and add the garlic, ginger, sugar, sesame oil and tamari or soy and stir fry for an additional minute.
Spoon the shitakes and their juices over the bok choy and then top with the sliced scallions and sesame seeds.
You can reheat this dish covered in a 400F oven for about 10-15 minutes
Notes
He uses Kosher salt, I use sea salt.
You can lower the heat with just one or two chile peppers
I have used black sesame seeds as well as the blond ones.
I mix the ginger, garlic, sugar, sesame oil and soy together ahead.
Adapted from Market Cooking - Recipes & Revelations Ingredient By Ingredient
Adapted from Market Cooking - Recipes & Revelations Ingredient By Ingredient
Kitchen Detail https://lacuisineus.com/
If you make a small batch stock, use it to make a celery root soup, by dicing and sautéing it with aromatics. Then puree it
with the stock and season to taste. Or make Tanis's version of Céleri Rave Rémoulade. It is one of our winter staples, and you can garnish it with ham and microgreens. This knobby croquet ball survives remarkably well in your crisper drawer. I found a forgotten one several weeks after I bought it and it still made a good salad. Allowing the shavings of celery root to marinate for a at least a few hours as directed in his recipe is important, so don't skip it. Leftover Céleri -Rave Rémoulade behaves nicely in the fridge too and makes a tasty addition to a beef sandwich.
Celery Root My Way
2020-03-30 17:16:11
Ingredients
1 1/2 lbs (680gr) celery root
salt and pepper
Juice of 1 large lemon
1/2 cup (118ml)creme fraiche
3 tbs (44) Dijon Mustard
2 tbs(30ml) grated horseradish
small pinch of Cayenne
1 tbs snipped chives.
Instructions
Peel the celery root with a paring knife -it is too difficult for most peelers.
Either cut into matchsticks about 3 inches long - mandoline is good for this task or the julienne blade on a food processor.
Put the celery root in bowl, salt lightly and add the lemon juice, mixing it well.
Cover the celery root with parchment or plastic wrap and then set a plate with a weight on top and refrigerate for at least an hour - overnight is fine too.
Drain it and blot with towels.
Mix together the creme fraiche, mustard, horseradish in a small bowl and season with salt and pepper plus the cayenne.
Put the celery root in a a serving bowl, and fold in the dressing to your liking.
Sprinkle with chives and serve.
Adapted from Market Cooking - Recipes & Revelations Ingredient By Ingredient
Adapted from Market Cooking - Recipes & Revelations Ingredient By Ingredient
Kitchen Detail https://lacuisineus.com/
The meat of Market Cooking by David Tanis is obviously mostly vegetables even the ones that get short shrift in the US. Tha
t would be cardoons. The chef owner of La Fromagerie once gave me a huge stash and I raced home to prepare them. This was an all-day project and in the end, my enthusiasm for cardoons was not shared by the other member of this household. Not so with fennel. We have it raw, sliced thinly with oranges and black olives as a winter salad and have been fixated on the braised fennel with garlic from the first River Cafe cookbook.

If you have been wavering about fennel, you must try Tanis's Fennel Al Forno, which can be a vegetarian main course too. Save some fennel fronds for your bag of frozen vegetable trimmings for stock and some to garnish the top of this gratin. As David Tanis says, "Expect raves".
Fennel Al Forno
2020-04-01 17:43:11
Serves 6
Ingredients
4 medium fennel bulbs (about 1 kg or 2.2lbs),trimmed, reserving a few fronds for garnish
Salt and pepper
3 tbs extra virgin olive oil, plus some more for the baking pan
1/2 tsp fennel seeds, crushed in a mortar and pestle or spice mill
3 garlic cloves, smashed to a paste with a little salt
1/2 tsp chopped rosemary plus 2 tsp whole rosemary leaves
1/8 tsp crushed red pepper
8 oz (227gr) fresh mozzarella, sliced or shredded
1/4 cup (60ml) coarse dry bread crumbs (homemade from an Italian or French style loaf is best)
1/2 cup (120ml) grated Parmesan
2 tbs(30ml) chopped flat leaf parsley or mixture of parsley and fennel fronds.
Instructions
Preheat oven to 375F (190C) and remove the thin layer of the fennel bulbs' tough exterior.
Cut the fennel crosswise into 1/2 inch (1.25cm) slices
Bring a large pot of salted water to a boil and add the fennel and boil for 1 minute.
Drain and put in a bowl of cold water to stop the cooking, then drain and pat dry.
Season the fennel with salt and pepper
Lightly oil a baking dish large enough so that the fennel pieces make a layer of about 1 1/3 inches high.
In a small bowl, stir together the olive oil, fennel seeds, garlic, chopped rosemary and red pepper.
Drizzle about 2 tbs of this mixture over the fennel and sprinkle with the rosemary leaves.
Cover with the mozzarella and then sprinkle with the bread crumbs.
Drizzle the remaining oil mixture over this and top with the grated Parmesan.
Bake it uncovered for 20-25 minutes until nicely browned.
Garnish with chopped parsley or the combination of parsley and fennel fronds.
Notes
I make the oil mixture first.
You can make this ahead by several hours and then bake when you are close to serving.
Adapted from Market Cooking - Recipes & Revelations Ingredient By Ingredient
Adapted from Market Cooking - Recipes & Revelations Ingredient By Ingredient
Kitchen Detail https://lacuisineus.com/
Hungry for More?
Subscribe to Kitchen Detail and get the newest post in your inbox, plus exclusive KD Reader discounts on must have products and services.
---
Share Us on Social Media: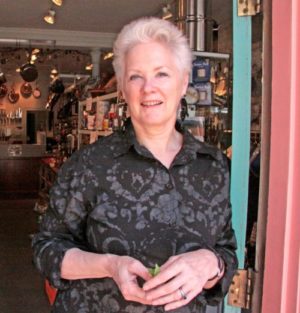 After owning one of the best cooking stores in the US for 47 years, Nancy Pollard writes a blog about food in all its aspects – recipes, film, books, travel, superior sources and food related issues.