February 28, 2023 - Written by: Nancy Pollard
Read Time: 4 Minutes Subscribe & Share
La Moda & La Torta
I don't lust after many high fashion items. Rather, I tend to go for cheesy and funny earrings, with low prices befitting their station on fashion's totem pole. When,
however, I pass by high falutin' shops in Italy, I have had occasional pangs of desire for a Missoni sweater. This longing may, alas, go unrequited.
Although it has been purchased by the Marzotto holding group, the brand has a
vibrant (to match its knitted patterns) and warm family history. Rosita and Ottavio Missoni established the Missoni brand in 1953. Using specially adapted Raschel weaving machines, the couple revolutionized the way ultra-fine denier knitwear could be cut and fashioned into clothing. Like most Italian families, they passed on the reins of the Missoni brand to their children and grandchildren.Their daughter Angela is currently the President, and Rosita at 91 has been the design force behind Missoni Home.
The Missoni Family Cookbook offers a charming and delicious glimpse into the Missoni family circle. Dining with family, friends and clients in a casual way at their homes – and always with a colorful table for at least ten guests – is usually a weekly occurrence. Rosita maintains a garden and a flock of chickens, and that is reflected in many of the recipes. I read that they also maintained a stream stocked with crayfish. Her grandson, the author of the cookbook, recounts that she had the eggs cleaned in the laying boxes of her chicken coop when she sent the children out to fetch them, so that they always thought that hens naturally laid spotless eggs!
A Different Legacy
The cookbook may be the legacy of Angela's son Francesco Maccapani Missoni, and he clearly pulls you into the joy of the Missoni family's meals. He divides it up into
seasons, with plenty of choices for appetizers, main courses, sides and desserts. You will enjoy the photos as I do – some of which he took himself – which fill the book. The profusion of images reflects the clash of patterns, colors, mixed table settings and impromptu photos of the Missoni family in the past and present.
These joyous meals are certainly not only the work of the Missonis, but also of the cooks that both Rosita and Angela have had in their kitchens – Ligaya Mateo from the Philippines has cooked with Rosita for almost 40 years, and Angela's Buddhist chef, Nihal Nanayakkara, from Sri Lanka, has been with her for over a quarter of a century. But the whole family clearly loves to cook and entertain, and many of Francesco's recipes reflect their Italian roots. It is delightful to read, as well as to cook from, especially during the cold and dreary JanFebs. Even though I have denied myself one of their sweaters, I can still wrap myself in the warmth of this delightful Missoni cookbook.
Eat Dessert First
This cake from the book that I am sharing with you here is the bomb. I'll pin it up with the Chocolate Nemesis recipe, made justifiably famous by the founders of the River Cafe in London. It is somewhat
similar to the chocolate mousse cake that Maida Heatter developed for the New York Times in 1972, which within a year became the newspaper's most requested recipe. La Torta Segreta was always baked by her best friend for Angela Missoni's birthday, and apparently the recipe was her friend's closely guarded secret — off limits even for besties. Upon the woman's death, the daughter gave the recipe to Angela.
It is ridiculously easy and rich, and I have some advice on making it. It is not necessary to grease your tart pan. Use an excellent quality chocolate. Truly, you should use caster or superfine sugar. If you use regular granulated sugar, the texture will be a bit gritty. You can make your own superfine sugar by grinding granulated sugar in your food processor or blender for about 30 seconds.
I have used Theo Organic 70% Bittersweet bar which MOMs carries, and an outstanding 70%
chocolate made by a local chocolatier, Chocotenango. They have a stand at the Saturday morning market in Old Town. Their White Chocolate and Coffee Chocolate bars I shave with a peeler to create the shards on top of the cake. For me, the perfect baking time in my oven was no more than 22-23 minutes. I think 25-30 minutes is a bit too long, but oven temperatures vary. I pour the batter into a 4-cup measure and found that pouring a bit more than 2 cups of the batter into the tart pan, and reserving a bit less than two cups for the topping makes a better ratio. Although Francesco suggests using a double boiler, you can use a commercial weight saucepan (mine is copper, and it has always melted chocolate beautifully) over low heat to melt the chocolate and butter without resorting to the water bath technique. The cake will last several days covered with cling wrap in your refrigerator…if your loved ones have more self-control than mine.
Someone in our house suggests serving whipped cream or vanilla ice cream on the side, as he is not a chocolate freak and requires some diversion. He usually has a second slice.
Torta Segreta del Compleanno di Angela
2023-02-20 17:12:34
Serves 6
This cake is the bomb.
Ingredients
5 large eggs separated
8 3/4 oz (248gr) superfine or caster sugar
8 3/4 oz (248gr)70% bittersweet chocolate, plus more for garnish
Pinch of salt
5 1/4 oz (149gr)unsalted butter at room temperature
Instructions
Preheat oven to 325F (160C)
In the bowl of a stand mixer fitted with the whisk attachment, beat together the egg yolks and sugar until the sugar dissolves and the mixture becomes silky and takes on a pale yellow color.
Using a handheld mixer, beat the egg whites and salt until they form stiff peaks.- do not overbeat.
Roughly chop 8 3/4 oz of dark chocolate.
Bring a small amount of water to a simmer in the bottom part of a double boiler over medium heat.
Combine the chopped chocolate and the butter in the top part of the double boiler and stir until the chocolate melts and the mixture is smooth and well combined.
Remove from heat and allow to cool for 2-3 minutes
Gradually transfer the melted chocolate into the egg yolk-sugar mixture.
On low speed, mix the batter until well combined, then use a spatula to delicately fold in the egg whites.
Divide the batter into two equal portions.
Refrigerate the first half and pour the second half into a 10 inch tart pan with a detachable base.
Bake for 25-30 minutes.
Remove from oven and set aside to cool completely.
Spread the refrigerated batter on top of the cooled tart base.
Using a peeler, shave some dark chocolate into curls to cover the top of the tart.
Remove cake from tart pan a serve chilled.
Notes
I use a heavy copper saucepan over very low heat to melt the chocolate and butter.
When I have whisked the egg whites, (which does not take very long and is excellent for your upper arm strength) in a copper bowl, the resulting foam is much silkier.
The batter measures out to be about 4 cups or just under a liter - I use over half for the baked part and less than half for the topping.
Adapted from The Missoni Family Cookbook
Adapted from The Missoni Family Cookbook
Kitchen Detail https://lacuisineus.com/
Hungry for More?
Subscribe to Kitchen Detail and get the newest post in your inbox, plus exclusive KD Reader discounts on must have products and services.
---
Share Us on Social Media: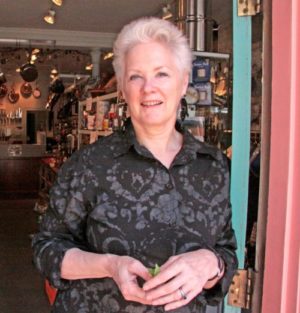 After owning one of the best cooking stores in the US for 47 years, Nancy Pollard writes a blog about food in all its aspects – recipes, film, books, travel, superior sources and food related issues.