March 29, 2022 - Written by: Nancy Pollard
Read Time: 3 Minutes Subscribe & Share
Wings & Hangups
Having grazed on mediocre to terrible Buffalo Wings in several eateries, but still kind of liking the idea, the football fan in the family asked if we could do them at home. After several tries I found a good recipe in a 1999 Gourmet Magazine which we ate on special TV-watching occasions. (We're not big television consumers, although I don't keep the set in the closet as my parents did.) We never did understand the role played by sticks of celery and carrots as buffalo wing accessories, so we always skipped that. We also preferred the Cholula Hot Sauce to Franks. The Blue cheese sauce, we altered slightly so that it is 1/3 cup decent
mayonaise, 1/3 cup full fat yogurt and 1/3 cup Roquefort cheese. Milder blue cheese such as a Gorgonzola Dolce or Danish Blue just did not give enough of a counterpoint to the spicy wings. Depending on the type of Roquefort, I may add more crumbles to the top of the dip as they do at Ruthie's All Day Diner. This sauce is one of the few times I don't bother to make my own mayonaise. Leftover sauce makes a nice base for a salad dressing too – just add a bit of White Champagne Vinegar (Martin Pouret is my favorite) and a bit of olive oil. Honestly, the grilling or frying and then deep frying chicken wings was kind of labor-intensive for the return on investment.
Eureka!
And then one day, the in-house chicken wing researcher found this wonderful alternative recipe in David Tanis's cookbook, Heart Of The Artichoke, and with a couple of modest changes, we eat this at least once a month as midweek dinner. We kept our version of the Blue Cheese Sauce. We usually buy chicken wings from Farmer Focus at MOMs The wings with tips clipped off and divided into two parts makes the the meal last longer. Save the tips in the freezer to make stock, along with chicken backs. His recipe calls for 5 pounds of chicken wings, and I usually do around two pounds and halve the marinade.
He also makes a sort of Asian-style slaw that we copy as well, with some very minor adjustments. You can make it while the wings are in the oven. Tanis calls for an hour in the oven at 375F but I roast the pieces at just under 400F test them at 165F with my trusty Thermapen, and they are done in less than a half hour.
Peppery Chicken Wings & Slaw
2022-03-26 17:41:02
Serves 4
I have slightly modified both recipes from the book and this meal is done in about 30 minutes.
For the wings
5lbs (2 1/4kg) chicken wings, tips removed & wing divided at joint into two parts
fine sea salt and freshly ground pepper to taste
2 teaspoons ground allspice
1/4 teaspoon ground cloves
1 teaspoon cayenne, piment d'esplette or Italian pepperoncino
1 tablespoon sweet paprika
4 garlic coves, peeled and squashed to a paste
3 tablespoons olive oil
For the slaw
1 small head of firm green cabbage, cored and shredded
1 small red onion, thinly sliced
1-2 carrrots, peeled and julienned.
1 Manar (think small Persian) cucumber julienned
1 jalapeno or serrano chile, (I remove seeds and white pith to lessen heat) cut into very thin strips)
Juice of 2-3 limes
Toasted sesame seed oil to taste.
Fine sea salt and freshly ground pepper
Finely chopped cilantro or parsley can be addced
Soy sauce can be added to taste in the dressing
Instructions
Preheat oven to 375F (190C) and lay a Silpat or parchment paper on 1 or 2 half sheets.
Make the marinade by mixing the spices except for the salt and pepper with the olive oil.
Lay the wing pieces out on a plate or half sheet and salt and pepper to taste.
Transfer them to the marinade and fold them into it thoroughly.
Allow to rest for about 5 minutes - while you make the sauce in the text of the post.
Arrange on sheets so the pieces are not touching and put them into the oven.
Check after 20 minutes for doneness - they are more than done after the internal temperature reaches over 165F (75C)
For the slaw;
Mix together all the jullienned and thinly sliced components in a large bowl.
Mix together the lime juice, sesame oil and add salt and pepper to taste.
You can add a dash of good quality soy sauce to the dressing.
Add the dressing, just enough to flavor the slaw, not soak it.
Serve with chicken wings and Roquefort Cheese Sauce.
Notes
I roast them at a slightly higher temperature -390F or 200C
Adapted from Heart Of The Artichoke
Adapted from Heart Of The Artichoke
Kitchen Detail https://lacuisineus.com/
Martin-Pouret Orléans Champagne Vinegar
$13.30
Hungry for More?
Subscribe to Kitchen Detail and get the newest post in your inbox, plus exclusive KD Reader discounts on must have products and services.
---
Share Us on Social Media: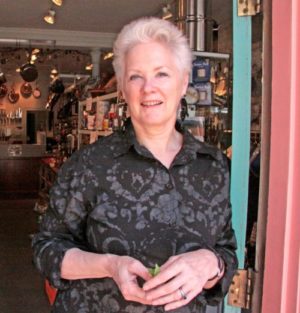 After owning one of the best cooking stores in the US for 47 years, Nancy Pollard writes a blog about food in all its aspects – recipes, film, books, travel, superior sources and food related issues.