April 23, 2019 - Written by: Nancy Pollard
Read Time: 4 Minutes Subscribe & Share
The Current Game Plan
I shop for grocery stores. And I've developed some strict criteria. There has to be a"curated" organic selection, demonstrating a preference for good quality over low price. House brands really don't excite me, and neither do canned goods except for tomatoes and pumpkin puree for Joy's Pumpkin Cookies. A huge choice in any department is kind of bewildering, often driving me to walk away without getting what I originally was looking for. I have always liked Michael Pollan's theory on grocery shopping survival – which is to shop around the edges and don't delve deeply into the aisles where the stacks of packaged goods live. I want my store to show me some effort toward planet sustainability. ( I not so secretly believe that there should be a cost leveled at producers on items that require recycling or packaging disposal). I even have a game where I see how long I can stay out of a grocery store and just buy at farmer's markets. It usually starts in April and ends in October. I cheat by sending my husband out for emergency rations.
Moms Talks The Talk
The one in my neighborhood that so far has ticked most of my boxes is My Organic Market, but it likes to be called MOMs, an appropriate tribute to its beginnings with founder Scott Nash's own mom. He started with a grocery delivery service out of her basement in the 1980s and gradually opened a series of organic based stores in four states and DC. MOMs now has over a thousand employees and has created a culture to protect and restore the environment. When you enter any of their stores, you are encouraged to participate in this endeavor.
At the most basic level, MOMs entices you with a rebate when you bring your own reusable bags. But, in addition, when you walk in, each store has a set-up to dispose of the following items: food bar wrappers and drink or food pouches, batteries and Brita filters, glasses and shoes, corks and cellphones, an astonishing number of health and beauty products, and blessedly, plastic bags of all kinds. You can return assorted paper bags and grab a gently used one from the bin by the door.
The organic produce section is small compared to its larger competition, but restocking delivery is more frequent. Prices for their produce is competitive and it's quality better than in other places I have shopped. A fill-your-own container philosophy exists, but they have some outstanding domestic and foreign organic packaged foods as well. I don't use their meat and poultry section very much as the choice is very limited plus I am devoted to Butcher's Alley and My Organic Butcher. Their seafood section is inconsequential, which I understand, as that is an enormous
undertaking.
The baking section is a treasure trove of hard-to-find friends: sheet gelatin, almond and chestnut flour, Tipo 00 All Purpose Italian flour (1, 0, 00 only indicate the fineness of the grind, not the type of flour) , and some other arcane products we used to carry at La Cuisine. And actually if you enjoy wine at nice prices, they have some good and affordable selections, many of them produced from organic grapes and biodynamic growers. We have found some really good quality organic cheeses, including a domestic buffalo mozzarella from a Virginia company, BUF. There is always some in our fridge. We have become addicted to Trickling Springs milk, buttermilk, and cream. And their ice cream is a back-up in our freezer, while the yogurt and sour cream from Wallaby were eye openers. Don't even get me started on the panic attack I suffered when Mom's ran out of Piel De Toro marcona salted almonds.
And They Walk The Walk
But to the larger picture, the management team at MOMs is determined to make a difference in how they get their energy, how they build their stores, and how they treat their employees. They offer charging stations for hybrid and electric vehicles. I admire their very aggressive program to reduce plastic in their stores – no more water in plastic bottles, only compostable bags for stashing your produce selections, and an astonishing selection of bulk options, from cleaning supplies to alternative proteins. No entrance doors are left continually open, their lighting is tastefully dimmed, and the air conditioning is not at meat locker temperatures. If you shop there reg
ularly, you may be familiar with their Denim recycling drive. I feel a sense of ownership knowing that my jeans may become part of their new insulation developed by Ultra Touch Denim Insulation.
They are investing in methane gas reuse projects – where this huge contributor to climate change is collected and "recycled" into a source of energy: McKinney Landfill Gas Methane Capture and Wisconsin Agricultural Methane Capture and U.S. Coal Mine Methane Capture are current examples. Solar panels are being installed in their stores, and they have even invested in a solar panel farm that is supplying 25% of the electrical power for all their locations. Wind power credits are now being used to offset Moms' electrical usage.
The blog posts from the founder are insightful and often hilarious. Look at the one on food expiration dates as an example. A throwaway date for salt! Others are provocative discussions on why cheap food is ultimately expensive, where the US stands on maternity leave, and how Moms has developed their current position on this issue.
Hungry for More?
Subscribe to Kitchen Detail and get the newest post in your inbox, plus exclusive KD Reader discounts on must have products and services.
---
Share Us on Social Media: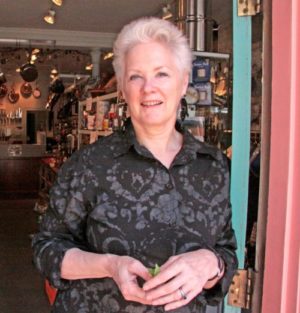 After owning one of the best cooking stores in the US for 47 years, Nancy Pollard writes a blog about food in all its aspects – recipes, film, books, travel, superior sources and food related issues.