April 29, 2020 - Written by: Nancy Pollard
Read Time: 2 Minutes Subscribe & Share
The Citrus Saga
I have blossoms on my lemon tree during quarantine and it makes me hopeful. And even the recalcitrant lime tree currently has two or three
blossoms When I first got the lime tree, it sported five or six unbelievably fragrant limes. When the in-house bartender took a couple to the kitchen and cut them open to make daiquiris, their fragrance was discernible in the living room. Then for the next three years, we would get three or four blossoms, perhaps one teeny, tiny lime would start to grow and then fall off. The in-house bartender had threatened this lime tree with extermination if it did not produce – so much so that the KD Editor bought a lime ornament to hang on one of its branches to save it from execution. I think this talisman may have worked, because now the lime tree is showing its first two limes even in the midst of a spring filled with downpours and fierce winds.
Dessert For One Or Two
But back to the lemon coconut soufflés. I had one lemon left from last fall from a harvest of 16 lemons -the best ever! I left this one
on the the tree because it took forever to turn yellow. They ripen much more slowly inside than when they are outside on the porch. So in its honor, I used it for this neat little recipe from The Best Of Gourmet 1990. Both the zest and juice are used in this bonus recipe (a KD tradition for any time there is a fifth Wednesday in a month.) I add 1/8 tsp of the coconut essence from Grasse to give a bit more coconut flavor. Look through our post on souffles for some tips on baking them successfully. And since grand parties have been out of the question, this is perfect as a treat for two, or even on with the leftover one for breakfast.
Lemon Coconut Soufflés
2020-03-22 19:48:39
Serves 2
Easy to make treat when you are home alone. Make the base ahead but serve immediately after baking.
Ingredients
5 tbs (74ml) caster sugar, plus extra for lining the ramekins
2 large eggs separated, preferably at room temperature
2 tsp (10ml)cornstarch
The grated rind of one lemon
The juice of one lemon (should be around 3tbs or 44ml)
1/2 cup (118ml) dried coconut (sweetened or unsweetened) lightly toasted
Instructions
Sprinkle 2 buttered 6-oz ramekins with the additional sugar.
Preheat oven to 400F (205C)
In a bowl with your electric mixer, beat the yolks with 2 tbs of the sugar and the cornstarch, rind, and lemon juice for about 5 minutes,
Fold in toasted coconut into the egg yolk mixture.
In another bowl, beat the egg whites with a pinch of salt until they are foamy.
Gradually add the 3 tablespoons of sugar while beating until you achieve a stiff meringue.
Fold the meringue into the yolk mixture, and divide it between the two ramekins.
Tap the ramekins on your counter to help the souffle rise in the oven. .
Bake at 400 about 10-12 minutes., the tops should be puffed and golden.
Serve immediately.
Notes
I used large the 8oz souffle size and the soufflés will then barely reach the top., but any size from 5 oz sizeon up to a an ovenproof cup or bowl will work.
Adapted from The Best of Gourmet 1990
Adapted from The Best of Gourmet 1990
Kitchen Detail https://lacuisineus.com/
Hungry for More?
Subscribe to Kitchen Detail and get the newest post in your inbox, plus exclusive KD Reader discounts on must have products and services.
---
Share Us on Social Media: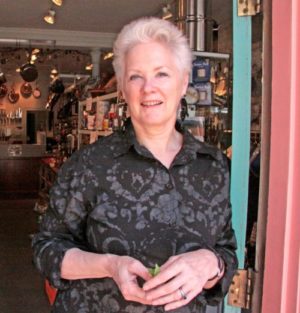 After owning one of the best cooking stores in the US for 47 years, Nancy Pollard writes a blog about food in all its aspects – recipes, film, books, travel, superior sources and food related issues.