October 24, 2018 - Written by: Nancy Pollard
Read Time: 3 Minutes Subscribe & Share
Another Stovetop Best Friend
While I was rooting around my canisters on the stove for the soufflé post, I realized how often I used a particular brand of scrapers and spatulas. I have purchased other ones in cute colors with wood or stainless stainless steel handles, along with an older version of plastic with a wood handle. Some blades were made from nylon, some in silicone or rubber. But none of them passed the Goldilocks test like these commercial versions from Rubbermaid – which I found out had its headquarters practically in my backyard in Winchester, Virginia. Both designs, spoonula vs spatula, described below were "just right" and lasted much longer than their more chic counterparts. And when I watch episodes of Chef's Table, I see them lurking in many of the kitchen shots.
They make a flat scraper and a "spoonula" style, each in a 9.5 and 13 inch length, which work well in a home kitchen. I have each design in both sizes. These two models resist scratching any cookware and defy melting up to 500F.or 260C They are dishwasher safe, and the handle stays pretty cool. That was the main issue with stainless steel handles on scrapers and spatulas. If they are near a heat source, such as your burner, the scorching heat transfers pretty quickly to the stainless steel handle. . Although Rubbermaid makes a group of silicone spatulas with cute color-coded handles (you know, green for veggies, red for meat, yellow for poultry) in two sizes too, I still prefer the way the blade operates on this model. And of course, they are made to throw into any dishwasher.
The Devil Is In The Details
The blade is notched so that when you are scraping a pan, it cleans the edge along with the side.The design
includes
a "Clean-Rest" feature (which is even trademarked by Rubbermaid) to keep the blade off counter tops to reduce contamination risk. And of course it is NSF certified and adheres to the Prop 65 protocols for safe components in manufacture. The final engineering detail that makes these two models so valuable is that the handle is sealed with the blade, so you get no bacteria buildup between the two. And the truly annoying separation of handle from the blade never happens.
That said, in a spoonula vs spatula tournament, I find that I use the spoon shaped version more often than the classic flat spatula . It seems to work better in batters and ice cream preparations. Especially if you need to do a quick taste test (which I know you would never do in a commercial kitchen!) But for folding in egg whites, chocolate, or flour into batters, the older style is still my guy.
And Don't Forget This Little Gem
As a last food scraper footnote, Rubbermaid makes a version of a jar scraper that is better than any of the others I tried. While it does have the same sealed blade and handle, Rubbermaid's jar scraper lacks the other bells and whistles its siblings boast, but this little 9.5 inch model combines just the right amount of stiffness and flexibility that makes it your best friend when salvaging the last smidgen of expensive mustard or mayonnaise.
These Rubbermaid treasures are not normally found in many kitchen shops, which I find incomprehensible, but check those in your area. Or, if you have a restaurant supply store that sells to consumers, you might strike it lucky. I normally buy mine through KaTom Restaurant Supply or Amazon. A word to the wise: definitely get yourself more than one spoonula!
Hungry for More?
Subscribe to Kitchen Detail and get the newest post in your inbox, plus exclusive KD Reader discounts on must have products and services.
---
Share Us on Social Media: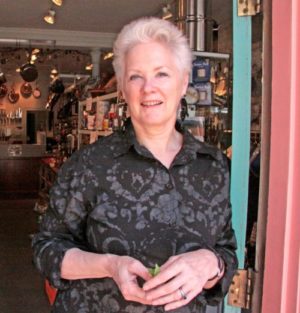 After owning one of the best cooking stores in the US for 47 years, Nancy Pollard writes a blog about food in all its aspects – recipes, film, books, travel, superior sources and food related issues.