February 16, 2022 - Written by: Nancy Pollard
Read Time: 5 Minutes Subscribe & Share
On The Street Where You Live
The Italy Insider lives on a block-long street in Bologna with a disproportionate name – Via de Falegnami or The Street of Carpenters. Within that well kept block are a mini-market, a very cool table-top store called Casa Chic, and a practical shoe store plus a larger shoe chain on the corner. Squeezed in is a sliver of a bakery/cafe dedicated to breads and pastries featuring alternative grains. It remains
my go-to for breakfast and bears the name of Un Forno Di Un Chicco (The Oven of a Grain) . I am seduced by a tiny shop called La Drogheria, which carries the most amazing assortment of comestibles, wines, household cleaners and tools. You'll even find a sensible underwear shop (no Victoria's Secret push-up bras and thongs here). And like so many streets, it has its share of popular restaurants of dubious provenance. Along one side of this narrow road,nestled in one of the storied Boleognese porticoes, reside three dining gems you need to tap into your phone should you visit here.
Il Caminetto D'Oro
The name Maria Di Giandomenico may not be known outside of Bologna, but as owner chef of Il Caminetto D.Oro she established one of the best restrained examples of Emiglia Romagna cuisine. She was a traditionalist, but always presented dishes in a creative way and in manageable portions if you wanted to have more than one course – which of course you do.
This comfortable minimalist design in restaurants is over 40 years old, with even deeper roots as Maria was a revered restaurant chef before founding her own golden hearth. You should make Caminetto your choice for Bistecca Alla Fiorentina, as the chef Andrea Serra chooses beef from local Romagnola cattle. They use the famed Josper oven from Barcelona, Spain for vegetables, as well as meats and fish. All their pastas and breads are made in-house from flours milled in Modena. Their take on tagliatelle al ragu – well, it just can't get better than their version . The usual "coperto" (an
obligatory bread basket charge added to your bill) is always scarfed up by our family…even their grissini are divine, and their take on focaccia has a delightful pork fat aroma. Paolo Carati has taken over the reins of Caminetto d'oro from his mother and won the very jaded heart of the Resident Wine Maniac with his wine list. Desserts and their gelato once again are simple but oh so delicious with a twist…all about ingredients plus know-how. In the midst of quarantine, they delivered a three-course meal to our Met's Apartment with wine and we hardly felt the sting of isolation.
Twinside
A slice of Caminetto D'Oro real estate has been turned into a casual but equally minimalist "bistrot".
We eat at Twinside when we want just a salad or hearty sandwich and a glass of wine, or maybe a light main course and another glass of wine. Or just some salume and giardianera…but under no circumstance should you go without an order of their crescentine (indescribably delicious thin, puffed fried bread). We have eaten outside in the portico or even in the street (it is closed to traffic). Light on the wallet but with a flair for the dramatic with commonplace ingredients – as pictured here – strips of marinated pumpkin, grilled polenta and a local cheese. It is also the home of the best hamburger my
husband has ever eaten. He looks longingly at the menu every time we pass by to see if he can relive the experience. They even offer a few cocktails, beer and sodas which you can have with their crescentine.You can have your Coke or try Chinotto – a dark soda produced from a citrus, which is curiously refreshing. One of the many charms of restaurants in Italy is that children (and small pets) are always welcome, and Twinside is no exception. As they say on their site:
Il ristorante è accessibile ai portatori di handicap. (The restaurant is handicap accessible)
Sono benvenuti giovani e giovanissimi ospiti. (The young and the very young are welcome guests)
Accettiamo animali di piccola e media taglia. (We accept small and medium sized animals)
Non accettiamo mammut. (We do not accept mastadons)
Ristorante E Enoteca Da Lucia
If you view Caminetto as a small intimate restaurant and its casual twin as even smaller, Ristorante E Enoteca da Lucia will seem like yet another sliver on this same side of Via De Falegnami. Fit it into your dining schedule, perhaps for a special occasion (for us it was getting a negative Covid test). While other restaurants capitalize predictably on tagaliatelle al ragu (the menu will offer you one) their out-of-the-ball-park presentations are often seafood. Everything is chosen from premier seasonal produce, fish, meat and poultry. Their presentations are very modern-artsy and much more successful in taste as well as looks than some of their more starred Bolognese
competitors. The menu is tiny and the portions are just right so that you can enjoy more than one course – and you should. They have a small and impeccable wine list. Do not ignore dessert. Incredible. I have never eaten a tartufo as good as the one they present. They even gave each of us a glass of Ben Ryé passito from the Donnafugata vineyard in Sicily (the best of the best) to have with their glorious desserts. I have to thnk up more special occasions, and so will you.
Hungry for More?
Subscribe to Kitchen Detail and get the newest post in your inbox, plus exclusive KD Reader discounts on must have products and services.
---
Share Us on Social Media: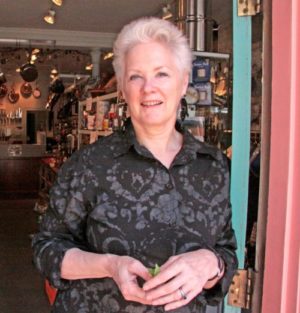 After owning one of the best cooking stores in the US for 47 years, Nancy Pollard writes a blog about food in all its aspects – recipes, film, books, travel, superior sources and food related issues.