June 6, 2018 - Written by: Nancy Pollard
Read Time: 3 Minutes Subscribe & Share
Ocean's Twelve Was Here
In all my scheming to go to Sicily, I had never heard of Scopello. Once I got there, it was easy to figure out why. No one who goes there wants anyone else to know what a treasure it is. Just right in every way, with boutique hotels and affordable rentals alike, this tiny village is perched on the northwest coast of Sicily. It was built around an open court on the site of a previous Arab settlement in the 18th century.
Scopello is in easy reach of the most magnificent archeological (shall I say theme
parks?) zones: Segesta, Selinunte, Agrigento, where there is nary a costumed greeter in sight. Instead, you get a staggering 3000-year history of previous civilizations amidst beautiful wild flowers. I watched my grandsons playing among the columns and amphitheaters, much as children did several thousand years ago. A little reading of the brutal history of how these cities were built and destroyed would be a good thing when you plan this incredible excursion. Ancient history is chockablock around you, and you can eat well, drink in gorgeous scenery, take walks or hikes and break that up with a stop at a bar or cafe to "refresh". Or you can go to one of several beaches, the most famous one being San Vito Lo Capo. It is all so civilized: You rent chairs and umbrellas, which are placed for you. You swim, read, and then stagger up to restaurants, bars or pizzerias with shaded patios.
A Storybook Village
Scopello has a few delightful restaurants and a couple of pastry shops with coffee served in a very casual atmosphere. In my neighborhood of make-believe, these would be considered three-star quality. The village square is everything that Disney Organization
would love to copy, but it is real. Your children can play in the pedestrian-only square under your semi-watchful eye, and cavort around a fountain that provides potable water and a pool for their little toy sail boats. Scopello is not overrun with trinket shops (there are maybe two) or loads of fake plastic memorabilia. In a short walk, you can explore the Tonnara, the preserve at Zingaro, or swim in the grotto-infested waters nearby.
Stay in Scopello or Rent a House
We rented a large house aptly named Villa Delle Rose, as we had two twenty-year-old boys and two under six along with assorted parental and grandparental units. We had a kitchen, bedrooms and baths aplenty, a gorgeous roof-top terrace, a wisteria-covered porch and a killer walled garden that the two youngest ones played in endlessly and safely. Plus orange, kumquat and lemon trees. Sometimes we ate out in one of Scopello's charming and casual restaurants, or we bought groceries at this incredible deli/produce/butcher/winestore/with a Sicilian version of CVS attached, minus the walls of junk food. Did we need ice cream, freshly made? No problem. Would we like to have a few arancini to snack on while we cooked dinner? Yes, we would. And maybe we should pick out some more of those delicious Sicilian pastries that just came out of the kitchen, too.
Some Day Trips With Happy Endings
From Scopello, you can travel to Trapani, which is famous for its salt production and has a lovely harbor for
watching sunsets while sipping aperitivi. And nearby in Marsala at Mamma Caura, I had my fateful introduction to Torta Setteveli. I strongly recommend that you take the time to get on to the ferry for Mozia, now named Isola San Pantaleo, which has a small museum in the villa of an English Marsala exporter. In his passion for archaeology and historic preservation, Joseph Whittaker unearthed one of the most seductive pieces of statuary I have ever seen. Plus the rows upon rows of antique make-up jars, carefully displayed and explained, from this once powerful Carthaginian city. Almost like a visit to an ancient version of Sephora. Eat your heart out, Mickey and Minnie!
Hungry for More?
Subscribe to Kitchen Detail and get the newest post in your inbox, plus exclusive KD Reader discounts on must have products and services.
---
Share Us on Social Media: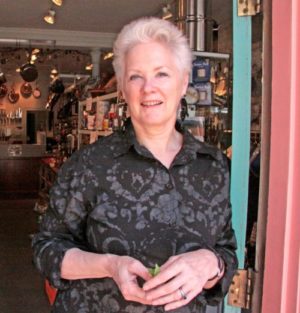 After owning one of the best cooking stores in the US for 47 years, Nancy Pollard writes a blog about food in all its aspects – recipes, film, books, travel, superior sources and food related issues.