July 11, 2018 - Written by: Nancy Pollard
Read Time: 7 Minutes Subscribe & Share
Settling In and Day Tripping
The brochure lured me in with promises of glorious beaches, bewitching grandeur, superb cuisine, magical landscapes, dramatic history and warm, friendly locals. It placed all this against an intoxicating backdrop of elegant ceramic tiles and soulful Fado music, and I was hooked. Soon I was on a flight for Central Portugal and the Silver Coast. It did not disappoint.

I explored Lisbon for a few days on my own, then joined a travel group in Cascais, a coastal resort town about 17 miles due west. (I recommend Cascais over Lisbon for an extended stay).
Cascais has a strong connection to Italy, as it was the favored summer vacation getaway of the daughter of King Victor Emmanuel II. Other notables followed, and the town morphed into a kind of Portuguese French Riviera. But Italy is everywhere. Architecture and gardens reflect Italy's glorious villas, and two fabulous gelato shops boast authentic Italian origins: Gelateria Italiana and Santini.
A beautiful tile sign signals the major street and pays homage to the last Italian King, Humberto II. which sports a wonderful park and museums. Here, you'll have no shortage of historical houses, museums, a long- established fish market, art galleries and easy transport to take you up or down the Portuguese coast. Down the road is Estoril, filled with casinos, grand hotels and villas. Estoril is where Ian Fleming hatched his first James Bond novel, Casino Royale.
Day Trips Abound On The Silver Coast
The Silver Coast, the area between Porto and Lisbon, is filled with art, history, architecture, azulejos (tiles), great food and wine, and Cascais is the perfect launching pad for day trips.
Sintra is a must-see, an easy day trip from Lisbon or Cascais. The Pena Palace, built by the German-born Prince Ferdinand, is a magical,
architectural smorgasbord ~Gothic towers, Renaissance domes, Moorish minarets, Manueline carvings, and even a shout-out to the House of Mouse. The Prince's cousin "Mad" King Ludwig built the Disneyesque Neuschwanstein Castle in Bavaria.
The Palace is room after room of delightful azulejos, excess designs and carvings, gardens and one of the most beautiful kitchens ever. The copper kitchenware alone is worth the trip.
Moving North ~ Obidos and Beyond
Obidos, a medieval walled city, was from 1282 to 1833, presented to the Portuguese Queens as their wedding gift. We stayed at a wonderful inn, each room named for a Portuguese queen. The two streets that frame the town are filled with tourists during the day, but empty out at night and early morning. In the off=hours, it's just you, narrow cobblestone streets, small shops, and a few stray dogs. The foreboding grey castle walls are a sharp contrast to the charming, sweet street scenes.
A great day trip from Obidos is the medieval town of Tomar, in which the Convento de Christo was once a Knights Templar stronghold. The Order of the Knights Templar was dissolved in the 14th century and its Portuguese branch turned into the Knights of the Order of Christ, supporting the country's maritime discoveries of the 15th century. The Convento was placed on the World Heritage list of UNESCO in 1983.
Tomar is a short drive to Fatima. Often crowded, but beautiful, Fatima is redolent with beeswax from the burning candles and rich with inspiring visible displays of faith and hope. More easy day trips from Obidos are Batalha, Nazare, and Alcobaca — some of the prettiest small towns.
Batalha monastery is a masterpiece of Portuguese Gothic and Manueline art, the latter style named after King Manuel I. Churches and monasteries built during his reign were financed in large part by the spice trade with Africa and India. Dedicated to the Virgin Mary, the monastery is a World Heritage site, officially called Santa Maria da Vitoria.
A short way down the road is Nazare, a resort town with long sandy beaches and high cliffs. We had wonderful fish for lunch —fresh seafood cataplana, made with chunky hake, shrimp, potatoes and a delicious tomato-based sauce; large grilled sardines; and cold beer — all spiced with the fresh sea air. [Look for a future article on Portuguese food in Kitchen Detail with a local source for ingredients.]
Our last stop for the day trip was Alcobaca. The Cistercian abbey is a World Heritage site that transports you back into the Middle Ages. The Mosterio de Santa Maria de Alcobaca was, in its heyday, one of the richest libraries in Portugal. Agriculture in the area was abundant and the Abbey's vast kitchens turned out feasts. The kitchen is amazing, the "sinks as large as bathtubs, two vast fireplaces that could roast up to seven oxen at one time, and beautiful, iridescent tile that would be right at home today. This is one of the two fireplaces. Amazing!
Returning to Lisbon, Belem is an easy stop. It is rich in Portugal's Golden Age history and considered a "suburb" of Lisbon. It has at least a couple of days' worth of treasures worth exploring. During the Age of Discovery, before embarking on their ocean voyages, sailors would stay and pray at the Monastery of Jeronimos, and the Belem Tower would greet them upon their return. Belem survived the great 1755 earthquake, so the sturdy Manueline architecture gracing the Monastery should be on your list.
Custard Tart Wars And Wimples
Belem is also the birthplace of the famed pastel de nata, amazingly delicious custard tarts invented in the 18th century by monks at the Jeronimos Monastery. It was common practice to use egg whites to starch the nuns' habits, and their elaborate wimples (the big, white, stiff headgear) demanded a lot of whipped egg whites. So, with a ton of leftover yolks, what is a nun to do? Both monks and nuns combined the egg yolks with abundantly available sugar to make delicious, two-bite-size custard tarts. What started as a great "mixed-use project" became an economic boon that kept the monasteries alive during the liberal revolution. The famed Fabrica de Pasteis de Belem has lines stretching around the building, but it is worth the wait.There is a custard tart war of sorts between Belem and Lisbon: the Fabrica in Belem vs. the Manteigaria (butter shops) in Lisbon. Treat yourself to some comparison shopping.
Time Out in Lisbon And The TimeOut Market
A definite must-go in Lisbon is the Time Out Market, a foodie's dream come true. Easily accessible by metro or on foot, food hall and market both offer the best of Lisbon and Portugal food, wine, flowers, and artisan products under one roof. You can eat cheaply or dine sumptuously and, if feeling flush with euros, take home a bottle of Port…A long, leisurely stop here will bring you to the most delicious storefront: Manteigaria, Fabrica de Pasteis de Nata. I had the creamiest, right out of the oven, custard tart here. So worth the calories….and two of them in a little carboard box… for just 1 euro! An extra euro for uma bica, the black and robust ristretto, (café) and you are all set. Life is good, and tasty.
Lisbon is built on hills and the streets paved with small, slippery limestones. In the distance you can see a small "golden gate bridge," built by the same company that designed and constructed the one in San Francisco.
On All Saints Day 1755, Lisbon was devastated by a massive earthquake that spawned tsunamis and fires. Everywhere the old is woven into the new. The Amalfa, the Chiado, Bairro Alto, Mouraria, and the Baixa are the main districts and walking is not for the faint of heart. Good walking shoes are a must and a walking stick is helpful when navigating the limestone brick streets. There are wonderful Fado restaurants, more than 40 museums, including one on Fado, azulejos, costumes and decorative arts. Many of the churches, such as the Church of San Roque, have museums with exquisite art.
A walk through the Amalfa district will introduce you to amazing street art, but if more traditional art is your thing, try the Museu Nacional De Arte
Antiga, the Gulbenkian Museum, and the Sao Roque Church, with the eye -popping Chapel of St. John the Baptist. The tile museum has a panorama scene of pre-earthquake Lisbon.
And Don't Forget To: Get a LisboaCard at the airport: it is good for train/metro/bus travel as well as museum fees; take a walking stick; don't be too proud to ride a hop on/hop off bus or hire a tuk-tuk; make friends with the metro/train, especially the Cais do Sodre station; and, practice using a little Portuguese…the locals appreciate it! Obrigada!!
Elizabeth DiGregorio
Hungry for More?
Subscribe to Kitchen Detail and get the newest post in your inbox, plus exclusive KD Reader discounts on must have products and services.
---
Share Us on Social Media: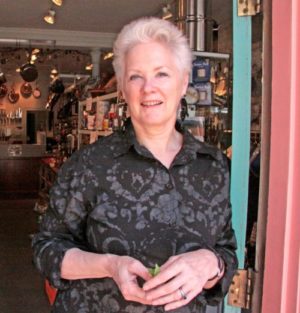 After owning one of the best cooking stores in the US for 47 years, Nancy Pollard writes a blog about food in all its aspects – recipes, film, books, travel, superior sources and food related issues.