February 9, 2022 - Written by: Nancy Pollard
Read Time: 6 Minutes Subscribe & Share
We All Scream
Raymond Berthillon, the founder of the eponymous ice cream shop on the Île de la Cité in Paris, once stated that real ice cream lovers will eat ice cream in the dead of winter…outside. I must concur. I happily sit outside and eat a cup of gelato on a cold bench in one of the Bolognese porticoes. NB Berthillon makes la crème glacée and not gelato. I'll eat either, in any weather. One of the many comforts of our quarantine in Bologna has been the accessibility of really good gelato. We get handpacked gelato from some newly discovered favorite gelaterie, and even pretty good gelato from COOP and PAM, the two closest supermarkets to us.
My fellow quarantiner counted well over one hundred shops to choose from. There are plenty Italian gelaterie that have neon bright colors in their selections – always a warning signal for artificial flavors. But other than two big players, here are a few that are excellent and don't get a lot of internet gelato artiginale buzz.
Looking online at various lists of "expert gelato tasters," it seems that they all check out each others choices, and some of the repeated top names are not that exceptional. So we are not rating our current favorites here, but giving you our little overview of some you might miss if you let internet gelato bucket lists determine your scoop.
The Big Players
Our first real encounter many years ago with Italian gelati artiginali with optimal natural flavors was Grom. (Bologna address is Via D'Azeglio 13). Hope sprang eternal in my breast when they opened a branch briefly in Manhattan. They closed their outlet in the Big Apple, though, a few years later. It still smarts that there exist Grom branches in Lisbon and Prague and other less benighted cities on the planet. You would think that being owned by Unilever, (even though the original partners are still running the chain) there would be at least one outpost in the New World. No, alas. Grom uses only cane sugar and natural spring water, and its fruit flavored ices are a minimum 50% – and usually up to 80% – of the fruit. You will find your scoop less sweet than some other top choices, but Grom's pure and refreshing flavors really hit you.
Venchi, a storied manufacturer of chocolate and related products, delved into the artisinal gelato market in 2007. They have splashy shops around the world, including one on Via Di Indipendenzia (and a couple of other Bolognese locations). They always have a booth at the Fancy Food Show in New York and we Cuisinettes became quasi professional Venchi tasters. Obviously, their chocolate and nut products feature among their more popular flavors. And like Grom, their gelato choices do not disappoint. But I digress.
Vale Il Viaggio
When you come to Bologna and you have done the requisite food tour on Via Pescherie Vecchie, with its eye-popping displays of produce, and its butchers, fishmongers, and cheesemongers, it is time for a reality check. Everyone takes photos and dreams of dishes they "could" make from the vast array of gorgeous comestibles, but in reality the best and easiest thing to do is grab a coffee and a gelato. Below are three of our current favorites. And very rarely do any of these appear in the numerous "Best Gelato in Bologna" guides swimming in the internet waters.
Perhaps the most exuberant of the Bolognese gelat erie is Galliera 49 Bottega Gelateria . Their instagram posts are colorful…I learned a lot of new vocabulary. And the owners are just as flamboyant as their posts. They are noted for their Sicilian ices with brioche and cannoli too. This is the one I take my grandsons to. They have just the right size little cones for a euro so dinners won't get spoiled.
Off the well trodden and crowded Via Di Indipendenzia at Via Di Statale 13/B Gelateria delle Moline is the home of the most divine gelato of caramelized figs. I am not even going to try to recreate it at home. I will just eat it here. Of special note to some travellers, this gelateria also offers not only gluten-free ice creams, but also specializes in ones for those who are lactose intolerant, both with soy milk and without, and for celiac sensitive clients. Lovely service, and once you have decided your favorite
flavors, get a vaschetta of your top three to store in the freezer compartment of your hotel mini fridge.
Also missed by ice cream influencers is this charming shop without a website but a Facebook page – Gelateria Majori at Via Marsala 16/C. Their mango was the most lush, perfumed sorbetto I have ever eaten. Even my husband, who views sorbetti and granites as something that you eat only under duress, could hardly believe its flavor, density and creaminess. They also produce cannoli that are filled (correctly) at the moment of purchase and other lovely gelato-based treats. Their service is friendly and easy when you want to get a multi-flavored vaschetta – my favorite way to extend the treat.
Unlocking Gelato At Home
So, in defense at home I make ice cream a lot (and sometimes achieve gelato). The
machine I use is a Lusso – for over 15 years and counting. I make granite too in the same machine so the ice crystals become smaller and "creamier" vs the hand method, where you use a fork to flake up the ice. Like professional bread baking, gelato is based on ratios, and the makers each have variations to tolerate different flavoring additions. Below is a base recipe for making gelato – it will give you about 700gr or a bit over a quart of ice cream.
Whole Milk 410g.
Light cream 125g.
Sucrose (table sugar and 1:4 ration of glucose is optional)100g.
Dextrose 30g.
Powdered skim milk 30g.
Carob powder 2.8g.
Add your flavorings to taste.
Note that carob powder is used, not as an imitation chocolate flavor, but as a natural and healthy stabilizer instead of cornstarch or xanthan gum, which is frequently used in the US. It creates a more voluptuous texture and inhibits crystallization. Gelato can have eggs or not, but it always has a rich whole milk (I have never understood the American concept of ice milk) and it can have cream added to the mixture…or not. Powdered skimmed milk is a secret weapon in absorbing water and thus helping to create that creamy texure. The addition of dextrose and glucose appear in many recipes. Destrose will keep the mixture soft at a low temperature and glucose keeps the mixture cold at a higher temperature. Churning at a low speed means there is less air incorporated. Equally important is not to serve your gelato at rock hard freezer temperatures. Also, gelato does not necessarily have as high fat content as American ice cream. Less than 4% to a whopping 10% in the US. The access to really flavorful ingredients is generally easier to source in Italy than it is in the US. And most of my best gelato reenactments included flavor essences from France that we used to carry in the shop, now available from Simply Gourmand.
Hungry for More?
Subscribe to Kitchen Detail and get the newest post in your inbox, plus exclusive KD Reader discounts on must have products and services.
---
Share Us on Social Media: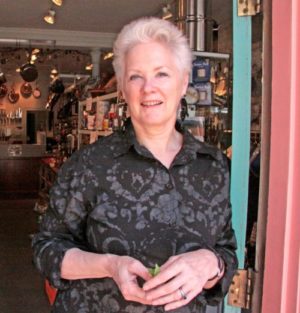 After owning one of the best cooking stores in the US for 47 years, Nancy Pollard writes a blog about food in all its aspects – recipes, film, books, travel, superior sources and food related issues.