August 4, 2021 - Written by: Nancy Pollard
Read Time: 4 Minutes Subscribe & Share
Too Many Tomatoes?
Now is the time for all good peeps to bury themselves in tomato dishes.
Below are three unusual ways to play with your local tomato bounty. The Pollard BLT saga has been discussed, and my preference for bacon mayonnaise for said BLT is found here . There is more to be done with tomatoes (including the divine tomato tart from Fore Street Grill in Portland, Maine) because we all buy too many of them.
Since the in-house BLTs are made with only the three central slices of tomatoes, the Italian Insider in the
family shamed me into freezing the extremely usable ends in bags. Now when I get about two gallon bags full of them, they get thrown into a pot with some overgrown stalks of basil from my deck and a bay leaf or two, along with the obligatory salt and pepper. No extra liquid is required, and after about two hours, run them through the medium blade of a food mill and you end up with a pretty awesome passata. Freeze them in small containers and however virtuous you might feel now, you will feel even more so in the dreaded Jan Febs
A Fictional Tomato Tart
This tart's presence in Google searches is due to the irrepressible Deb Perlman of Smitten Kitchen fame. I will be forever grateful to the La Cuisine customer who long ago introduced me to her website and cookbooks. Tarte Mathilde is apparently a fabricated recipe from a fictional character in The Margot Affair written by Sanaë Lemoine. I use the all butter crust from Cathy Barrow's pie cookbooks. I have made lots of recipes for pie crust with at best an indifferent score, but this is the crust that was waiting patiently for me to discover it. I now make it in lots of four disks, just so there is no crust crisis whenever real or fictional recipes arise.
Tarte Mathilde
2021-07-08 22:07:27
Perfect as a first course or as a main one too. No this is not a quiche by any means
Ingredients
3 large very ripe tomatoes, heirloom or other, sliced crosswise 1/4-inch thick...
1 small garlic clove
1 cup (15 grams) basil leaves, loosely packed
2 cups (25 grams) parsley leaves, loosely packed
2 tablespoons (30 ml) olive oil, plus more for brushing
1 tablespoon (15ml) smooth Dijon mustard - I use Fallot
2 ounces (55 grams) hard cheese, thinly sliced or coarsely grated
Coarse or kosher salt
Freshly ground black pepper
Have on hand your favorite tart crust - prebaked
Instructions
Roll out and bake blind your tart crust in a 10 inch (23cm) tart pan with a removable bottom.
Place tomato slices on a rimmed baking sheet and lightly sprinkle with salt.
Combine garlic, parsley, basil, and ½ teaspoon salt in a food processor. Pulse until finely chopped.
Add olive oil and pulse until a spreadable paste forms. - you do not want it to be too "liquidy"
You might need to scrape down the sides of the food processor a few times.
If making the herb mixture in advance, store in the refrigerator with plastic wrap pressed against its surface.
Blot tomatoes with paper towels to remove excess liquid.
Using a small spoon or offset spatula, spread Dijon mustard evenly on the bottom of the crust. Evenly distribute cheese on top of the mustard layer.
Dollop with herb mixture and gently spread to cover in a thin layer.
Top with tomatoes, overlapping.and you may have to cut smaller pieces if there are gaps.
The tomatoes shrink while roasting, so keep them snug and flush with the edge of the crust.. Lightly brush tomatoes with olive oil and sprinkle with freshly ground pepper.
Bake tart until tomatoes are softened and deeply roasted and the crust is golden, about 50 minutes and up to 1 hour,
Allow to cool slightly then serve warm or at room temperature.
Notes
Leftovers of the finished tart keep in the fridge covered with cling for three days.
Adapted from Smitten Kitchen Website
Adapted from Smitten Kitchen Website
Kitchen Detail https://lacuisineus.com/
A Savory Tomato Clafoutis
There is never a season or even a month when I don't find some wonderful recipe from Diana Henry, the British food
author who, as I have stated before, has written a formidable wall of cookbooks. I stopped counting after I saw I had over four of her volumes. Having searched with Nils Bertrand, KD's video maestro, for Le Clafoutis du Temps Perdu and finally found the definitive recipe, it only took Diana Henry to come up with a savory one with cherry tomatoes and goat cheese. And, like so many of her recipes, it's a keeper.
Tomato and Goat Cheese Clafoutis
2021-07-08 22:23:57
A savory clafoutis is a brilliant riff on the classic dessert ones. This is perfect for dead ripe or even over ripe cherry tomatoes
Ingredients
1 lb 400g cherry tomatoes
1½ tbsp olive oil
4 large eggs plus 2 large yolks
1/3 cup (50gr) white all purpose flour
3/4 cup (200ml)milk
1 1/4 cup (300ml) heavy cream
1/2 cup (30g) freshly grated Parmigiano Reggiano
1 clove garlic, puréed
2 tablespoons (30g) pitted black olives, chopped
7 ounces (200gr) goat's cheese, crumbled
1/2 cup (10gr) basil, torn, plus extra to serve
Instructions
Preheat the oven to 400F (190°C)
Place the tomatoes in a 23-25cm shallow ovenproof dish and drizzle the tomatoes with the olive oil and season.
Turn them over so that the surfaces are all coated in a little oil.
2. Roast for 20-30 minutes or until soft and slightly shrunken.
Take out of the oven and set aside for later. Turn the oven down to 375F (180°C)
3. Put the eggs, yolks, flour, milk, cream and seasoning into a food processor and blitz. Add the Parmigiano Reggiano and the garlic.
4. Scatter the olives, goat's cheese and basil over the tomatoes. Pour the batter over and bake for 30 minutes until it's puffed, golden and just set in the middle.
The batter will sink a little once it has sat for a while so just garnish with torn basil leaves before serving.
Adapted from From The Oven To The Table
Adapted from From The Oven To The Table
Kitchen Detail https://lacuisineus.com/
A Better Tomato Aspic
Sale E Pepe is a magazine I pick up when I visit the Italy Insider in Bologna. Their editors had a photo and some instructions for one of my favorite
quick dishes to make for two, and I didn't even have to read that much Italian to figure it out. Simply split an avocado in half, then scoop out some more space in the hole where the pit resided. Then you add a small dollop of Greek yogurt, with a sprinkle of freshly grated pepper, some chopped dill. Press in a slice of smoked salmon and then break an egg into the slightly filled indentation. Bake in 400F until the egg is done to your liking. Simple and delicious. But this rich tomato terrine is a bit more complicated and truly more lush in flavor and texture than our tomato aspic. I place it on a platter with mixed greens, drizzle a really good olive oil and then a bit of aceto balsamico and it is the star of any al fresco dinner party. Readers have asked which balsamic producer is my favorite and it still remains Cavalli in Reggio Emilia and not Modena. It was the Cuisinette choice when we tasted many at the Fancy Food Show. Cavalli is the only producer of Aceto Balsamico that we sold in the store.
Tomato Terrine with Roasted Cherry Tomatoes
2021-07-08 23:25:50
Serves 6
Make it ahead, chill the left overs for another luncheon salad.
Ingredients
1.5kg (3.5lb) pear or San Marzano tomatoes
2 small white onions
1 celery stalk
1 carrot
10 gr sheet gelatin or 1 envelope powdered gelatin
200 gr (7oz) mixed cherry tomatoes
3 big sprigs of marjoram
20 gr (heaping tablespoon) sugar
Extra virgin olive oil (good quality) and finishing sea salt
Instructions
Preheat oven to 225F (130C)
Soak the leaf gelatin in cold water - sheet gelatin is so much easier to use than powdered gelatin.
Finely dice the carrot and celery - I peel both before dicing
Rinse and dry the tomatoes, and slice them horizontally
Peel and slice the onions in thin rounds or half rounds
Over medium low heat, add 4 tablespoons of olive oil to a saute pan and add the diced celery, carrot and onion.
Add1 teaspoon of the sugar and allow to cook (with the pan half covered) for about 20 minutes over low heat = you want the vegetables, including the tomatoes, to be soft and cooked but not browned.
Evaporate any remaining "vegetable water" over a higher heat and then add the leaves of two of the marjoram springs.
Puree in a food processor - it should still be hot - and pour into a mixing bowl
and then add the softened and squeezed gelatin sheets to the mixture.
Adjust seasoning to taste, and pour into two loaf pans (18x6cm or 7x2.5 in) or into a similar mold of equal volume (6 cups) and refrigerate until set - this can take up to six hours.
Line a sheet pan with a silpat or parchment paper.
Wash, dry the cherry tomatoes and slice them in half
Spread across the parchment paper with the cut sides up and sprinkle the remaining sugar on top of the cut tomatoes.
Roast them for an hour and 20 minutes - they should be almost candied in appearance, not burnt.
When ready to serve, briefly submerge the mold in hot water and invert the terrine onto a platter.
Garnish with the cherry tomatoes, mixed greens.
Right at serving, drizzle your best olive oil and balsamico on the whole terrine or slice it and then garnish individual plates.
Adapted from Sale E Pepe
Adapted from Sale E Pepe
Kitchen Detail https://lacuisineus.com/
Hungry for More?
Subscribe to Kitchen Detail and get the newest post in your inbox, plus exclusive KD Reader discounts on must have products and services.
---
Share Us on Social Media: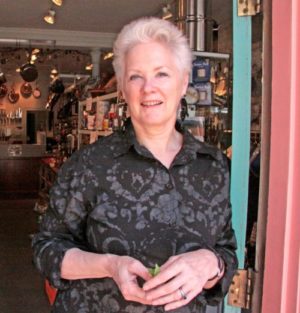 After owning one of the best cooking stores in the US for 47 years, Nancy Pollard writes a blog about food in all its aspects – recipes, film, books, travel, superior sources and food related issues.