December 9, 2020 - Written by: Nancy Pollard
Read Time: 4 Minutes Subscribe & Share
A La Cuisine Christmas Tradition
Since we closed the shop, I have received some desperate enquiries about the marvelously curated selection of
Christmas ornaments by Larissa Avendano, who, many of you probably remember, was our brilliant store manager for over twenty years. When we first started looking for nicely made food ornaments, the pickings were slim. But with the discovery of this family-run company in in Spokane, Washington we found delightful glass ornaments with culinary themes. Later, Larissa would get some wildly funny and weird ideas about ornaments and food, which we were delighted to incorporate. One of her best notions was to include a selection of junk food, which is dear to any American, ourselves included.
Wacky And Weird But Still Food
Another of her brainstorms was to feature a collection of "roadkill" ornaments, along with a carefully curated cookbook. It
must be said that my father-in-law, when times were tough, brought home some roadkill to my mother-in-law, with the feeble hope that she would cook it for dinner. My husband remembers his mother handing him a shovel to bury it. Another very popular ornament section was one devoted to foods that are considered delectable in other regions, but that strike our limited local taste buds as bizarre. Rattlesnake in our southwest, horses in Italy, and my personal favorite, Octopus, which is my favorite seafood. We had ornaments to celebrate each.
This annual tradition at La Cuisine began early in the 1980s, when we stumbled across a collection of ornaments from Tim and Beth Merck, who founded the company, Old World Christmas. This couple reintroduced the figurative designs in glass ornaments to the US in 1970. They really helped to revitalize the art of mouth-blown fine glass ornaments, which had been a hallmark of German Christmas markets and traditions. We have friends who have gone to a few of these fairs as a holiday excursion, inspiring in me a twinge of Christmas envy.
A German Tradition Goes East
Figurative glass ornaments that are hand-crafted were developed in the 1800s. Molten glass is mouth-blown into finely
carved molds before a hot solution of liquid silver is poured inside. The ornaments are then hand-painted and glittered in a series of labor-intensive steps to achieve the beautiful and fragile creations. We saw first-hand that some artisans were better than others. Interesting for us, as we carried an obviously diverse selection centered around the word "food," we saw an evolution in what was offered to us. Between 1984 and 2000, Old World Christmas distributed German-made ornaments from Inge-Glas which is a very prestigious 14th generation German company. And the story of Inge Glas is in itself fascinating.
What started as a 16th century glass-blowing workshop in Lauscha, Germany, was halted by the Russian occupation in East Germany after World War II. Heinz Müller-Blech fled at age 14 to West Germany, carrying some of his glass-blowing tools with him. It took him many years to reestablish the workshop and because it had become a lost "art," he continually sought out antique ornament molds and even acquired many that his family in East Germany sent only in halves to ensure the pieces would not be confiscated. He eventually married, and for years worked with his wife, Inge, the namesake for the current company. Inge Glas ornaments always had a wire capped crown in the shape of a star. (I still have some).
But we also saw in our ornament shipments the progression in the hand decorating of our selections move from
Germany to Eastern Europe, where the molding, painting and decorating became increasingly less refined. And then in 2001, Old World moved its production to China. And the paints and decors, which apparently are rigorously produced in Germany and shipped to their factory in China, were applied with a more refined touch. Larissa and I thought they were even better than when we first started. Today Inge-Glas, which has maintained its workshops in Neusstadt-von-Colburg, produces its distinctive ornaments with its signature cap of a star design, and Old World developed its circle cap with a small circle tag. Retailers for both companies abound on the Internet and there are Amazon portals for each company. We have pictured some of our favorite ornaments, and each company introduces new ones frequently.
Hungry for More?
Subscribe to Kitchen Detail and get the newest post in your inbox, plus exclusive KD Reader discounts on must have products and services.
---
Share Us on Social Media: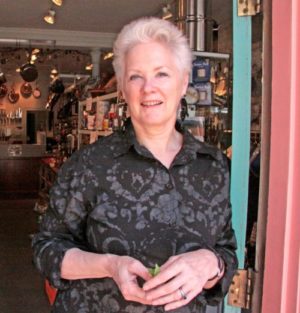 After owning one of the best cooking stores in the US for 47 years, Nancy Pollard writes a blog about food in all its aspects – recipes, film, books, travel, superior sources and food related issues.