October 10, 2018 - Written by: Nancy Pollard
Read Time: 5 Minutes Subscribe & Share
Cookware Worth The Investment: Pillivuyt vs Apilco
One of the cookware collections I accrued over the small space of 47 years at La Cuisine was quite a variety of culinary porcelain: France, Germany, China, USA were all well represented. There was a period when Nils, our video genius , and I were on a quest to recreate the best clafouti (we both had a memory of eating an absolutely sublime one at different times and were trying to recreate it). We are still looking for the dream recipe, but one thing became clear: out of all the porcelain that we baked with, in a competition of Pillivuyt vs Apilco, the one that soared above the others was Pillivuyt. Not just for clafouti experiments, but also for the soufflé recipes from last week's post, potato gratins, fruit cobblers and assorted experiments from cooking websites. And in France, when visiting restaurants, I would surreptitiously turn over a dish to find out who the manufacturer was. More often than not, it was Pillivuyt.
Not only does it cook beautifully, but it also cleans easily (this from the chief dishwasher). Crusts form evenly, not too thick or overdone at the edges, and centers stay creamy. Looking at my assortment of platters, dishes, and bakers, the Pillivuyt examples have cleaner design details, crisper edges, and in some cases, are much less clunky to hold or pull out of the oven than their competitors. They hold up better, I think, over a long period of use and time too.
A Porcelain History Lesson
Pillivuyt is one of the few porcelain manufacturers to develop its own porcelain compounds on site at the factory in Berry, France, and it has done so for almost 200 years. The founding Pillivuyt brothers were actually Swiss; Charles and Jean Louis bought a brick factory in 1818 in Foëcy but determined they wanted to produce culinary and table porcelain for households instead. This location was ideal for its neighboring forests and water, and the proximity to Limoges where kaolin deposits had been recently uncovered. When this natural resource was discovered, Europeans had found the secret ingredient required to create porcelain, after coveting a material that had been exclusive to China for over 300 years. The porcelain business remained in the Pillivuyt family for over 127 years. There were reversals of fortune and
family squabbles and another factory was founded by a descendent, Albert Pillivuyt, which had the trademark "Apilco". Apilco itself was bought in 1980 by the Deshoulieres Group, which owns Porcelaine de Sologne and Deshoulieres. Alfred Simon purchased the brand in 1945 and took over as General Manager, implementing the latest technologies and manufacturing processes. These changes improved uniformity and productivity, while the technique for creating superior porcelain wares remained much the same.
Their production was and is 100% French – none of it is piecemeal and subcontracted to other countries.
This is actually an issue with a lot of companies that want to maintain a Made In …. identity. Parts get farmed out to low-bidder factories in other countries, then shipped to the manufacturer where it is then put together and stamped Made in France, or Made In Germany or Made In USA.
You can find pieces of Pillivuyt history on many websites dealing with antiques. They made custom dinnerware and game terrines. I bought their classic soup tureen with an orange and black stripe along with soup spoons with matching handles. And even now, they come up with some astounding designs, as you can see in the photo on the right. One of their designs was conceived specifically for use in hospitals and assisted care facilities, with non-slip silicone bases, double handled cups, and high-lipped plates for ease of use by weak or unsteady hands.
Some Science Behind Pillivuyt
We wondered why Pillivuyt pieces lasted longer in my kitchen vs apilco and other competitors. First, their casting starts with hand-made prototypes in plaster built according to concise computer models. Second, the firing process involves more than 10 steps, which take several days or weeks to complete. The factory fires their pieces first at 1795F, then the glaze is applied before a second firing at 2552F, which is higher than several of its competitors. Decorated pieces are fired a third time so that they become impervious to changing color or fading. Lower quality porcelain is fired at a much lower temperature, especially when cadmium and lead are part of the clay mixture. Pillivuyt, along with Apilco and Revol, follow the Prop 65 protocols. Lesser competitors cannot make the same claim. PIllivuyt recently won the Innovation Reward for their development of Pillienium, a stronger and thinner "paste," which can be made into cookware and service pieces hat are more versatile and have greater aesthetic appeal. Multiple firings at high temperatures are not inexpensive, but the end product is non-porous and highly resistant to mechanical and thermal shocks.
Check out their newest collection – called Ulysses– if you want induction-ready cookware that you can use on top of the stove or on your grill
. Their bakeware series is also grill-safe. The main recommendation is that some cooking liquid be used in the dish while grilling to help with cleanup and make the recipe all the more tasty. All their porcelain is safe in the freezer, microwave,and dishwasher. Your Pillivuyt cookware can be transferred directly from freezer to oven.
In honor of our post last week about how easy it is to make an outstanding soufflé, Pillivuyt is currently offering a 10% discount on your choice of two of their soufflé dishes for Kitchen Detail readers There is a $100 minimum purchase and is good from October 9 through October 23. Look through their catalogue at www.pillivuytshop.com and use the code SOUFFLE10 on your choice of two soufflé dishes from these two links:
https://pillivuytshop.com/collections/tarts-souffles-gratins/products/classic-pleated-souffles
https://pillivuytshop.com/collections/tarts-souffles-gratins/products/deep-pleated-souffles
Hungry for More?
Subscribe to Kitchen Detail and get the newest post in your inbox, plus exclusive KD Reader discounts on must have products and services.
---
Share Us on Social Media: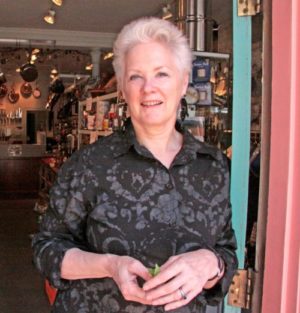 After owning one of the best cooking stores in the US for 47 years, Nancy Pollard writes a blog about food in all its aspects – recipes, film, books, travel, superior sources and food related issues.