January 27, 2021 - Written by: Nancy Pollard
Read Time: 4 Minutes Subscribe & Share
Kitchen Armour
I
am not the neatest of cooks, although I'm certainly one of the most enthusiastic. It took several eyebrow-raising dry cleaning bills
and wrestling with a rebellious streak before I started to discipline myself to (almost) ALWAYS put on an apron, smock or jacket. In the 47 years of its existence, La Cuisine carried a Cuisinette-curated selection of top quality chefs' wear from a variety of suppliers in the US and Europe. Some were high fashion and functional, others were designed and manufactured for the rigors confronting professional cooks. That said, once we discovered this San Francisco-based company, we had a quiet but steady stream of clients for their aprons and jackets. Pictured to the left is Jeremiah Tower, the seminal chef of Stars Restaurant and the subject of a fascinating Anthony Bourdain documentary, one of the earliest clients for Cayson Designs. On the right is my idea of an apron that would cover all of me .
The Power of Referral
Sometime in the 1990s, a chef in a very posh Washington, DC restaurant first introduced me to Lynette and Eddie Cayson's company, Cayson Designs when we were discussing the pricing and customer service of Bragard jackets from France, long a kitchen standard. I placed my first small experimental order and wrote it up in one of my store newsletters. We were sold out in less than a month (this is BI -Before Internet). I believe that Lynette designed the first chef's jacket specifically tailored to women, which we carried with great fanfare. She even came to the store for a special event of outfitting a large group of women chefs. It is hard to imagine how neat it was to see women trying on jackets that were designed for their shoulders, chests and hips, with proper fitting sleeves to boot. And Lynette had designed a unique cloth covered button in a subtle design challenge to Bragard.
Cayson's patterns reflect not only a solid knowledge of garment design, but also are carefully researched, with feedback from professional clients. Each design, choice of fabric and hardware is unique to this company. All jackets (including darling ones for children); aprons; and currently face masks are manufactured in their workshop in San Francisco. An informative note on their web page states that "the pattern for the pleated, all-purpose, re-usable fabric masks is furnished by the Centers for Disease Control and Prevention. The CDC has announced that all individuals aged 2 and up should now be wearing masks." I never had to send any piece back for faulty workmanship. They also provide an outstanding embroidery service which you should check out when you place an order. Their offices and workshop always delivered promptly, even when we had requests for an unusual custom fit.
One Size Does Not Fit All
As a cook who is much more upholstered than others, one of my peeves about most aprons is that the cute little front panel and bib have no hope of covering my sides below my waist or the two matching avoirdupois on my chest. If you look at the selection of aprons and sizing on the Cayson website, those two issues have been handily addressed. No more wiping your hands down your sides rather than the apron. We had some very amply insulated men who loved Carson aprons too, as they were long as well as wide. And the neck straps were designed to fit properly behind the shoulders. For years I kept a wonderful photograph of Lynette's dog in a beautifully made and quite custom chef's jacket. And Cayson Designs still regularly donates to the SPCA. Although a Cayson jacket is not available for your dog, they certainly do make custom jackets and aprons, so send them a query.
The Power Of Quality
If you have not seen internet or print ads for Cayson Designs, it is because the company has built its business on referrals. In fact, not long ago my husband and I were having lunch in a restaurant when the chef owner came over and asked me if I would give him the manufacturer's name of the well-priced and designed jackets and aprons we used to carry at the shop. Not a problem. When we were leaving, he came out and told me that he had already looked up their website, called them and placed an order. He remarked to me that he had always remembered the quality fabrics and hardware, remarkable fit and the reasonable pricing. And I think you will, too.
Cayson has very generously offered a 10% discount to KD readers starting January 27. Use the code KD10 in the indicated field when you check out. This special code can be used more than once but sales merchandise is not included and it expires on February 28, 2021. Go ahead and shop Cayson now.
Hungry for More?
Subscribe to Kitchen Detail and get the newest post in your inbox, plus exclusive KD Reader discounts on must have products and services.
---
Share Us on Social Media: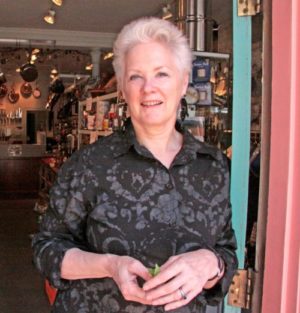 After owning one of the best cooking stores in the US for 47 years, Nancy Pollard writes a blog about food in all its aspects – recipes, film, books, travel, superior sources and food related issues.