November 28, 2018 - Written by: Nancy Pollard
Read Time: 1 Minute Subscribe & Share
Roquefort Pastry Pinwheels
2018-11-28 00:24:56
Yields 12
One of the easiest appetizers to put together, but don't tell anyone.
Ingredients
1 sheet frozen puff pastry (half a 17.25-ounce package), thawed but still cold.
4oz Roquefort blue cheese
1 large egg, lightly beaten with 1 teaspoon cold water
Instructions
Preheat the oven to 400°F.
Butter a rimmed baking sheet or use a Silpat.
Open the sheet of puff pastry and flatten with a rolling pin. Crumble the blue cheese on the sheet, leaving a good inch-wide border all around.
Roll up the pastry the long way; cut into twelve to fourteen ½-inch-thick slices with a sharp knife.
After you cut them you will have to shape the exteriors so that they become round.
Place the rounds in the prepared dish; brush with egg wash.
Bake until puffed up and golden brown, 10 to 12 minutes.
Notes
I double this recipe and use the whole sheet of puff pastry.
You can freeze the ones you don't want to bake immediately on a tray and then store in a freezer bag.
Do not defrost, but brush them with the egg mixture and bake them in the oven. It will take a bit longer thatn the recommended 10-12 minutes.
Do not let your pastry thaw at room temperature unless you are using it immediately.
Adapted from Big Sky Cooking
Adapted from Big Sky Cooking
Kitchen Detail https://lacuisineus.com/
Hungry for More?
Subscribe to Kitchen Detail and get the newest post in your inbox, plus exclusive KD Reader discounts on must have products and services.
---
Share Us on Social Media: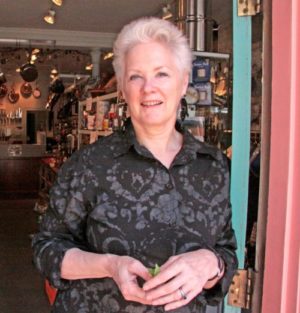 After owning one of the best cooking stores in the US for 47 years, Nancy Pollard writes a blog about food in all its aspects – recipes, film, books, travel, superior sources and food related issues.